Key points
Businesses that are doing well need to pay close attention to changing keywords dynamic

Shift to customer retention as a company cut the budget and spend

Lowering costs by reevaluating and changing marketing technology tools
Coronavirus is changing what consumers search online
As we stay home and practice social distancing, Coronavirus has impacted the world in many ways. One of them is how people shop and what people buy.  People who never used online delivery or grocery shopping services like instacart, Postmats, or GrubHub are now using them.  
While the changes in people's shopping behavior lead to some unfavorable outcomes for businesses, some businesses have found opportunities in this crisis.
Nobody knows what will happen after the Coronavirus crisis and how the market or even our lives will be. From a marketing perspective, there are some assumptions we could put in place to start thinking about how businesses could start planning and take action.
Anecdotally, we could probably associate the following changes in marketing activities during and after Coronavirus. It is not something new in terms of tactics, but marketers may be required to plan and execute differently. Take a look at the table below reflecting an example from three different business types.
See the column labeled as "New Normal". As you can see, specific industries may need to start thinking about different marketing strategies and tactics to adjust to the latest market environment caused by Coronavirus.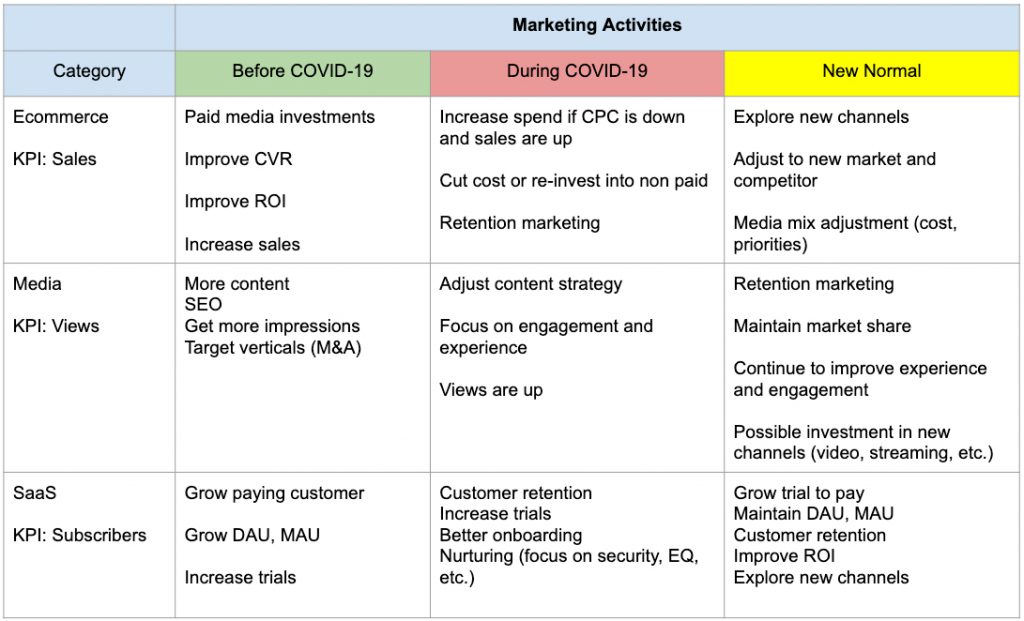 Businesses can find opportunities in rising consumer interests for products caused by Coronavirus.
Look at this Google Trends data comparing the searches for "supplements" and "immunity." You see an imminent rise in searches for the term "immunity" around the beginning of March 2020, similar timing to when Coronavirus starting to spread across major cities in the US.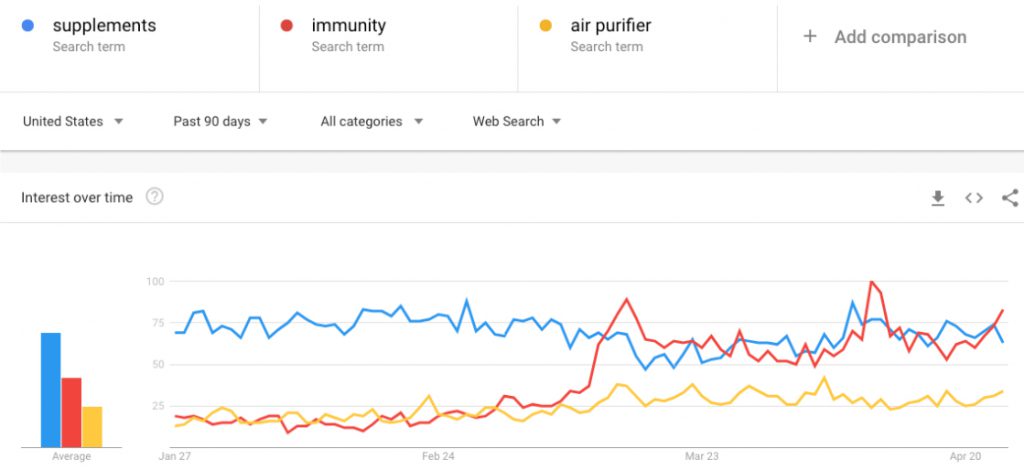 Though the keywords breakdown indicates a mix of immunity-related searches, there are particular needs for supplements to boost immunity as it is one of the breakout terms.  And that is due to rising interests to build immunity especially during and after the COVID-19 crisis.

Here is another example with hand sanitizers. We all know hand sanitizers are in high demand, and it is tough to find it in the store.
Many business owners who foresaw the needs for hand sanitizers early and could shift their productions saw an immediate boost in revenue.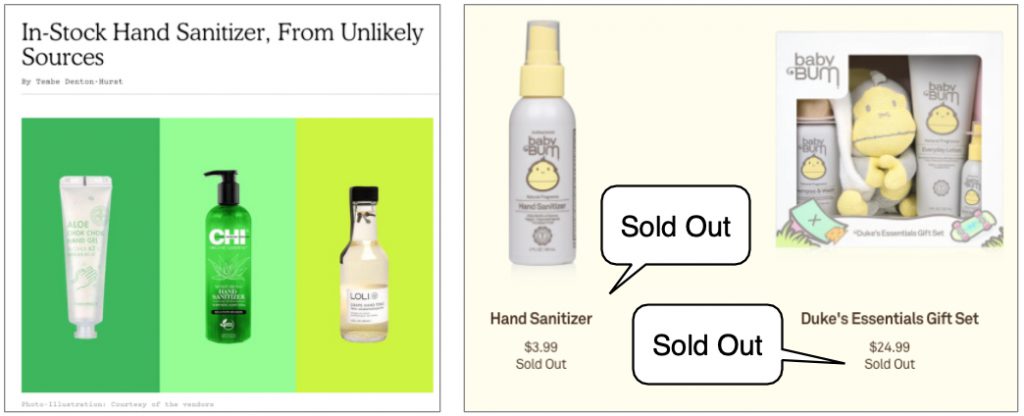 Many cosmetic and personal care brands have added additional product lines to meet the demand for personal care and cleaning.  
As you can see from the image above, consumers are likely to find hand sanitizers in a way people normally would not. For example:
Going to their favorite brand's website and do an onsite search. 

Read curated content with a list of brand-selling hand sanitizers while occasionally checking in on the live updates.

Search on Google with specific phrases "hand sanitizer near me" or "hand sanitizer in stock." Then clicks on the search results with keywords "kills 99% of viruses" or "In-Stock."
For what use to be a commodity, due to the Coronavirus crisis, such a product becomes a hot item. Companies who can invest in making money on them will try to dominate their exposure wherever they can.
Here is another interesting trend with "Gifts."  Gift baskets are extremely popular and being searched online.  The above image above also shows a gift set is sold out.  Hard to say what is going on here, but during a crisis people continue to give and care for others.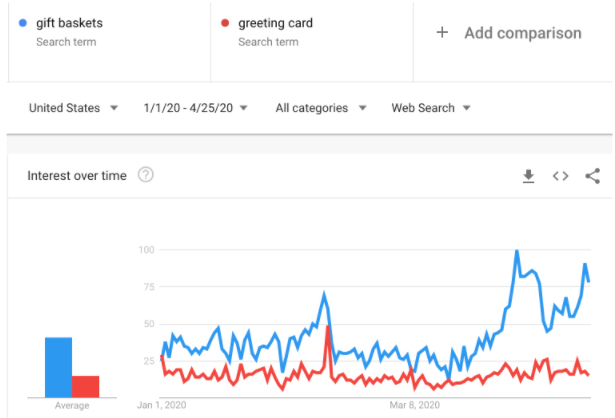 Brands need to pay attention to negative keywords.
Not all trending keywords are great. People are going to Google with questions we don't often see asked. Your PPC ads might be buying keywords that fall under terms that are simply an outlier during the crisis.
Example keywords you may take into considerations for negative keywords: virus, vaccines, jobs, unemployment, corona, homeschooling.
Google's Coronavirus Search Trends might be a useful source of information on search behavior.
https://trends.google.com/trends/story/US_cu_4Rjdh3ABAABMHM_en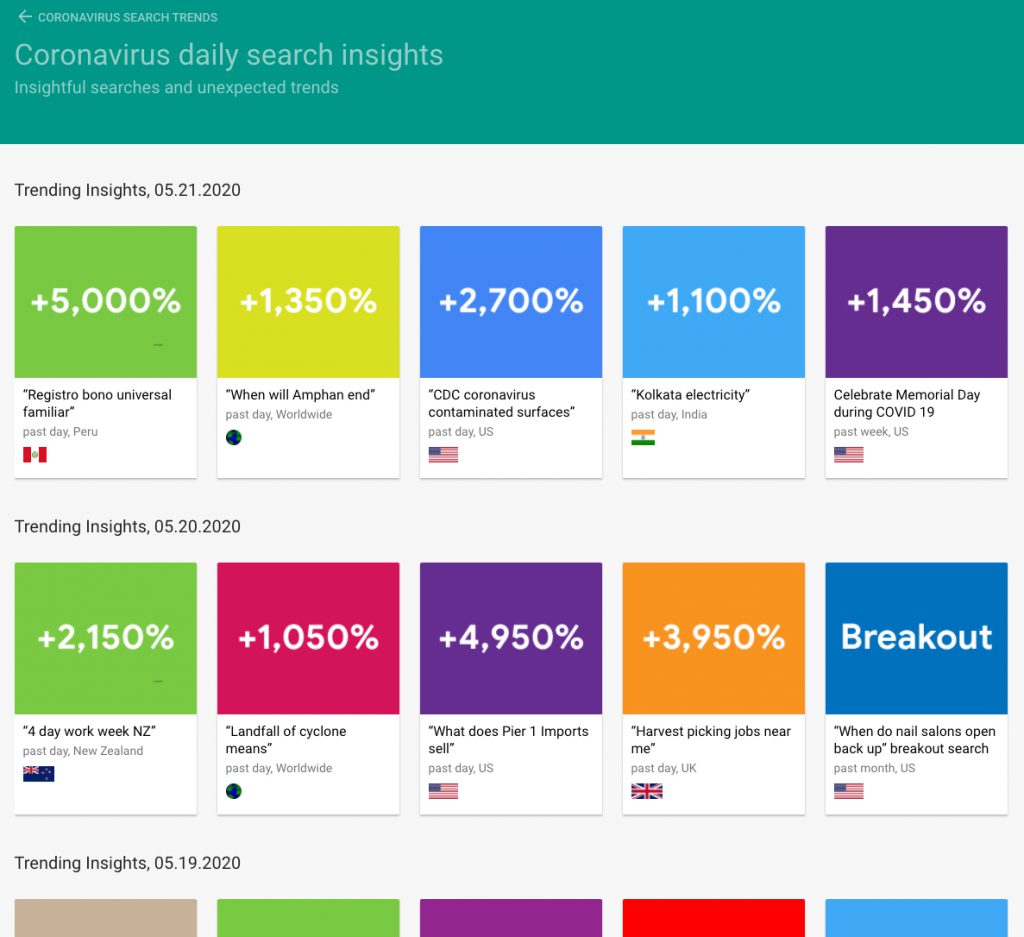 Brands are cutting marketing spend and re-shifting budget
.
According to Influencer MarketingHub, who surveyed 237 brands to see how they are coping under the crisis, 69% of brands expect they will decrease ad spend in 2020.
The survey also showed 65% fo the respondents say their businesses were already reporting a noticeable decline in revenue.
From Klaviyo's poll on 30,000 businesses, at the end of March, there was a distinct movement in the types of goods on which people spend their money. Consumers were shifting their spending to essentials, and a limited range of non-essentials some considered essential to their wellbeing. (e.g., alcohol, religious items)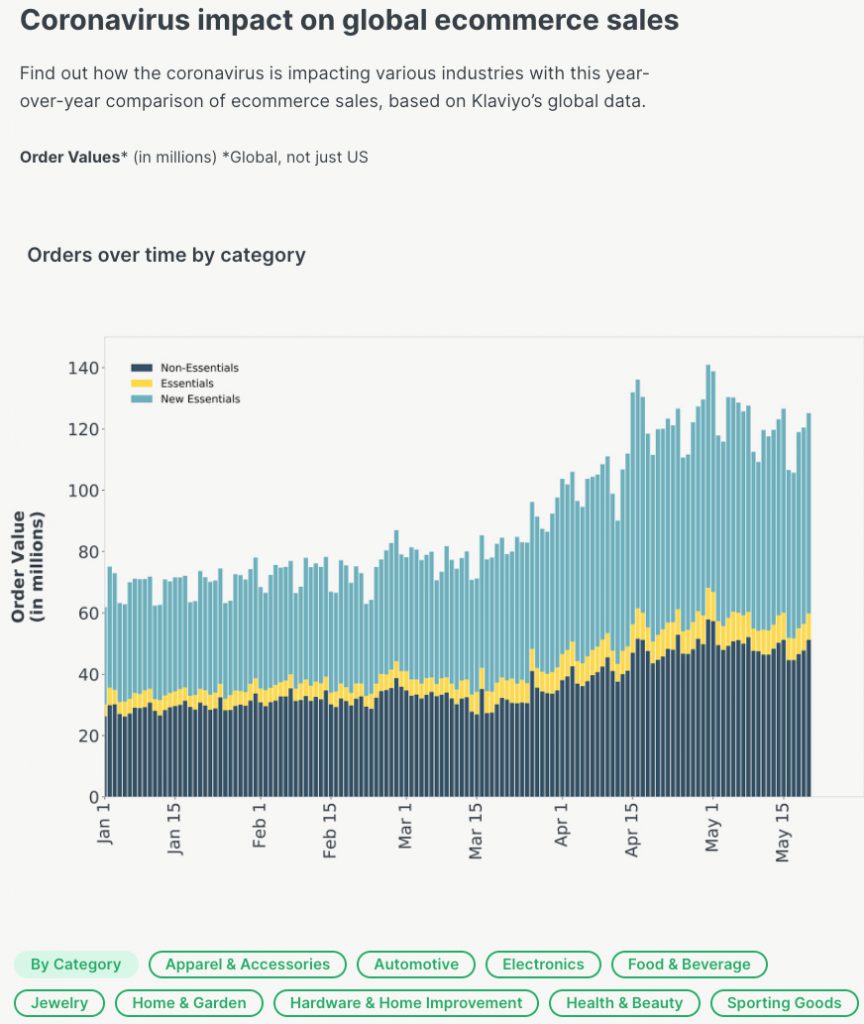 Source: https://www.klaviyo.com/covid-19-daily-ecommerce-insights
Another critical signal concerning is Google, and Facebook predicted to lose more than $44 Billion in Worldwide Ad Revenue. 
It is quite clear on the direction of possible marketing spend cuts is to occur across various industries. However, it is hard to know what platform will be taking a hit as some businesses are thriving during the crisis.  
What we know from general trends observed across clients and industry news;
People's preferred social networks shifted from Instagram to Twitter.

While companies may dial down on paid media, SEO is becoming an area company is putting more focus on. When consumers are searching for something new, and in unexpectedly in high demand, it is an opportunity for marketers to gain new traffic or prospects

Many companies are acquiring trial users to their platform or services, which is very common for SaaS companies. For many trial users, that trial period may end a few months after the trial began. Businesses are putting efforts to improve free trial to paid conversion rate.  

As the COVID-19 crisis puts stress on businesses, companies do not want to lose their customer base. It may not be surprising for many companies to have gotten new customers during the crisis. And it is in their best interest to retain those new customer base.
How could customer retention be achieved?
At Principle, we're excited to announce that we have become a solution partner of Heap. Heap empowers companies to focus on what matters, discovering insights and taking action. With Heap, organizations can remove bottlenecks and gain a comprehensive view of their customers.
To achieve improvements in customer retention, you'll need to analyze customer buying patterns and remove any friction users may have with the product. 
Junction's use case is an excellent example of how an Education software company has decreased customer service inquiries and increased product usage. Today, hundreds of thousands of K-12 and college students worldwide rely on Junction's learning platform.
Using Heap, Junction has decreased customer service inquiries 83% in just four weeks. It doesn't end there. The product usage climbed up 37% to nearly tripled year-over-year. 
The key was to focus on ease of use. The demand for online learning grew, and there is no time to waste. So the team at Junction wanted their users to get in and learn efficiently.  
The key metrics they continuously monitor:
The time it takes for people to log in and get to an instructional page.

Frequency of use and time spent per session
Marketing leaders are re-thinking how they're spending on marketing analytics.
As you can see from these surveys from Nielsen and CMO survey, CMO's weren't getting value from marketing analytics. It is natural for marketing leaders to re-think how they're spending on analytics.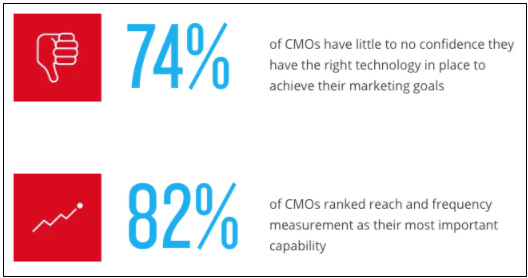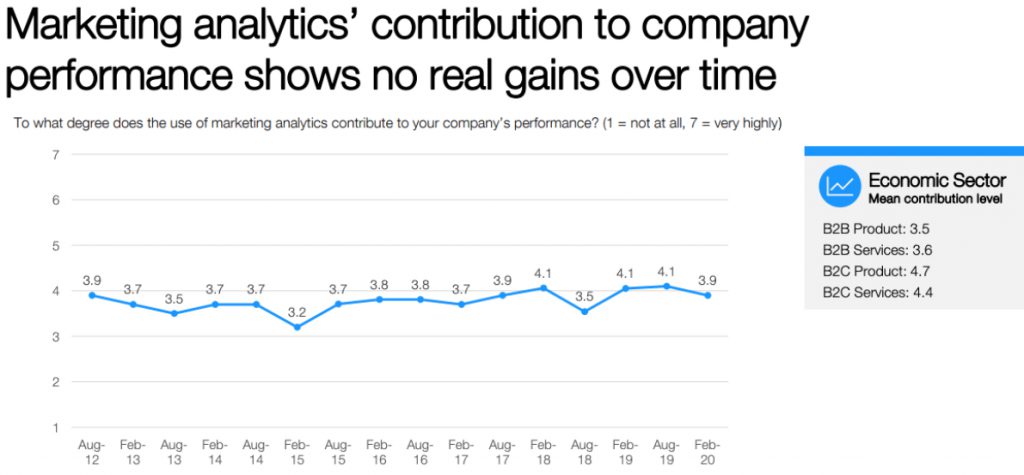 Companies can now achieve collecting big data around user behavior data on the website and mobile app. Advancements in data integration capabilities allow brands to integrate customer profile information with their behavior data.  
There is no reason to be spending hundreds of thousands of dollars to gain the insights you could obtain from your existing technology stack.  
Following are what I believe should be the focus on modern marketing analytics stack would need to do well to serve many marketing leaders' needs. 
Time to insights:

Marketers will need to be satisfied with the answers to the business questions they have.

Robust reporting:

  Many analytics tools are designed to satisfy a specific group of people. So, marketers will need to ask if the tool's reporting feature will support your ad hoc analysis needs.

Data portability:

The ability to send all the data downstream to data lake or warehouse of choice is crucial. Usually, the reporting features in the tool are not good enough. So many companies are investing in BI (business intelligence) capabilities that allow marketers to answer many business questions. Modern marketing analytics tools need to support current business needs to export the data into other systems. 

Data integrations:

  Data from various tools will need to marry to get full value. Tools like Google Analytics, by itself, is powerful for monitoring user behavior. However, it is not well known for tracking and storing personally identifiable information (PII).

Ease of data management:

 You are probably aware of the concept of Garbage In Garbage Out. Pretty much all of the digital analytics platforms require adding code to the website. Usually, marketers use Tag Management solutions to customize digital analytics platforms. Anything that goes wrong with the tag, setup in digital analytics tools, leads to the incorrect data reported from the tool. Hence, suboptimal data leads to bad business decisions.
What we need to pay attention to and how we can take action today
Manage the digital marketing budget with a new lens, and optimize towards your new goal. 
Companies are putting aside their creative or branding budgets and in dire of analytics support. More than ever, businesses are focused on profitability and ROI driven.  
Companies may have new business goals during and after the Coronavirus crisis. That means your data and analytics will need to adjust to those needs swiftly.
You may find these blog articles interesting:
Switch costly analytics stack to something more cost-effective.
If you heavily invested in marketing tools, we would suggest reviewing your data and see how you can get more value out of it. In most cases, you could drive more conversions and improve campaign ROI.
We strongly advise marketers to start with good data hygiene and fix any data collection issues. Principle is here to help you, your business, and businesses of all sizes make better decisions.
Check out this blog article on  "a cost-effective approach to building a Data Management Platform."  
Improve customer retention and increase repeat purchases.
User experience, customer service efforts all matter to drive customers back and buy from your business. Even if the economy starts to open during the Coronavirus crisis, we could only guess how the market will react and how that will vary by industry.  
What we know is businesses are cutting costs, and reassessing where they should reallocate their marketing budget. So if you've focused on customer acquisition or lead acquisition, it is time to also look at how to improve customer experience.  
The improved customer experience that leads to enhanced retention, increased customer LTV, and reduced churns are significant in post-coronavirus crises.
Do you need support for your digital advertising campaigns?
Principle's paid search, and social advertising service provides a data-driven approach that helps our clients' businesses grow.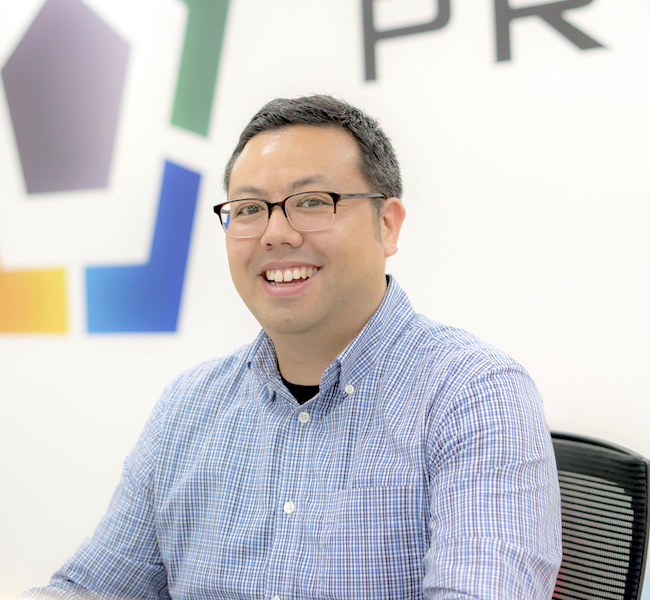 Director Analytics
Over 16 years of experience working with data and marketing.  As a data expert in marketing, Kris enjoys analyzing data to bring actionable insights and help businesses move forward.  Kris has experience working in industries ranging from Tech, SaaS, FinTech, B2B, Mortgage/Banks.