In addition to Shopping ads with Google, dynamic remarketing ads are used by many industries. More than ever, there are opportunities to utilize data feeds in ad operations.
I rarely come across businesses that use data feeds for purposes outside of digital paid media. I believe there is an interesting usage of data feeds beyond ad management. 
In this article, I'm going to discuss some actual usage of data feeds beyond digital paid media.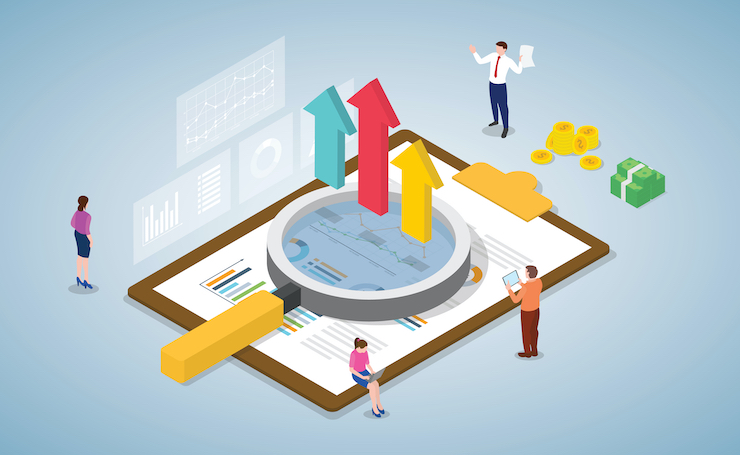 What is a Data Feed?
A data feed is a mechanism that automatically updates the data like product information from multiple data sources.
There are advanced data feed management tools like Feedonomics that enables marketers to improve their campaign performance. A platform like Feedonomics enables marketers to scale in creating and managing data feeds.
With such a platform, marketers can optimize the product data and automatically get their products listed on hundreds of different search, social, affiliate, and marketplace channels.
Examples of Data Feed usage that aren't for advertising
Example 1: Importing a feed into Google Analytics
Most of the data feeds are generated as CSV files. Import the CSV file using the data import in Google Analytics, and you could have additional data within Google Analytics. Since the file format is not the same across data sources, we need to transform the data feed to Google Analytics format. In most cases, you'll only need to process the data feed to extract the columns we need and change the column names.
Almost all e-commerce stores with Google Analytics use enhanced e-commerce features. Additional data from data feed is useful for this use case when the product dimension is missing important variables. 
For e-commerce, this technique is powerful if you bring in data like inventory status, cost of goods, brand names, size, color, customer gender, product group ID, etc. 
Other than that, you can set up a delivery day label in your data feed, longest and shortest shipping readiness time. Such information is known to be influential to key performance measures like "Buy to Detail" or "Cart to Detail" ratios. Hence, you want to consider incorporating it into a custom dimension.
Industries outside of e-commerce can also incorporate their data feeds into Google Analytics to expand their analytics, too.
Example 2: Store the daily feeds in BigQuery and use them in BI tools
Various industries use data feeds to manage their media buys and placements. Data feed users are not limited to e-commerce; recruiting, travel, and real estate industries are heavy users of data feeds. They use data feeds because their products and services are frequently added, removed, and replaced. For online retail stores (e-tails), you can imagine how pricing is always changing across thousands of products, if not in millions.
Huge amounts of products, and it's changing data could be tracked in a timeline. That could be achieved by storing the data feed content into BigQuery daily.
By visualizing the data accumulated in BigQuery in Data Studio or Tableau, it is quite easy to monitor daily changes in the price per product and inventory status.
Principle offers an "Opportunity Loss Dashboard for Product Shortages" to our clients we helped create a custom data management platform and dashboards. It integrates inventory data from data feeds stored in BigQuery with product browsing data from Google Analytics.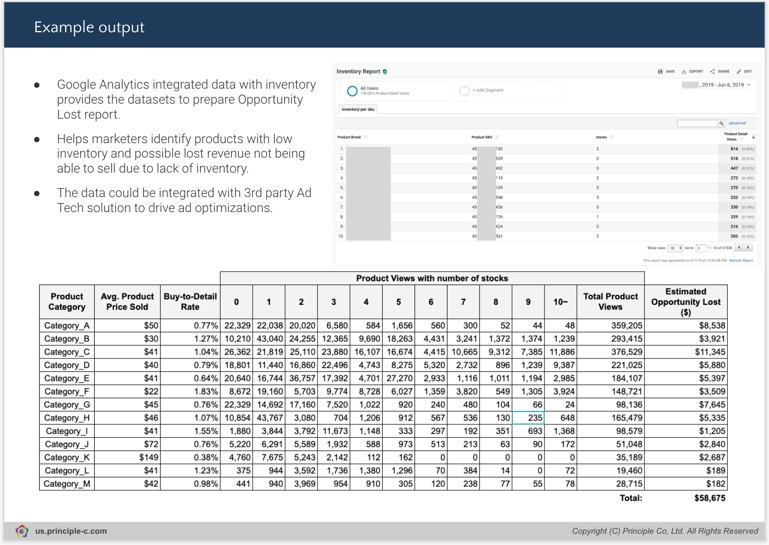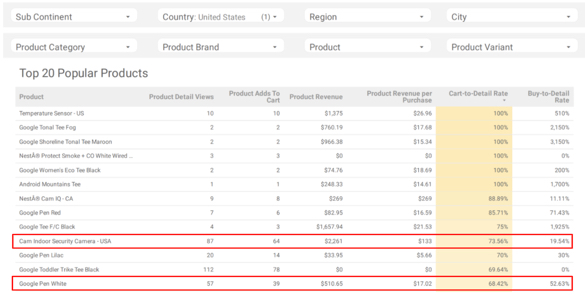 Using Data Feed for Digital Marketing
At Principle, we promote advanced digital marketing that combines not only data feeds but also your first and third-party data, and data accumulated by various marketing technology tools.
The following is a diagram representing one of our clients' actual data. It shows the data accumulated by various marketing tools, and third-party data combined.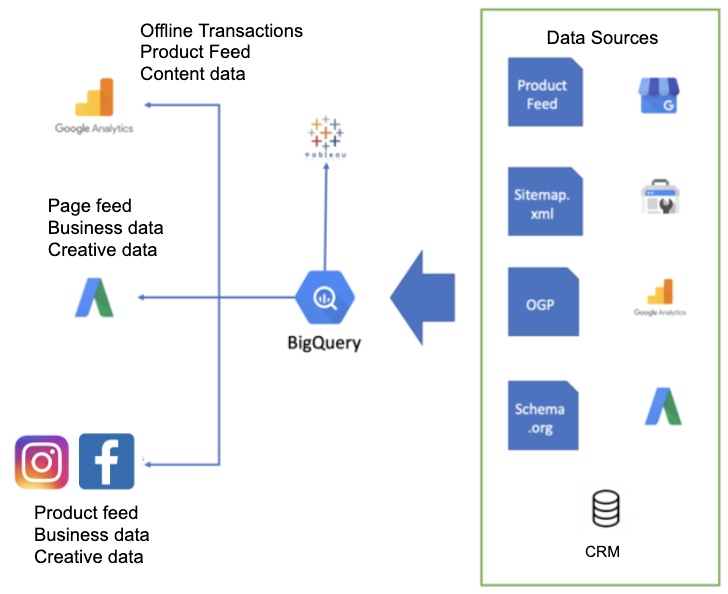 In this use case, we placed BigQuery at the heart of its marketing capabilities while storing data from various sources. While it is common for businesses to integrate Google Analytics with ad data and CRM, we could get more data to integrate and use for data-driven marketing execution.
Additional data we're integrating are:
Store and review data from Google My Business

Sitemap XML created for search engines

OGP data for the site's blog-based content, Schema.org data

Transactional data from offline stores

Data used for digital advertising via data feed
These data are processed and integrated into BigQuery, and we use SQL to combine data and translate the data into something meaningful for reporting. The data is also used beyond reporting, and more companies are taking advantage of this to advance their digital marketing execution.
For example, in Google Analytics, we integrate rich product information from product feeds and OGP/Schema.org data to reflect the values in custom dimensions. 
We also use Measurement Protocol to ingest transactional data from offline stores. By having them imported into Google Analytics, including in-store purchases, you can analyze it with Google Analytics.
For digital paid media, the following are three key things we apply.
The first example is for creating page feeds for dynamic search advertising. 
The sitemap XML data makes it easy to create a repository of all the pages on your site. We then integrate that page catalog with data from Search Console and Google Analytics. 
With this integrated data, you can control your ad bidding strategy based on how your page is showed up on search before people visit your site, or even based on how people engage with your website content.  
This execution is easily done with Google Ads and our integrated data.
The second use case is to use BigQuery's integrated data in the actual ad creative.
We can import various data into the business data and use the ad customizer to reflect it in the creative.  
For example, you can reflect store data in Google My Business into your ad creative or reflect it in your business details. In some cases, OGP data can be utilized as well.
The third application is also reflecting the data into creative, but specifically for dynamically generating responsive display ads.
The creation of responsive display ads requires a variety of assets, including headlines, descriptions, images, and logos. If your ad is to land on a page with OGP or Schema.org information, you can apply it to the responsive display ads. 
We can then use the information stored in Search Console and Google Analytics to set conditions to generate ads based on certain performance criteria. We can automatically discourage the placement of ads on poorly performing content.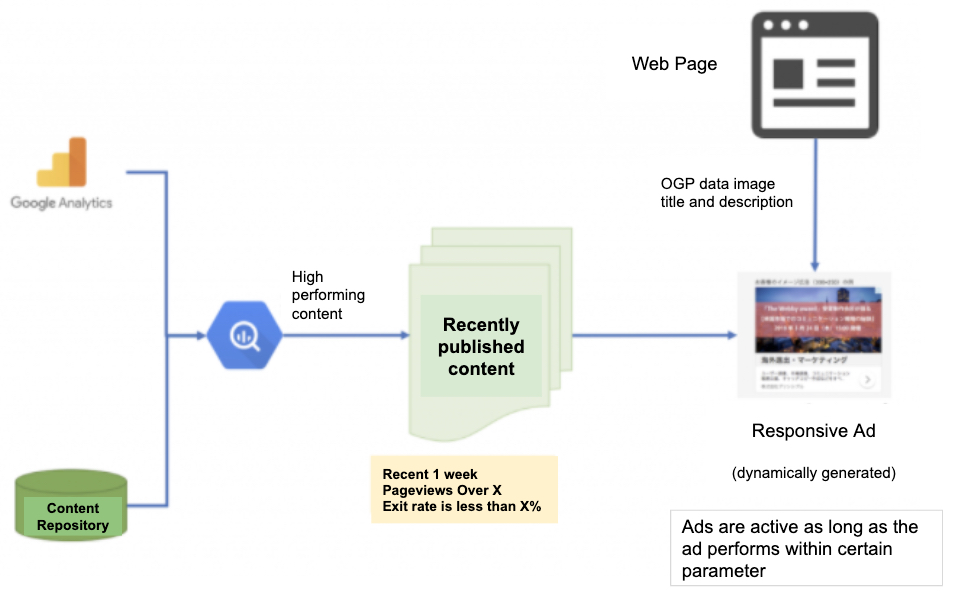 We can also use these data outside of Google Analytics and digital advertising. For example;
We can use these data to generate certain parts of newsletter content automatically.  

Apply the data in BigQuery for marketing automation

Integrate data into CRM to better service customers

Apply the data in recommendation engines
The use case is endless.
Final notes
I've introduced some examples of how we use and could use data feeds. The idea is to inspire possible use cases of data feeds beyond typical ad management, but give you some ideas for advance data-driven marketing approach with data.
The future of digital marketing will progress with technological advancements. The key is to see how far marketers can make use of the data. We hope you use this article as a guide to advance your digital marketing using data and existing technologies.
Do you need support for your digital advertising campaigns?
Principle's paid search, and social advertising service provides a data-driven approach that helps our clients' businesses grow.