What is first party data?
First party data is the information you collect directly from your audience or customers. It includes behaviors, actions, interests and other data acquired across your website or app, as well as data that you store, including CRM, subscription, purchase data, etc.
It can also include non-online information like completed surveys, customer feedback, and customer information stored in your CRM database.
First party data is thought of as the most valuable data type, and it's available to you at no cost. It is also relatively easy to collect and manage, especially if you use a data management platform. 
Since marketers have ownership of the data, full control and know exactly where it came from, privacy concerns surrounding first party data are minimal. A business should be able to delete personal data if the customer requests to view and purge their data.
Why first party data is important and matters today
Any company not collecting and activating first party data is leaving money on the table.  
Taking control of first party data should be a priority for any company today that wants to monetize, learn from, and use the information to scale valuable audiences and deepen engagement with their consumers. Utilization of first party data allows marketers to focus on building better customer experiences and shift to improving ROI across marketing channels.
First party data should be a priority in marketing analytics because of its relevance and quality. Businesses can better understand their target audience, locate missed opportunities, and create strategies to increase ROI. With first party data, you can achieve this at a user-level rather than aggregated or directional data.  
User-level data: Active users, customer id, emails, repeat buyers

Aggregated data: page views, session count, unique visitors
If your audience is relatively small, you can still analyze first party data to gain valuable insights. You can explore the data to gain insights that your customers have in common and build out that segmented audience. You can expand your audience, broaden your customer segments, and grow your business.
Marketers can then use first party data to inform and predict future customer behavior, improve targeting, enhance marketing campaigns, and personalize content. 
The following highlights the values that first-party data can bring:
Data accuracy
Since you most likely collected first-party data straight from the source, the data is likely to be accurate. Because the origin of the data is known, you have full control of how this information is collected and stored. Hence you have control over minimizing the opportunities for errors. It is also straightforward to verify the accuracy of first party data.
Relevance
First party data is highly relevant to your business because it comes directly from your audience.   
It gives you insight into how your website visitors and actual customers behave and what their preferences are. With first party data, you don't have to guess what your audience likes.
Availability of the data
First party data is often readily available for marketers. In many cases, the information is already in your marketing tech stacks and tools like Google Analytics, CRM, POS data, etc. It can be easily collected and accessed through a data management platform (DMP) if you have one in place for your marketing efforts. 
You have to organize it and put the data to use. Customers leave behind valuable information every time they visit and transact on your website. 
First party data is relatively easy to collect. You need to set up a process and have a resource to support your data collection practice using a tag manager or marketing automation tool. 
Cost of data ownership
Collecting first party data is highly cost effective. You already have it in your systems in many cases, and you simply need to gather it and put it to use.  
There are some costs associated with collecting and managing your data, but you don't have to purchase it. That makes it a lot more cost effective when compared to a second party and third party data.  
Because of the data's quality and relevance, you can expect to get a lot of value from your analysis.  The low cost and high quality of first party data translate to a high return on your investment.
What are second party and third party data
While first party data is important, it is also essential to know about second party and third party data.  
Second party data
Second party data is data you purchase directly from another company that owns the data. In other words, it is the first part data of another company that they acquired from their channels.  
The data could include data from sources similar to your first party data and come from:
Website behavior data

Mobile app usage data

Customer survey data
Many businesses from various industries rely on second party data to enrich their first party data to improve their marketing efforts. For example, a company may buy leads from another company with certain criteria and forward the lead to the company purchasing the data.
Because second party data comes directly from the company that collected it, the data should be reliable and relevant.  
Third Party Data
Third party data is the data you buy from outside sources that are not the original collectors of that data. A marketer will need to know what kind of information is required before purchasing the data. Importantly, the buyer and seller need to agree on what will be sold, cost, how the data will be accessed, and other terms of the transaction.
Usually, the large data aggregators pull data from various other platforms and websites where the data was generated. The aggregators pay publishers and other data owners for their first party data. Once they collect the data, it gets packaged into one large data set and sold as third-party data.
The data buyer could specify the data they want based on aspects such as industry, audience behaviors, interests, and demographic attributes of the target data. The segmented data is what the buyer would typically get.  
How can marketers use second and third party data?
It is very common for marketers to use this data to drive their digital ad targeting, email campaigns, direct mailers, etc. While your first party data is valuable because of its precision and relevance, it often lacks scale.  
Second party data helps marketers kick off their campaign efforts at scale, while third party data is great for enriching and expanding your first party data.  
Combining first, second and third party data brings even greater insights and ability to target customers more effectively.  It is important to enrich first party data with the following variations of data. In many cases, marketers could have data skewed towards one type over the other, so bringing these data types together provides much richer and more comprehensive data profiles of your users:
Declared data:

Information knowingly provided by a user through avenues such as an online form

Inferred data:

Insights about non-demographic data, such as interests and preferences gleaned from a user's online activity

Observed data:

More concrete data gathered by tracking a user's online activity, such as product pages visited
Advertiser's challenges with data
iOS 14 changes that impact IDFA
With the iOS 14 updates comes with many privacy updates that could significantly impact in-app mobile advertising and measurement, the impact is specifically on the IDFA (or Identifier for Advertisers), a random identifier assigned by Apple to the user's device. Advertisers use this to track data and identify a user without revealing personal information.  
Google has something similar to IDFA for Android devices called AAID (or Android Advertising ID).  
AdTech companies use IDFA to identify users to allow their platform to serve better ad targeting, retargeting, frequency capping, measurements, attribution, fraud detection, etc.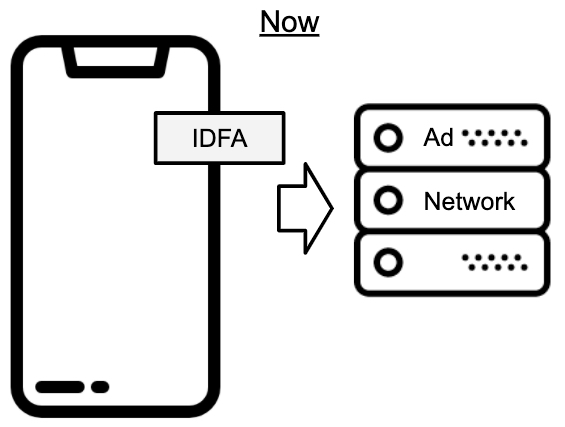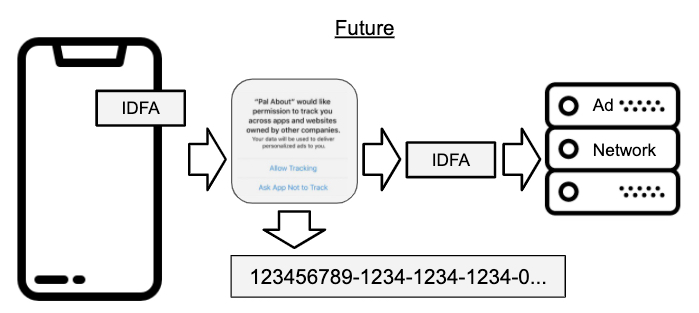 One of the major changes in iOS that has alarmed AdTech companies and marketers is that end users will have to opt-in before IDFA can be accessed and pass data to AdTech companies.
And app developers will have to use a new AppTracking Transparency framework to access the IDFA information.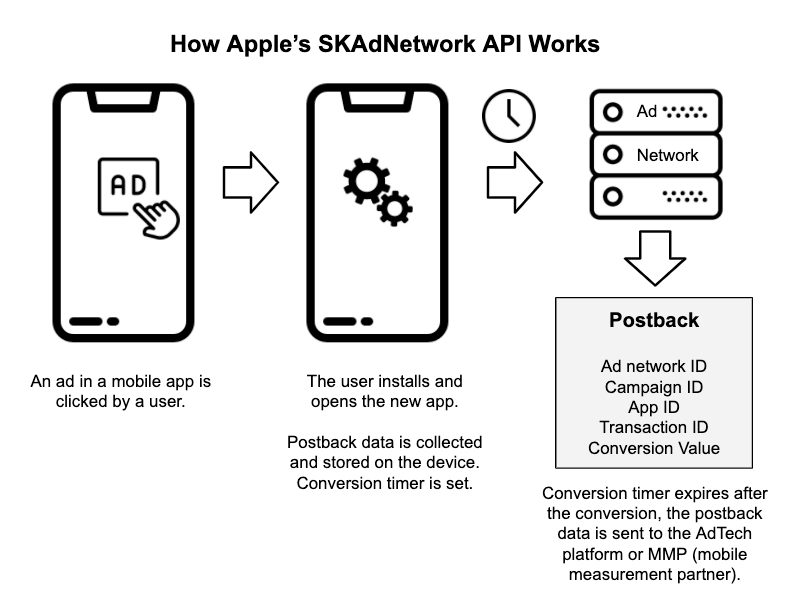 AdTech platforms use IDFA to identify users across different apps for attribution and targeting. Without IDFA and the relevant information it provides AdTech platforms, the ad targeting will be contextual targeting rather than user specific (vis-a-vis IDFA).
This means marketers will have far fewer targeting capabilities which ultimately will result in a negative impact on their ad performance.  
Flying blind with app install attribution is not an option for marketers. So Apple is likely going to support such attribution visibility with SKAdNetwork. This provides a way to attribute ad clicks with app installs without user-level or device-level data, and no view-through conversions.
Browser killing cookies
In early 2020, Google announced that it would change Chrome browser cookie usage specifications. In other words, Google Chrome will no longer support cookies by 2022.
Many AdTech companies place remarketing ads through ad networks, but these AdTech platforms' data is not personally identifiable.  These AdTech vendors use third-party cookies tied to browsers to gauge user engagement and track user behavior to target and serve ads.
Just like the iOS 14 updates, when AdTech companies can't rely on cookies, marketers will suffer from suboptimal ad targeting capabilities and outcomes.
For more details on browser killing cookies, refer to our article on "Google Chrome is killing cookies – How this impacts marketers."
So what should marketers focus on?
When looking at digital marketing from the advertiser's perspective, a paradigm shift is certainly happening. The major point is that advertising which relies on third-party cookies will be harder to obtain. (We already saw Safari browser kill third-party cookies.)
As a result, we presume that the value of the data provided by such "major ad platforms" from companies like Google or Facebook will be higher, and the targeting accuracy will improve as they build out new capabilities around third-party cookie capabilities. That is probably not the case for AdTech vendors that aren't Google or Facebook and rely on third party cookies.
While many changes are happening on the advertising platform side, you have full control of your own channels (like website, blog, e-commerce store).  Marketers will need to be ready for changes in the ad ecosystem while strengthening your own channels with a good data foundation.
That is why it is important to get your first party data right as a baseline. While the whole AdTech industry and the major platform companies (e.g., Google, Facebook, Apple) update their approach to personal data, it is time to organize your marketing technology stack. Consider bulletproofing for the future.
Considerations for shifting to a first party data strategy
Data privacy
Working with first part data still means that you're dealing with sensitive information that ties to your customers.  
In recent years, we've seen GDPR and CCPA take shape, and marketers have paid attention to those mandates. But the common intentions of these mandates are to protect the consumers.  
Some of those intentions for the consumers are to provide the consumers with rights to (not limited to):
Know what personal data is being collected.

Know if their personal data is sold or shared.

Say no to the sale of their personal data.

Access their personal data.

Request business to delete personal data companies collected from them.
When you consider these privacy matters, you want to make sure you're working on your first party data to govern and manage your customer data properly. 
Your data management platform
In your first party data strategy, at some point, you'll either decide if you'll be working with a DMP (data management platform) that is a third party platform or a private DMP that is built and stored by your company. 
In any case, you will need to decide how much budget, resource, and time will need to go into creating a DMP that supports your first party data strategy.  
If you already have a DMP, you'll need to understand what data is being sourced and stored.  In some cases, DMP is managed by a department outside of the marketing department, and marketers may not have the full visibility of the inner workings of the data flow and schema.  
To understand your first party data and leverage it for digital marketing, you will need to know how your DMP (customer database) for marketing will be enabled.
Using first party data to gain customer insights
Earlier, I highlighted different first, second and third party data types that marketers might have: declared, inferred, and observed.   
With these data, you want to obtain insights so that you can learn about your customers, help build a hypothesis to test and optimize your marketing campaigns.  
You can use your customer's website behavior data to track purchase history and content engagement. This would be observed data, and your first party data strategy needs to make sure you can access these records by an individual customer level. 
With a good DMP and first party data strategy in place, you can use your data to create audiences by finding users with similar characteristics to an observed audience. Using machine learning and predictive analytics, marketers can then predict future behaviors.  
For more details on predicting customer behaviors, refer to this webinar: "Why Marketing Leaders Need an Alternative KPI to CPA"
Deliver awesome customer experience with first party data
Businesses that provide excellent CX (customer experience) can expect measurable and highly impactful benefits, hence why marketers at all levels should care about the data that drives the customer experience.
For example, with user-level data (or first party data), you can leverage that data as an input variable for machine learning to predict customer lifetime value (CLTV). 
So you're not only using actual CLTV but predicted CLTV. With that input, you can write the data back to AdTech platforms like Google Ads and optimize the ads to improve the ROI of your campaign performance. 
The following are four key benefits of CX when executed well with first party data.
1) Improve Customer Retention (or reduce churns)
There is great value in providing a service that satisfies the customer. If customers don't receive a satisfying experience when purchasing from a business, they will stop buying from that brand and switch to a competitor.
It is not easy to win back customers once they've churned; it could be very damaging to the business. If a customer has defected, it means that they are switching to another brand, which means your competitors could gain more business over yours.
2) Grow repeat customers
Returning customers will buy your products and services without the need for aggressive promotions. And a fan of your brand will spread the positive word for free, which can greatly help a company's long-term sales. By providing high customer value and increasing customer loyalty, companies can efficiently increase sales from repeat buyers.
3) Improved brand image
If a customer receives a good experience through the use of a certain product or service, it is natural for consumers to feel positive and trust toward your brand. 
And this is not just about the same brand, but also about other brands operated by that company. Truly great customer experience has a positive impact on sales for the company as a whole. 
A well-branded product or service could also help customers spend a little more than what consumers may normally budget for.
4) Effectiveness of advertising from existing customers
If you can continue to provide great customer experience, you will increase customer loyalty. Customers with high customer loyalty transmit favorable information to their networks. The spread of positive word of mouth is proven over and over to be a great benefit to a company's brand equity.
If customers spread positive word of mouth about a company's products and services online and elsewhere, it also can promote your products or services without spending on paid media.
How to use first party data for advertising
Targeting
Your first party data that has been enriched with demographic, behavioral, and contextual information is a very powerful tool for improving targeting and retargeting ads. It makes your targeting more precise and likely to be more effective in the middle to the bottom part of the marketing funnel.  
For example, say you're an e-commerce store owner whose customer is made up primarily of women in their 30s. After analyzing your data, you might learn that women (prior customers) in their 20s are more interested in your latest product than the women in the 30s.  
Your customer data with demographic and website behavior will inform you how to approach the customer segments in pushing for the new product line. Therefore, allowing you to narrow the focus to the customer segment that makes your ad campaigns more effective.
Lookalikes
One way to expand your reach is by using lookalike audiences.  
Lookalike audiences consist of the people or customers that are likely to be interested in your service or products.  
The lookalike audience list you'll create will consist of the customers you defined as a valuable segment. The valuable segment could range from customers who have bought from you in the past to customers you think are highly likely to buy more in the future.  
By targeting people who "look" or "behave" like your target audience, you focus your ad spend on those most likely to engage with your products or services.
Personalization
You can also use first party data to personalize the content or ads you show to a particular user. 
The data you collected on website visitors give insights into their interests and needs, allowing you to serve content that feels relevant or personalized. That can be achieved with tools like Optimizely, Google Optimize, etc.
Another example, you may have various videos that you want to share with potential customers as part of an inbound marketing strategy. By knowing what your audience has viewed in the past, you can determine users' interests and send them videos that are highly relevant to their interests.
Improved feed management for shopping ads product feed
Google Smart Shopping Campaign has been getting popular because it makes marketers' work easier than conventional campaign management. For example, many marketers use Shopify, and Shopify has a feature to kickstart Smart Shopping Campaign with ease.  
With Google Smart Shopping Campaigns, your product data feed and assets are leveraged with Google's machine learning to show various ads across ad networks. A product feed is certainly a first party data.
Setup involves integrating with Google Merchant Center, setting a budget, prepping assets, and telling Google the country of sale. Google will pull information from your product feed and test different combinations of the image and ad copy you provide. It then shows the most relevant ads across Google networks (Google Search Network, Display Network, YouTube, and Gmail).
With tools like Feedonomics, a leading online shopping feed management platform, marketers will have full control over their feed. Therefore, there are opportunities to optimize the data feed to something more dynamic and relevant. For example, creating and using feeds to present the most popular products for a specific customer segment group. 
Final thoughts
The future of the customer experience will rely on what information consumers are willing to share, and the strategies companies put in place to maximize their first party data.
It won't be easy, but marketers will need to navigate many of the new driving factors highlighted in this article:
Respect for consumer privacy and improved data governance of your customer data.

Increasing demand from consumers who want relevant, timely, and personalized communication. Communications that might come from the blog, videos, SNS, podcasts, etc.

Technical challenges surrounding the AdTech industry. Specifically around browser cookies, device/user tracking, and ad targeting.
We cannot ignore these changes and challenges. We all have customer's first party data and manage it in some way. It is time to take a hard look at your current data stack and capabilities.  
Most importantly, plan a data strategy to become more relevant and effective for your customers by leading with a good first party data practice.  
If you have further questions about first party data strategy and management, please feel free to contact us here.
Principle has worked with more than 200 clients since 2012.  We're supporting our clients with data-driven digital marketing execution to drive their business. 
We hold ourselves accountable to the service quality and maintain high standards to be a global leader of digital transformation.
Here are some of our latest content. Please check them out and let's get in touch to explore how Principle can work with you.
Do you need support for your digital advertising campaigns?
Principle's paid search, and social advertising service provides a data-driven approach that helps our clients' businesses grow.