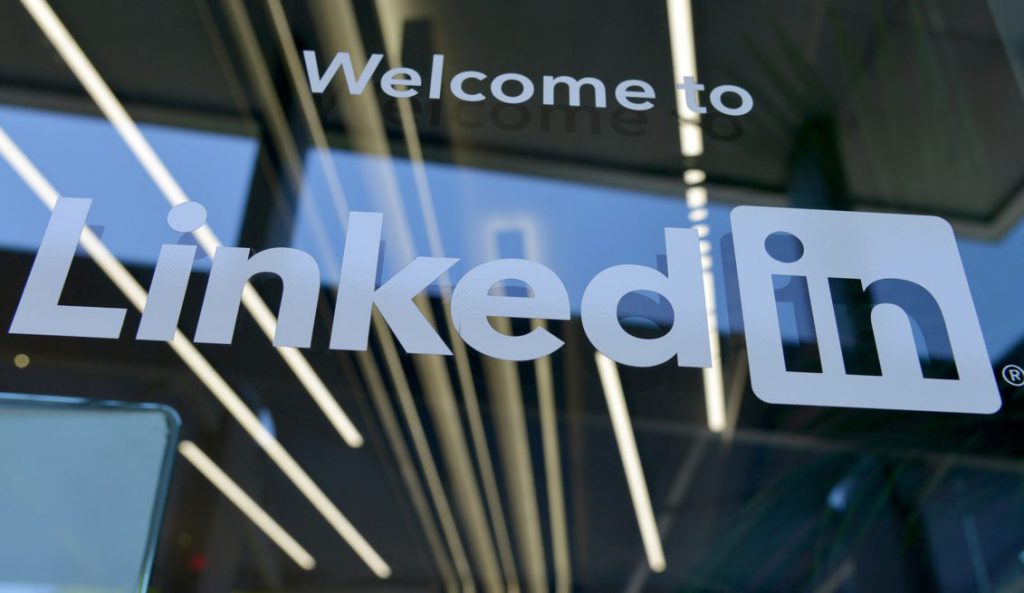 As a social network that's designed for professionals, LinkedIn has a strong reputation for helping entrepreneurs develop their businesses. If you're a B2B marketer and you haven't begun using it to advertise your business, now's the time to start doing so. With more than 720 million members, LinkedIn is the world's most popular professional networking site. By January 2020, more than 663 million users had been reached by LinkedIn ads.
Whether you're new to LinkedIn, unfamiliar with the network, or want to improve the way you're currently using it, it's essential to know about its greatest advantages. If you're interested in engaging in B2B marketing on a platform with over 720 million members, read on for all the need-to-know information to yield the best results.
The Benefits of LinkedIn Advertising
There's no denying that marketing via social media is complex. Thankfully, LinkedIn has generated an impressive range of tools that make B2B advertising much easier to master on their platform.
A major distinguishing factor between LinkedIn and other social media channels is that you're targeting a more professional audience. That being the case, you'll likely be targeting based on factors such as seniority and job title rather than broader categories such as age or gender. Engaging in this sort of audience targeting allows you to focus on the skills, past work experience, and even the alma mater of your target audience.
Your ability to target your audience with accuracy will help you reach your ideal customer profile, especially if you reach business owners and decision-makers that will accelerate your business goals. Depending on whether your brand is well-known or in its infancy, you can expect conversion rates of 1.5 percent to 4 percent. Provided that you optimize the marketing funnel, LinkedIn could help your business acquire leads under a reasonable acquisition cost.
A key benefit to using LinkedIn is its massive reach to professionals and decision-makers worldwide. Over 30 million companies are on LinkedIn, along with approximately 27 percent of Americans and 41 percent of millionaires.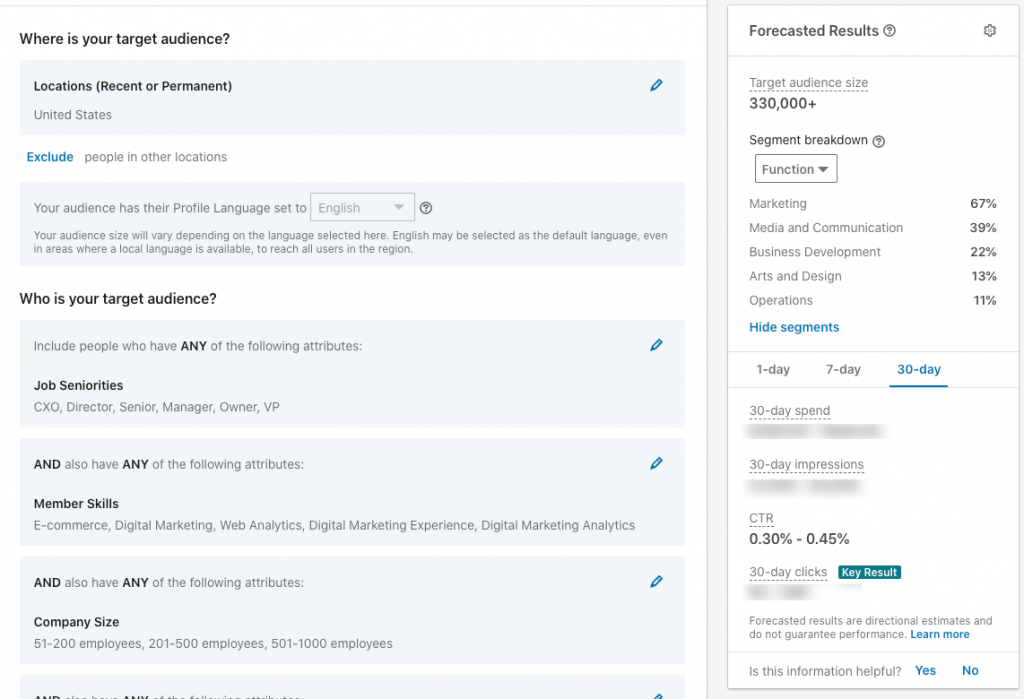 Types of audience B2B marketers could aim for in advertising
As a business-focused social media platform, LinkedIn allows you to reach an exciting community of individuals — a valuable opportunity to greatly improve your lead generation. Once you've decided what you want the outcome of your ad to be, you can focus on the following type of audience:
Decision-makers
Decision-makers have the most power to act on the opportunities presented to them. They're the people who place the final stamp on what a company buys and for what price. That being said, they don't always act alone, especially when you're targeting a large organization.
In many cases, the decision maker's profile usually leans toward upper management within a company.  It'll vary by the size of the company, but typically it could be Director, VP, or CxO in their job titles.

Decision-makers may not be just one person.  If you're targeting a large organization, then it might be worth targeting several upper management titles across various job functions.  Example:  You can aim for VP in both marketing, operations, and finance.

Influencers
As their name suggests, influencers in a business have the power to drive change. Their insights are taken seriously, so when your ad is presented to them, they may act on the enticing new opportunity you're promoting. Finding an influencer requires some research, as you'll want to ensure that you're targeting the right people.
As you research active LinkedIn users with followers in specific industries of your interests, you could leverage the following features in creating your ads:
InMail ads to target specific audiences and send direct messages.

Influencers in a company may not necessarily be managers.  Identify titles that would be of interest to your category to gain trust, so the ads could potentially have a very specific job title targeting.  Example:  Selling sales enablement software, you can target an ad for a free demo to people with sales or business development titles.

Professionals
People with a high level of job seniority, especially those who are specialists in their field, have the power to put plans into effect. They typically hold positions such as CXO, director, manager, owner, partner, etc.
Each of the above groups represents a broad selection of individuals, but you can use LinkedIn's many tools to further refine your ads.  Examples of that would be seniority and/or job functions for targeting variables when you create the ads.

Education and Past Work Experience
If you're targeting individuals for hiring purposes, you may have preferences regarding their education and past work experience. The same thing applies to lead generation, especially if you have specific targeting needs for a lead profile with specific background and experience.  Conveniently, LinkedIn allows you to target individuals that meet your specific criteria.
This refines the targeting criteria, even more, knowing down the lead to a specific certification, experience, educational background, etc.  Around 40 percent of LinkedIn users are active on a daily basis. As a result, even if your criteria are quite specific, you still stand a strong chance of finding the new team audience you're looking for.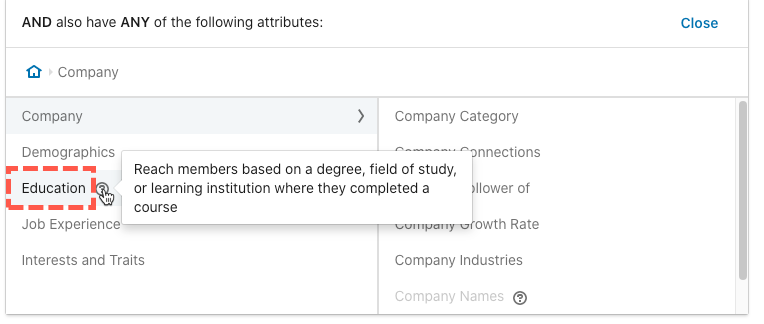 Company Connections and Followers
When you're trying to build your audience of followers, it's wise to look at company connections. Company connections are essentially the LinkedIn version of a mutual friend, as you're connected to one another through a mutual follower. If your connection trusts the follower you have in common or can see that they share a number of interests, they may be more responsive to your ads.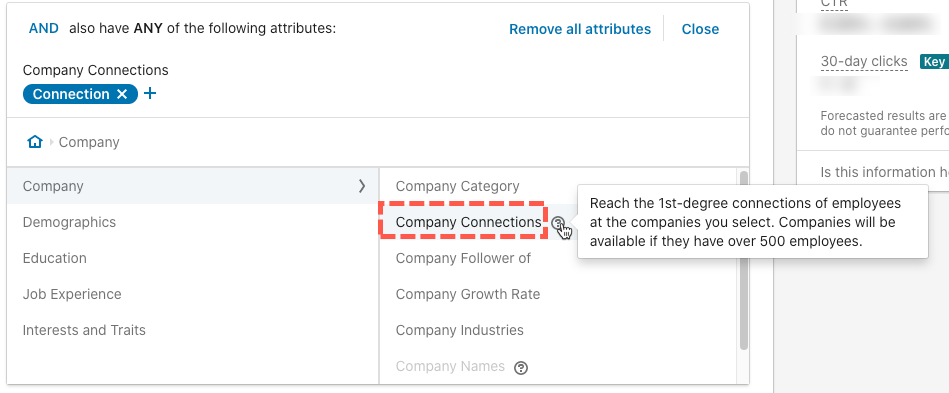 Different Business Sizes and Formats
Being able to target the right type of organization is particularly important in B2B advertising. For example, if you're offering a service that could easily accommodate a small venture but wouldn't be appropriate for a larger one, you wouldn't want to generate the wrong type of leads. By advertising through LinkedIn, you can target businesses according to their size, location, industry, and more. Doing this helps you reach your target business faster.
Different Types of LinkedIn Ads
LinkedIn ads come in several ad types, including sponsored content, sponsored InMail, text ads, video ads, carousel ads, and dynamic ads. You can adjust each format in a variety of ways, but it's helpful to have a brief overview of what they are and when they prove useful.
The ad formats that are available through the platform:  Single image ad, carousel image ad, video ad, text ad, spotlight ad, message ad, and conversion ad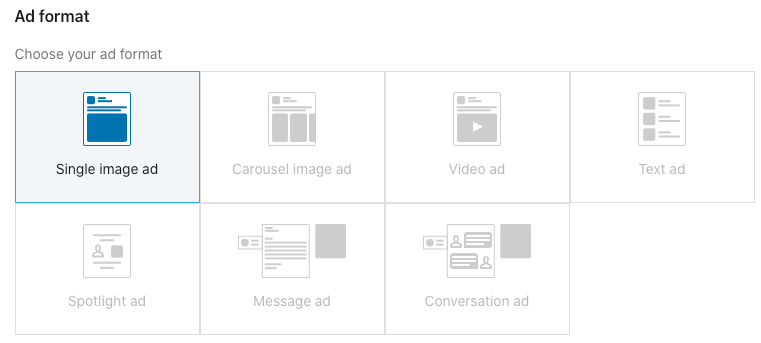 Sponsored Content
LinkedIn allows you to share posts and media via your company's page. When you sponsor that content, it appears in front of your target audience. Sponsored content allows you to attract new followers, draw attention to fresh features, and increase quality leads to your blog posts. It has the potential to triple your page followers, giving you more leverage for future content.
Sponsored InMail
LinkedIn users can send and receive mail. Not only is it useful for building connections, but it's also an excellent advertising tool. With Sponsored InMail, you can send highly-targeted messages for B2B advertising purposes. It's a particularly powerful tool for generating B2B leads without spamming, and it allows you to promote webinars and other such events.
Text Ads
Much like PPC advertising, text ads are easy to create. They display on the inline and side rail elements of the LinkedIn page, and you'll only pay for the clicks or impressions they generate. In addition to targeting your B2B audience, they're excellent for attracting job candidates or driving more traffic to your website. They can prove particularly useful when you're first adapting to LinkedIn's targeting and pricing structures.
LinkedIn's Pricing Structure
The real beauty of B2B advertising via LinkedIn is that you're in complete control of your budget. But, as any budget-conscious marketer knows, having a firm understanding of a platform's pricing structure is crucial to your campaign's success.
If you're using text ads, you'll pay per click and per 1,000 impressions. How much you'll pay per click will vary based on several variables within your control, including targeting, reach, and your daily budget.
If you're using the InMail advertising system, you'll pay per mail sent. LinkedIn expects a minimum spend per advertising campaign. As a result, the cost of each mail being opened varies.
Take Advantage of LinkedIn's Advertising Opportunities
Overall, using LinkedIn for B2B marketing allows you to achieve targeting accuracy that you may not experience elsewhere. In addition to enabling you to connect with businesses faster, it can help you achieve an ideal cost performance as you optimize the ads.  When you need to target specific individuals and businesses, you can do so seamlessly.
If you have any further questions about B2B marketing and campaign management with LinkedIn, please feel free to contact Principle. Our team of strategists would be happy to help you create effective B2B lead generation campaigns within your budget and timeframe.
Do you need support for your digital advertising campaigns?
Principle's paid search, and social advertising service provides a data-driven approach that helps our clients' businesses grow.