---
Overview
Google's Optimization Score is an estimated score that grades how well your Google Ads account is configured to perform.
Within Google Ads, there are many ads you can run. In addition to search and display, a variety of advertisements like video, shopping ads, and mobile apps are part of Google Ads offering. The diversity of choices means that there are many things to consider in the setup. 
I'm sure you're wondering if your current Google Ads account is set up well or not. If you're campaign manager, you could be scratching your head more than once when you go through that setup process. 
The optimization score is the answer to these operational concerns. In this article, we'll summarize three tips on using the optimization score to improve your campaign's effectiveness.
Table of Contents
What is an optimization score?

Examples of Google's Optimization Plan

Tip #1: Take measures with high potential for an improvement

Tip #2: Check regularly

Tip #3: Don't obsess for 100 points

Example results from adding responsive search ad
What is an optimization score?
First, let's take a look at Google's official explanation of how the optimization score is determined.
"Optimization score is calculated in real-time, based on the statistics, settings, and the status of your account and campaigns, the relevant impact of available recommendations, and recent recommendations history."  Link to source.
The point is a metric for each account is calculated in real-time. As a general rule, the higher the optimization score, the more desirable it is. Conversely, the lower the optimization score, the opportunity for improvement is more substantial. 
It's important to note that the values are calculated according to the specifications of Google Ads, which means the value is not calculated against the promotion's target value. 
In other words, there could be a situation where the optimization score is high, yet the actual promotion goal is not reached. Also, the optimization score is low, but your promotional targets are met. In the latter case, this is a situation where you should consider increasing your ad budget because of the potential for growth.
You can view your optimization score by clicking on "Optimization Suggestions" in the left menu.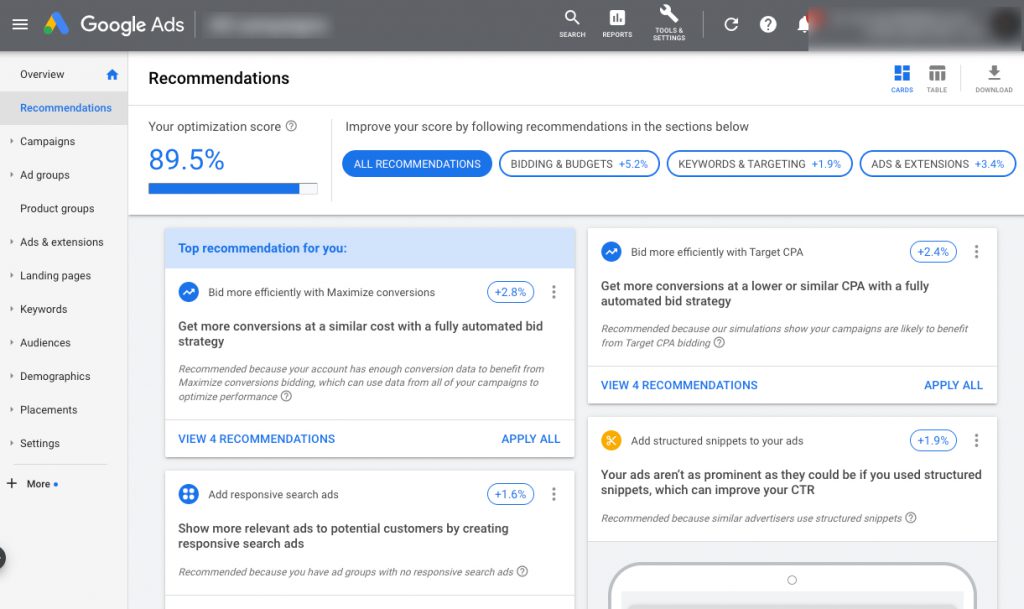 Examples of Google's Optimization Plan
As you can see in the image above, Google will provide you with an optimization plan. By tackling the optimization plan, you can expect some improvements in the optimization score and campaign performance.
We've listed some suggested optimization plan suggested by Google here.
1. Add new keywords
In this example, Google suggests additional keywords search ads based on actual user search trends. 
It also provides a list of ad groups to assign the keywords (image below). Make sure it matches the product/service you're trying to promote. Check the box to complete the process by adjusting your ad from this screen.
Finding new keywords is essential to your operation. The longer your account has been in operation, the more likely it is that you've already registered your primary keywords. And I'm sure you've already taken action to implemented suggested keywords from Google. That said, these keywords suggested by Google are a pretty nice feature to take into account.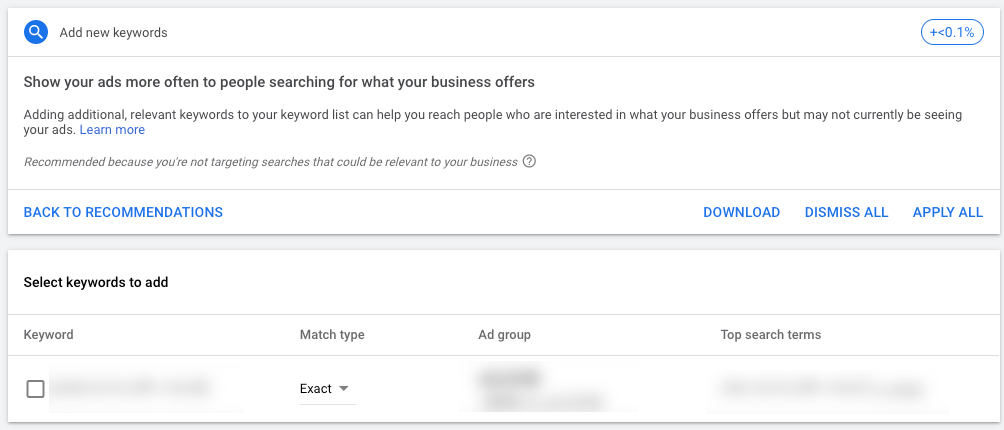 2. Raising the budget
What is a reasonable advertising budget? This is a common concern that will always be on the campaign manager's mind. 
One factor to consider for budget adjustments is the proposed increase in this budget. As shown in the image below, you can simulate how much an increase in the ad budget will increase conversions.
It will be displayed in conjunction with your cost-per-conversion assumptions, so if it's acceptable, it might be worth raising the budget!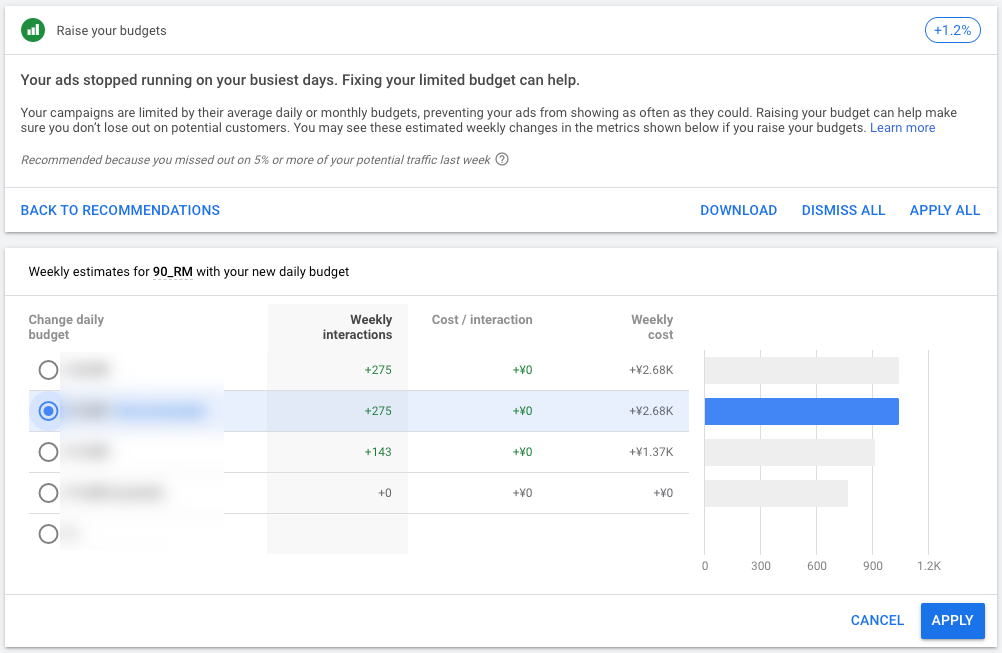 3. Enable responsive search and display ads

Responsive search/display ads work with a headline, blurb, and multiple images. It is a system that optimizes the combination of each part by Google's machine learning. More details here for responsive display ads and search ads.
Google's machine learning algorithms are evolving every day, so you may see responsive search and display ads outperforming manual optimization. 
Particularly for display ads, we can save you the trouble of preparing all the prescribed size material, which makes the work more efficient. So responsive display ads could be an effective tactic from an operational standpoint.
In addition to the above points, additional ad display options, new ad patterns, and removal of duplicate keywords could be suggested according to the optimization score on your account.
Tip #1: Take measures with high potential for an improvement
Now that you have various measures to tackle, which one should we start? 
Each measure has a set of points, and the degree of improvement is visualized. The "+0.4%" or "+0.1%" in the upper right corner are the points (image below). 
The higher this point is, the more improvement you'll find in your optimization score. For example, in the diagram below, the addition of a responsive search ad is +0.4%, and adding assets to responsive search ads is +0.1%.
This point is set based on the circumstances unique to your account. With this, you can prioritize what to apply for improving your optimization score.
Not only are the steps taken to improve the optimization score, but we regularly review the campaign's effectiveness due to changes. As a rough guide, we suggest reviewing your settings after 7 days, and 14 days after the review.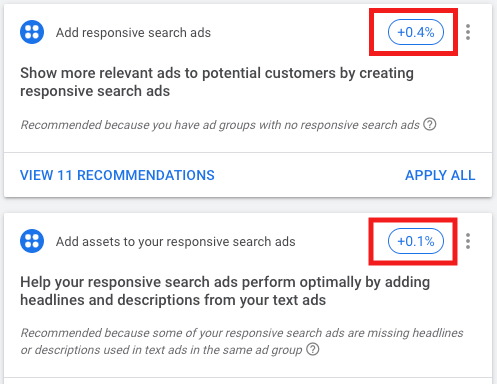 Tip #2: Check regularly
The second tip is an obvious one. Periodically review the list of optimization suggestions. As stated at the beginning of this article, an optimization score is based on the recent optimization history calculated in real-time. 
 In extreme cases, if you implement all of the optimization suggestions on a given day and get a score of 100, it doesn't mean you should leave it alone indefinitely. 
The measures you need to take will change based on user search trends and the status of your competitors' submissions. Use the optimization score as a clue as to what to do now, depending on those changing factors. 
Because of this, we recommended that you check Google's optimization score regularly. It is difficult to give a guideline for how many points you should score, but we believe aiming above 60 would be a good starting point.  
Our clients managed under Principle are maintained around 80~90 points.  
Tip #3: Don't obsess for 100 points
For the third point, the goal is not to improve the optimization plan itself. Improving the optimization score should positively impact campaign effectiveness. Therefore, it is not wrong to aim for the improvement of the optimization score. However, each account has different KPIs, so it is crucial to keep that in mind and continue to manage it holistically.
For example, in the case of "raising the budget" shown in tip number 2, if the cost per conversion is less than your plan, it doesn't mean you should be raising the budget. You may have a particular budget cap and other KPI to consider beyond CPA.  
As a campaign manager, your objective should be to achieve the account's KPI goals. 
The optimization score is used as a reference to determine which measures to implement. It should also help you determine the order of priority to achieve the campaign goal. 
Optimization suggestions are a compelling feature. Please don't let your optimization score get in the way of making the most of it!
Example results from adding responsive search ad
Finally, we'd like to share a result when we implemented the optimization measures to improve the score and campaign KPIs. This example is from one of our client's accounts we manage. 
Here's a review of the result after adding responsive search ads according to the optimization plan. Below are the results about a week after the addition. They are comparing the average performance of responsive search ads against the rest of the non-responsive search ads.  
We've seen a significant increase in CTR and clicks, partly due to the effectiveness of responsive search ad optimization. And most importantly, conversions have doubled. And ROAS values have also improved significantly by 140%, and they're performing better than regular text ads. 
The results will vary depending on the market condition at the time. But this feature is helpful to consider when assessing the measures to take.
Note: The actual values are grayed out. 

Do you need support for your digital advertising campaigns?
Principle's paid search, and social advertising service provides a data-driven approach that helps our clients' businesses grow.