Why Marketing Leaders Need an Alternative KPI to CPA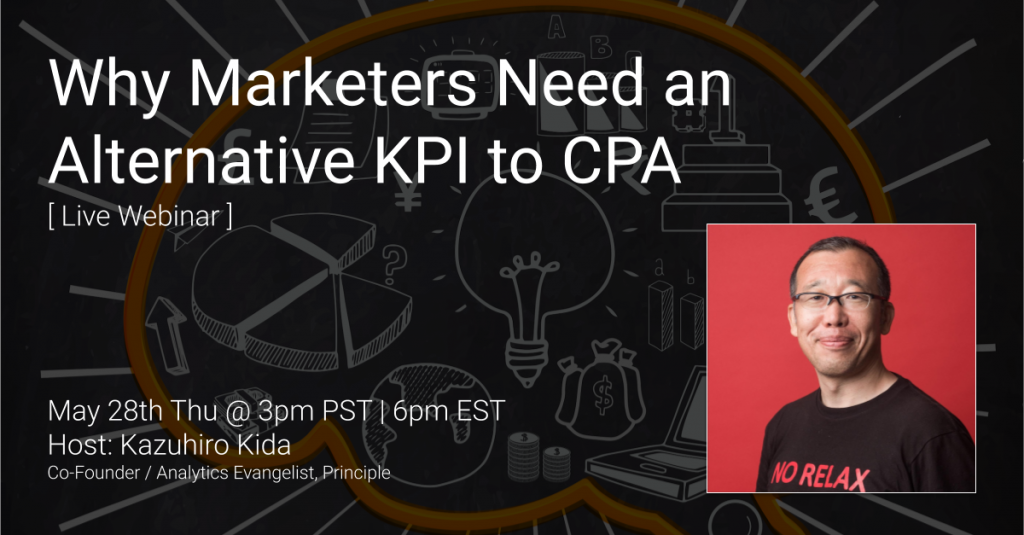 You can register here to view the webinar recordings.
About the Webinar
Please join our C-founder and Analytics Evangelist, Kazuhiro Kida (Kaz), covering the topic of "Why Marketing Leads Need an Alternative KPI to CPA."
For businesses to strive in today's highly competitive market, brands must have better marketing strategies.
There is a strong demand for marketing managers to set goals and create results that contribute to sales and profits due to various factors driving business challenges.  Marketing leaders are also required to improve the effectiveness of marketing investments from an optimization perspective.
In this webinar, we will explain not only the KPIs and tactics marketing leaders should consider but also the ideas that are important for the overall design of the marketing plan in this era.
Principle enables brands and enterprises to advance their marketing data and leverage insights to improve marketing and operations ROI.  Kaz Kida, Analytics Evangelist and CoFounder of Principle, will go through ideas that are crucial in building your digital strategies based on data and enablement.
What you'll learn in this 45min webinar:
  Problem with CPA as KPI and why marketers need an alternative measure
  Issues with traditional ROI and how pROI (predicted ROI) could maximize marketing spend
  How to report and improve pROI
VIEW THIS RECORDING
Agenda
Why marketing leaders should reconsider CPA as a KPI
Problem with CPA as KPI
How CPA is defined differently across marketers
Cost per Acquisition Vs. Cost per Action
Why marketers need to be careful with key indicators
What is an alternative to CPA?
Cost Vs. Return based performance measures
Issues with ROI
Introducing pROI
The difference between pROI and traditional web advertising KPIs
How to improve pROI
Summary
About Kaz (Kazuhiro Kida)
Kaz is a Co-Founder of Principle and leads Principle's search and analytics solution teams. Kaz has published best-selling books on Google Analytics and Tableau Data Visualization in Japan. He is an industry-recognized leader. Kaz retains certifications: Google Analytics Partner, Tableau Certified Professional.