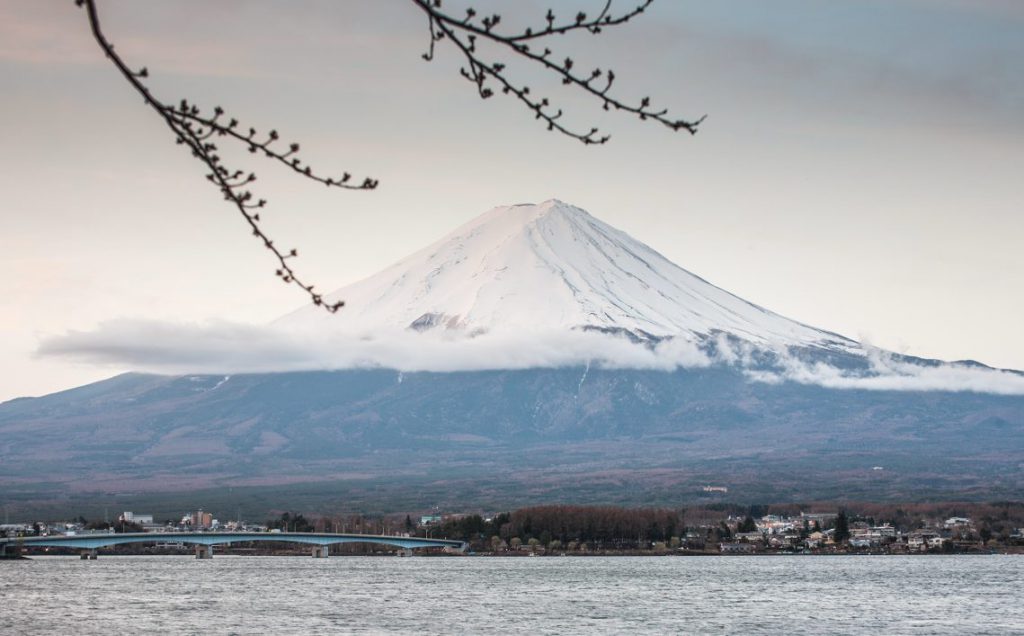 As Japan's younger generation is becoming more prominent as business leaders, family leaders, and independent young adults, traditional culture is becoming intertwined with those from the Western world. Online shopping is becoming more prevalent. While brick-and-mortar stores have many of the supplies this generation is looking for, it's quicker and easier to order these same supplies online. This is the perfect opportunity for companies to market to this group and expand into Far East Asia.
In order to market for the different seasons and holidays in Japan, one needs to understand the traditions. This can help bring the right products to the market at the right time. According to the Ministry of Economics, Trade and Industry, Japan has five months of the year that have higher retail sales. They are January, March, July, November, and December.
You'll see in the charts where these months have higher sales than the other months of the year, with December and January typically having the highest sales. This trend has continued on since 2016, according to the data provided. Let's look at the holidays and events in these months that contribute to high sales numbers. This data can help you determine when to highlight your products in the Japanese market.
Holidays and Seasonal Events
January

New Year. The Japanese New Year runs from January 1st – 7th. Most stores are closed from the 1st – 3rd so people can spend time with family and friends. Families decorate their homes with ornaments made of pine, bamboo, and plum trees.
People purchase products with zodiac signs, give thank-you gifts to friends that they visit, and celebrate their equivalent of the American Black Friday. Hatsuri, as it is called, is a period lasting about two weeks. This is when the first sales of the year happen. Limited editions of products come out, and consumers find the biggest discounts of the year. Merchants also fill lucky sales bags, called Fukubukuros, and have random merchandise in the bags, on sale for up to 50% off the regular price. These are similar to grab bags in the U.S.
Seijin no Hi. Also known as "Coming of Age Day," Seijin no Hi is one of the most important national holidays in Japan. It's a day of celebration for everyone who turned 20 the past year. They are legally adults now and have earned their right to drive, vote, and consume alcohol, among other things. They wear traditional Japanese costumes, and some dress up to celebrate. Stores offer discounts during this time.
Valentine's Day. Well, Valentine's Day doesn't technically fall in January, but the holiday is so big in Japan that people start getting ready early. Women are expected to buy chocolate for all the men in their lives, the ones they have feelings for, and men they are obligated to buy chocolates for, like their coworkers and friends. According to the Japan Anniversary Association, around 20% of the year's chocolate is sold on Valentine's Day. This accounts for approximately 126 billion yen (US$1,216,900,000).
March
Hinamatsuri (Doll's Festival). Occurring March 3rd each year, families use this holiday to celebrate their young girls, hoping and praying for their success and happiness. They celebrate by dressing children in traditional kimonos, taking pictures, and making memorable gifts. Parents and grandparents send gifts to the young girls, hina dolls are displayed, and rice cake and white rice wine are served.
White Day. This holiday is celebrated exactly one month after Valentines Day. Men, in appreciation of the gifts they received on Valentines, return the favor by giving the women whom they received chocolates from, a gift. Return gifts are clothes, bags, or accessories, depending on the relationship between the man and the woman.
Graduation. In Japan, graduation ceremonies are held in March for Elementary, Middle, and High School students. University graduations also take place this month. People take pictures and purchase gifts for the graduates.
Hanami. This is the simple tradition of just cherishing flowers, most commonly, cherry blossoms. People travel to see cherry blossoms and sit under the trees with family, friends, and colleagues. They buy cherry blossoms, pink food, pink snacks, and wine.
Preparation for the New School Year. The Japanese school year starts in April. Students buy new clothing, uniforms, book bags, and other school supplies to be ready for the year. For those that have just graduated, they are prepping for their life in the workforce. They need furniture, electronics, kitchenware, and other items to be living on their own. They are also preparing for company entrance ceremonies and will need to dress appropriately. Because of the way the Japanese school system is set up, this cycle repeats at the end of August and the beginning of January, as the various breaks come to an end.
July
Tanabata. Also known as the Star Festival, this seasonal event is held on the 7th day of the 7th month. People write their wishes on little sheets of colorful paper and hang them from bamboo trees, in hopes that the wishes will come true. Streamers and papier-mache are popular during this traditional festival.
Summer Vacation. Summer vacation starts at the end of the month for most schools. Restocking of school supplies is common, as is traveling and vacationing. Typical summer supplies are needed during this time, from suitcases for traveling to swimsuits for the local pools. Travel creates sales for the hospitality and travel industries, as well as the retail industry, while people are moving about the country.
Ochugen. Another holiday that involves gift-giving, this holiday is focused on giving gifts to those you appreciate or may be indebted to. This could be relatives, doctors, teachers, supervisors, or customers. Most times, these gifts are consumable and can range from 2,000 yen to 30,000 yen ($30 – $300). 
November
Koyo Season. This is the season of the leaves changing colors. It can last from late September through to early December. People travel to popular Koyo spots in the country and purchase things to eat and drink, view nature, and appreciate their surroundings.
Shichi-go-san. The 7-5-3 holiday celebrates 7-year-old and 3-year-old girls and 5-year-old boys. Parents pray for health and happiness for the children. New kimonos and hakamas (loose, pleated trousers) are purchased for the children and professional pictures are taken. Gifts of all kinds are given to the children.
Black Friday. A relatively new event in Japan, the American tradition is quickly catching on. In 2016, Aeon Mall conducted the first Black Friday in Japan. Since then, other brick-and-mortar stores have jumped into the mix and major e-commerce sites have started participating, providing digital marketing and sales opportunities for all online companies. 

Cyber Monday. This is a relatively new term in Japan, as the population is shopping online. An Amazon survey this year said that 53.2% of the population was planning to do their holiday shopping online this year.
December
Christmas. The Japanese Christmas has similar traditions to the American Christmas. While it is not a religious holiday in Japan, people decorate trees, hang ornaments, visit shopping malls, and exchange gifts. Gifts are smaller and more focused on close family and couples, as there are other gift exchanges in December as well.
Oseibo. Another gift-giving holiday, these gifts are given as a thank you to someone who has shown you kindness. This may be a client, supervisor, doctor, or landlord. Often, the gifts are consumables or household goods.
Omisoka. Celebrated on December 31st, this is the start of the Japanese New Year. People celebrate with food, drinks, and gifts as they wait to ring in the new year.
Retail Sales Trends
Japan, like all countries, has its set of holidays and traditions that are important to the population. Many of these holidays and events include buying gifts, food, special clothing, and other items. The Japanese have no issues spending money to celebrate their traditions, and some of them are even obligatory.
However, when marketing to the public in Japan, be aware that their calendar does not follow the same schedule as the United States. The differences in traditions and seasons are remarkable, and the values the Japanese have need to be considered when marketing to the population.
It is also interesting to note, Japanese consumers are moving away from traditional, physical stores in favor of online marketplaces when it comes to making purchases. This is an important development for international sellers as Japanese consumers have traditionally stayed loyal to physical stores, although a mixture of shifting attitudes and the restrictions of COVID-19 has driven more and more consumers online in recent months.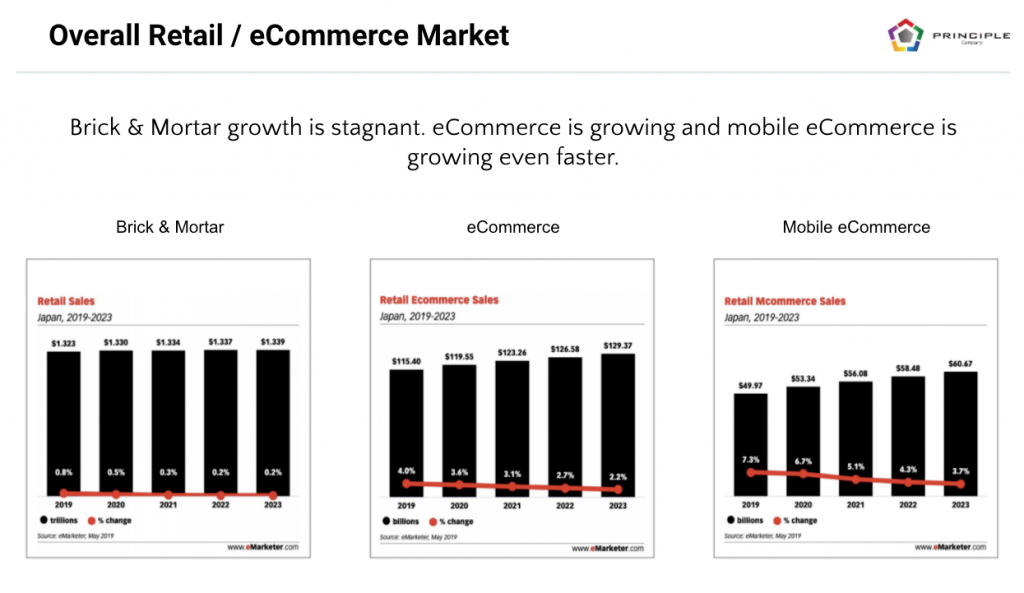 Talk to Us
Principle is a leading expert in marketing strategy and digital marketing to the Japanese market. To find out how Principle can help grow your business in Japan, contact us today.
About Principle
Principle helps businesses of all sizes make better decisions through data. For the better part of a decade, we have helped global brands and Fortune 500 companies turn data into intelligence and actionable insights they can use in digital marketing.
Our team of 100 employees includes experts across Analytics, Paid Marketing, SEO, and Data Visualization. We offer actionable and measurable data analytics strategies, SEO, and campaign management services that deliver the digital transformation your business needs to outperform the competition.
We recruit independent professionals who have their own personality, an established way of life, a unique skill, and can share our philosophy. With such colleagues, we believe that individuals and companies will grow together and achieve great quality and result in an unseen business world.
To learn more about digital marketing and advertising in Japan or elsewhere in the Asia-Pacific region, feel free to contact us at Principle.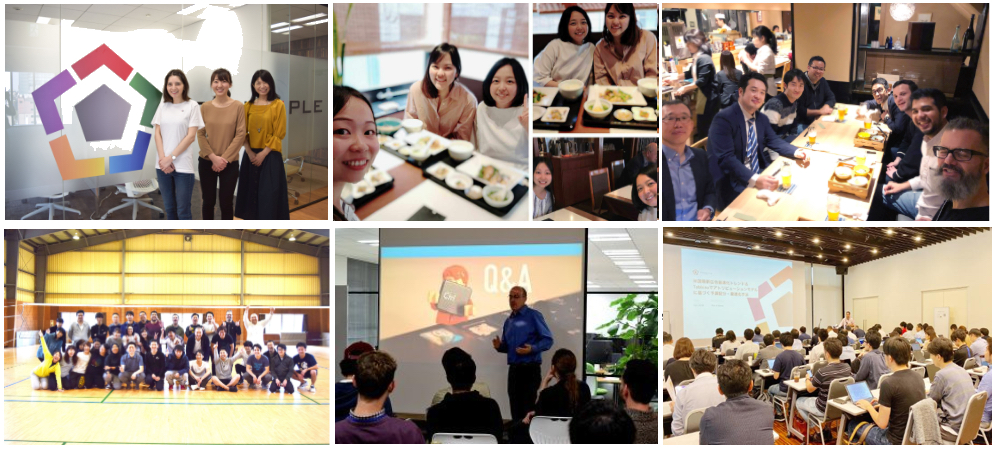 Want to grow your business in Asia?
Principle is a data-driven marketing agency that grows your business in Japan and the rest of the Asia Pacific market.  Click here to learn more about our digital marketing services for the APAC region.