For B2B companies, the content they create has been an effective way of achieving the trust of their prospective customers. This is true for businesses across Japan, but it's a key strategy for the B2B segment, where multiple people are involved in the long sales and consideration period. The pandemic has resulted in the cancellation of trade shows and other events, decreasing opportunities for face-to-face meetings. This has made online content more important than ever before.
Customers are now gathering more information online through various websites and social networking platforms. In this digital age, prospective customers have the ability to consider certain services before a sales rep approaches them. This is why it's necessary to optimize your online content to influence the consumer decision-making process.
The pandemic has shifted many marketers' budgets, with a majority spending more on owned media, video content, and online events and webinars in Japan. With more businesses investing in online content, it's essential to find ways of differentiating yourself from competitors. This article will cover the top three B2B content marketing strategies for Japan.
Strategy 1: Focus on content that will acquire prospective customers
At Principle, we use data and analytics to help clients understand where they should prioritize their marketing efforts.
This is accomplished by using Heap and Google Analytics 4, which allow marketers to determine which pieces of content were first viewed by their customers. This is different from the prior Google Analytics (Universal Analytics) version, where your ability to review your views from customers is based on time frames rather than your online content.
This example list of landing pages shows exactly which content and topic to focus on if you want to acquire prospects who are likely to convert.  On the left are the general landing pages of people who visited our blog in a given time period for people who converted.  On the right, are the list of blog pages that happened to be their initial landing page, where the initial landing page is defined as the user's very first page they've visited in their entire tracked history.
As you can see, many blog articles around analytics are highly engaged, but very few articles related to B2B demand generation and paid media were the blog articles that helped acquired leads.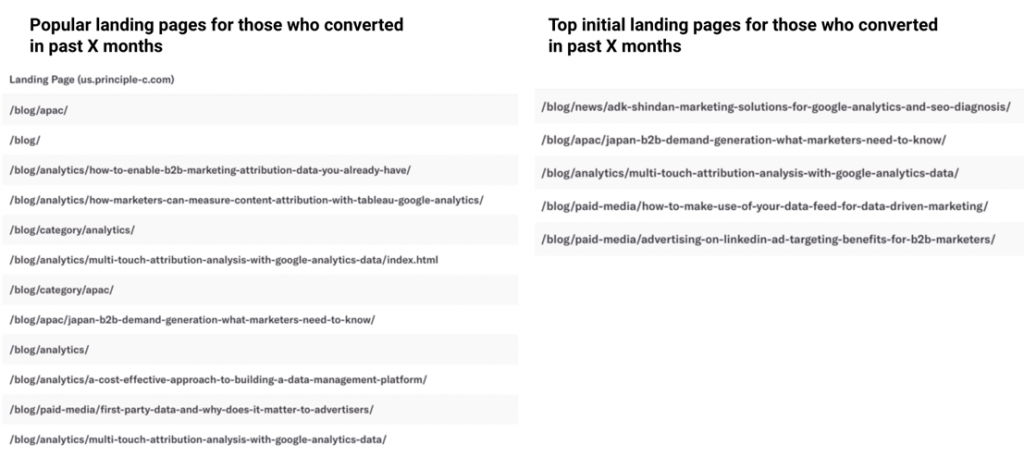 With these insights, you'll have a clear understanding of what content is bringing visitors to your website. For optimal results, focus on the particular segment of users you are targeting and then look at the content they first viewed. Please note, the first view of a user that visited your website today could be content viewed from a year ago. Knowing the content and topics that drive traffic to your site is critical, as that's where you'll want to double down on your content marketing budget and resources.
Strategy 2: Understand and invest in content that engages your prospects
After viewing your content for the first time, it's entirely likely that one of the next pieces of content people see will be somewhat related to your business. That's because you can continue to engage with prospective customers by investing in ads or emails. Before doubling down on any one method, you can use analytics to determine which of these approaches yields the best results.
Most B2B marketers are investing in content marketing by incorporating it into blogs, articles, seminars, and trade shows in Japan. Webinars have also become a popular content marketing tactic for B2B marketers during the pandemic.
That said, there are still various types of content you can put out to engage your prospects and differentiate yourself from competitors. This includes:
Videos
Infographics
eBooks
Podcasts
These suggestions are based on observations from working in business environments in both Japan and the US.
There are abundant opportunities for companies trying to grow their businesses in Japan. To do this successfully, they can try and test various types of content that are common in the West. This method of content marketing could prove fruitful for gaining awareness in Japan.
The data below shows how certain user segments result in different retention rates.  Marketers could apply the learnings and refine the marketing strategies to engage their user base and ultimately convert.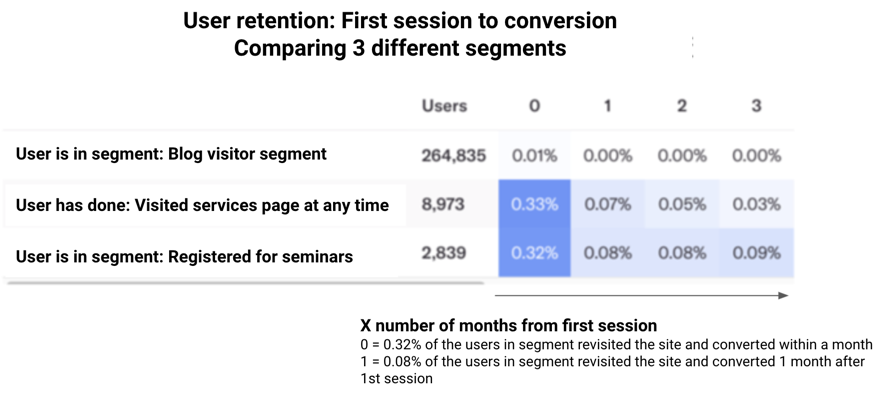 Strategy 3: Localize for the Japanese audience and avoid translating your content from English to Japanese
If you're not overly familiar with the market or don't have a guide to business expansion in Japan, things can seem quite confusing. Language may be a barrier and Japan's customs might feel unfamiliar. These cultural and language complexities are the reasons why you shouldn't simply translate your blogs into Japanese. You should be localizing your content in accordance with regional nuances.
Japanese is only spoken in Japan, and the written language comes in three different forms (Hiragana, Katakana, Kanji). There are not many Japanese people in Japan that are fluent English speakers. However, many Japanese business professionals have decent reading, writing, and communication skills in English (and considerable familiarity with English acronyms and business terms). Still, the resources required to meet the transpacific content marketing needs for Western businesses in Japan can translate into a higher agency fee or higher costs in general.
If you have content creation and marketing needs for expanding your business in Japan, please feel free to contact us at Principle.  We'll ensure that you're working with the right marketers that can work with you globally and execute locally in Japan.
About Principle
Principle helps businesses of all sizes make better decisions through data. For the better part of a decade, we have helped global brands and Fortune 500 companies turn data into intelligence and actionable insights they can use in digital marketing.
Our team of 100 employees includes experts across Analytics, Paid Marketing, SEO, and Data Visualization. We offer actionable and measurable data analytics strategies, SEO, and campaign management services that deliver the digital transformation your business needs to outperform the competition.
We recruit independent professionals who have their own personality, an established way of life, a unique skill, and can share our philosophy. With such colleagues, we believe that individuals and companies will grow together and achieve great quality and result in an unseen business world.
To learn more about digital marketing and Tableau Dashboard support services, feel free to contact us at Principle.