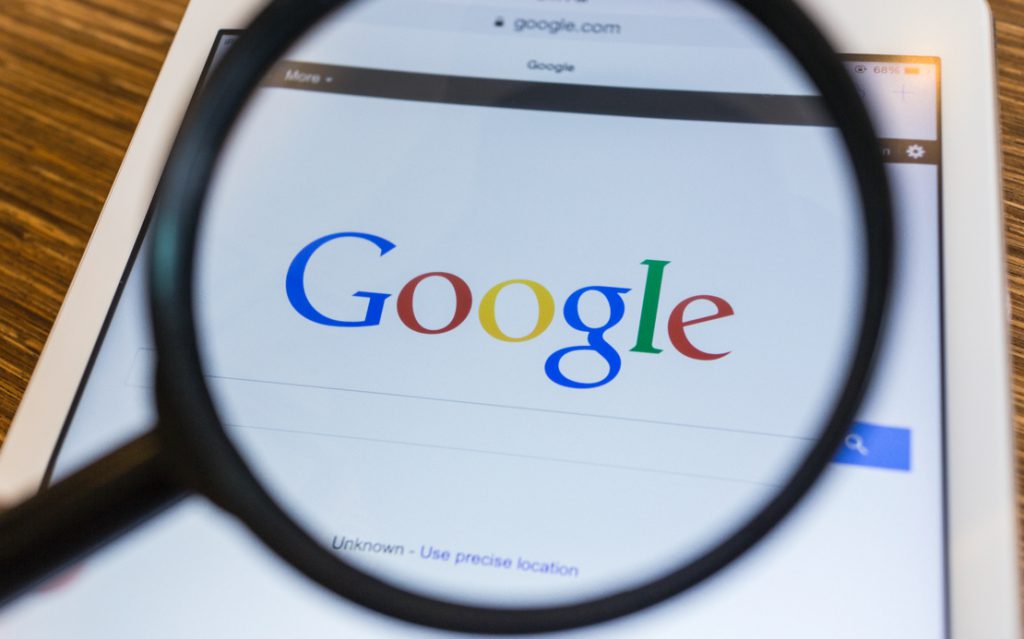 Search engine marketing is a valuable tool in growing a business in Asia. The best tools for the job may not be the ones most Western marketers are accustomed to, requiring a bit of a learning curve. For instance, while Google is a popular search engine in the West, it is not necessarily the best solution for search engine marketing needs in some Asian markets like Japan and China. However, it is important to note that search engines are a crucial marketing channel for those who want to expand their reach into the APAC region.
Why should businesses care about China, Japan, or the APAC region? Japan is the world's third-largest advertising market, with only the United States and China earning higher spots. Brands interested in expanding their reach would be wise to explore how Japan fits into their overall marketing goals and strategy.
Multinational marketers and managers already are aware of the reach Google has across the world. Those who are planning to expand in the APAC region for the first time may not be familiar with the other search engines consumers are using, particularly those in China and Russia, where the governments have blocked access to Google. 
Working with professionals who are experienced in the nuances of the APAC market can help increase the chances of success. Learning more about the specific search engines that offer the most return on your investment can help maximize your advertising budget.
Search Engine Market Share in the APAC Region
The APAC region is a unique search engine market. Compared with other places in the world, APAC has several diverse platforms that comprise the search engine market share. Western marketers are sure to recognize search engine giant Google but may be less familiar with Baidu and Yandex. 
Each has a share of the market, and each offers specific benefits to marketers. Businesses hoping to expand their brands in the Asian market should acquaint themselves with the most popular platforms and explore the advantages and disadvantages of each. The information can then be used to strategize a marketing plan that embraces individual growth goals.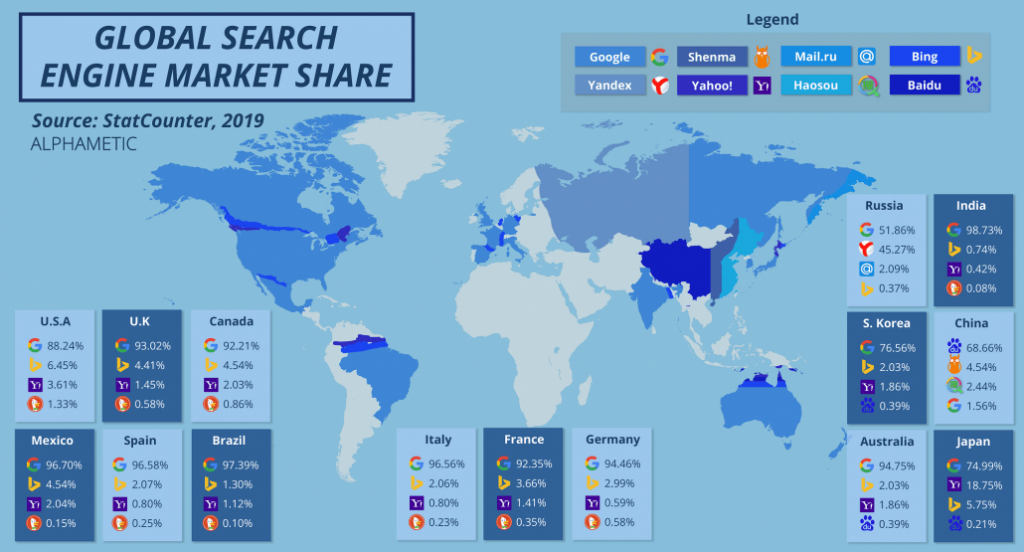 Yahoo! JAPAN
Most marketers who are new to the search engine market in Japan may not be aware of the popularity of Yahoo! JAPAN. While it is true that Yahoo! JP's search engine pales in comparison to Google — 18.75 percent to 74.99 percent — users still are drawn to the Yahoo! JP platform out of convenience for its services. From Answers and Auction to News and Weather, Yahoo! JAPAN is a one-stop-shop for online needs.
Yahoo! JAPAN continues to make gains in the number of monthly users. Since most marketers are unaware of its importance, there is less competition among global brands on Yahoo! JAPAN. Marketers who are skilled in creating Google SEO content will have little trouble adapting to Yahoo! JAPAN's platform, since it uses the same search algorithms as Google. Yahoo! JAPAN offers sponsored search and display ads, a display ad network, and in-feed ads for marketers to use in their audience-building efforts.
Google
This is the search engine which most marketers are familiar with, and for good reason. In many global markets, Google is considered the king of search engines. Google currently holds 91.79 percent of the search engine market share in APAC. Google PPC allows marketers to hone in on a specific target audience, ensuring their products and services are reaching the right customers. They can include keywords in their ads that attract a hyper-local audience or a global audience.
Finding keywords for a Japanese or Chinese audience can be tricky. Companies who plan to go this route should be enlisting the services of marketing agencies that know the local market well to ensure the keywords chosen are the right fit for the campaign goals in an Asian marketplace.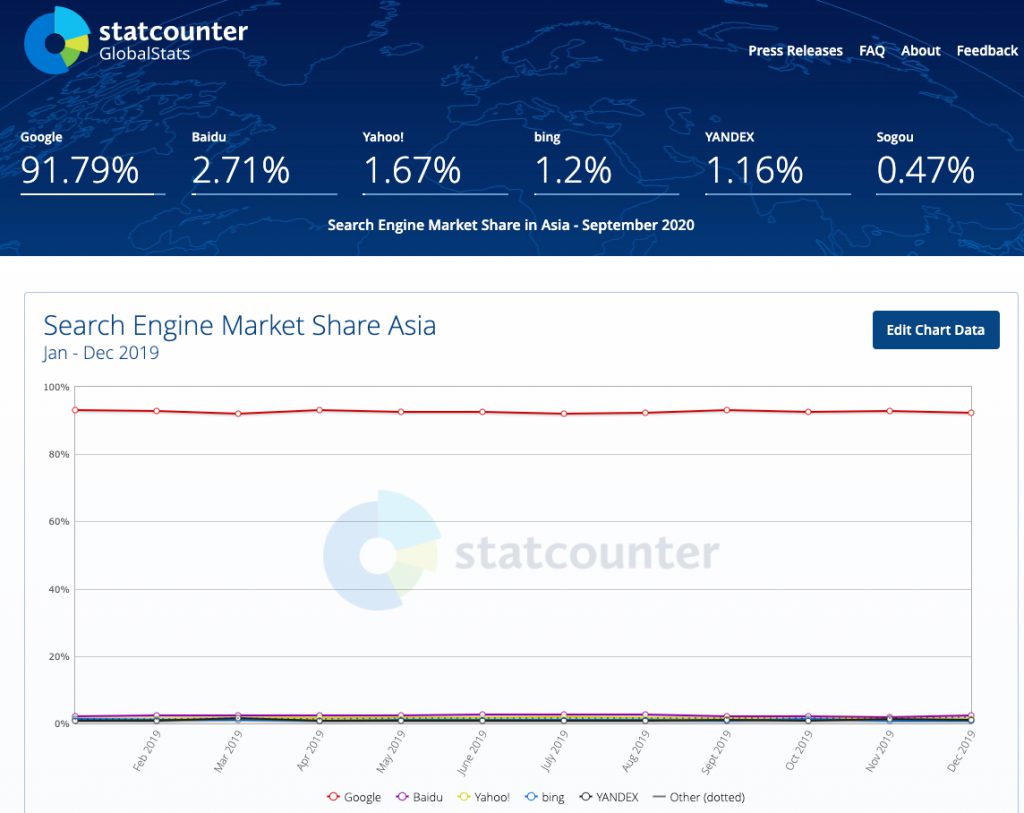 Baidu
Baidu is a combination of search engine and digital marketing services rolled into one, giving it an advantage in the APAC marketplace. It is an unquestionable leader in the Chinese marketplace, with 68.5 percent of the market share. Baidu is similar in style and format to Yahoo! JAPAN, which makes it an attractive platform for digital marketers. They can create ads that will work well on both platforms due to their similarities. In addition to the 3.5 billion queries it receives daily from consumers inside China, it also hosts traffic from more than 100 other countries.
Yandex
Brands hoping to engage a Russian audience will want to add Yandex to their list of marketing options. The world's fifth-largest search engine behind Bing and Yahoo, Yandex accounts for 53.66 percent of all search queries originating from Russia, Belarus, and Kazakhstan. It places a priority on geo-targeting and user behavior, giving higher ranking to websites where users are engaged the longest and spend the most
time. Yandex's bots have a huge capacity for crawling, using signals like canonicals to prioritize what it considers worthy of indexing. It also places a high priority on mobile optimization.
Tips for Maximizing ROI in the APAC Marketplace
Understanding which search engines are best when targeting specific countries in APAC only gets marketers so far. Other nuances are helpful in boosting your return on investment when targeting the APAC marketplace.
1. Ensure digital content is optimized for mobile
It is paramount for marketers to ensure their digital ads and other SEO content are mobile-friendly. According to recent data from Statista, 48 percent of consumers in the Asia Pacific region access the internet through mobile devices. That figure is expected to jump to 61 percent by 2025.
2. Use strategic localization
Marketers need to account for the behavioral, cultural, and linguistic differences within APAC when designing marketing strategies to target the region. Work with a specialist who understands these differences and can help direct messaging. No matter how tempting it may be to do so, never recycle and reuse old marketing campaigns that were designed for a Western audience. The chances of them resonating with an Asian audience is slim to none. Instead, focus on identifying consumers' purchasing patterns and interests and use that data to craft campaigns focused on solving a "pain point" for consumers in this region.
3. Use video marketing
Eighty percent of consumers who watched a YouTube video about a product they were interested in buying did so as a first step in the buying process. More than 70 percent of those views happened on mobile devices. It is hardly surprising, given the rise in popularity of mobile devices. Video has incredible potential to boost your return on investment, making it a worthwhile venture when attempting to engage with APAC consumers. Use videos that generate positive feelings about your brand and draw consumers closer.
Final Thoughts
It is a challenging and time-consuming process when trying to find the key to launching a successful APAC marketing campaign, but it also is well worth the effort.  While certain parts of the world are heavily impacted by the declining economy due to pandemic, some countries in Asia are opening up for business.  It might be a good time to reaccess your opportunities outside of your home ground. 
If your company is ready to take action and explore marketing to the APAC region, now is a great time to make the move. To learn more about search engine marketing or SEO in Asia, reach out to the knowledgeable team at Principle today to get started. We use our extensive expertise in marketing to the APAC region to help your brand grow and expand. Contact us today for a no-obligation consultation.
About Principle
Principle helps businesses of all sizes make better decisions through data. For the better part of a decade, we have helped global brands and Fortune 500 companies turn data into intelligence and actionable insights they can use in digital marketing.
Our team of 100 employees includes experts across Analytics, Paid Marketing, SEO, and Data Visualization. We offer actionable and measurable data analytics strategies, SEO, and campaign management services that deliver the digital transformation your business needs to outperform the competition.
We recruit independent professionals who have their own personality, an established way of life, a unique skill, and can share our philosophy. With such colleagues, we believe that individuals and companies will grow together and achieve great quality and result in an unseen business world.
To learn more about digital marketing and advertising in Japan or elsewhere in the Asia-Pacific region, feel free to contact us at Principle.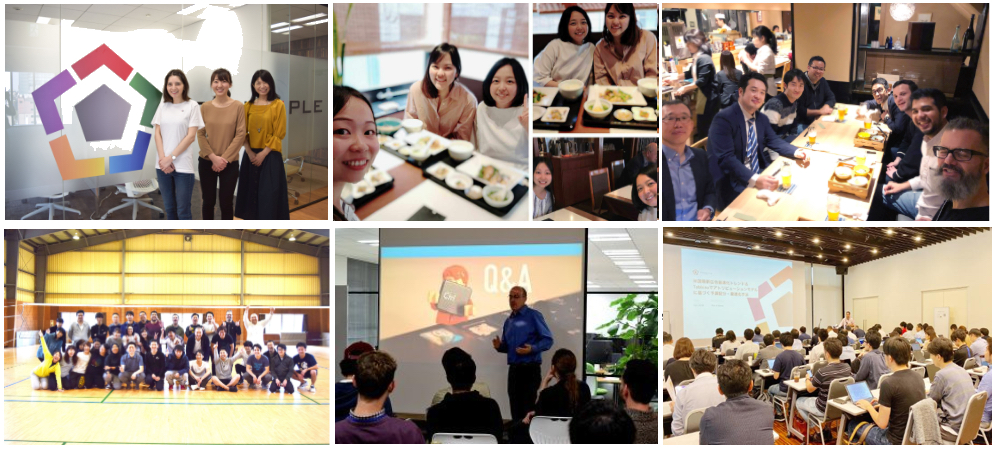 Sources