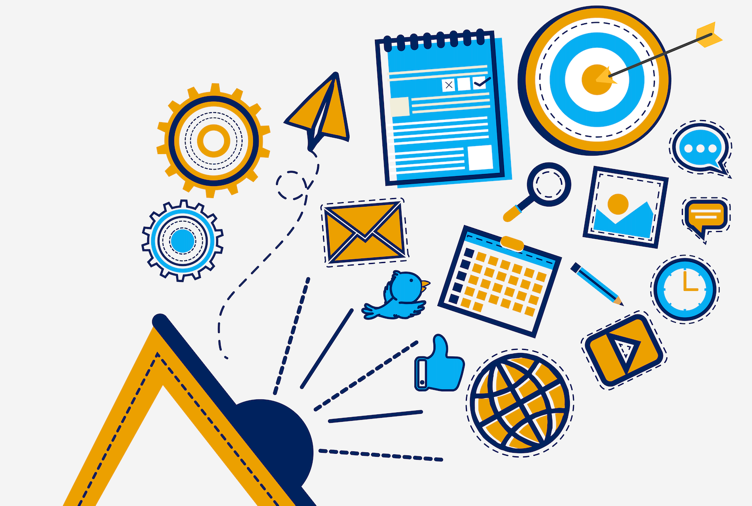 Japan represents exciting marketing for B2B marketers, but it can be a difficult one to break into without the necessary knowledge or insight. Japanese consumer behaviors tend to be different than those in the west, and this can make marketing difficult for foreign businesses in the B2B space.
Take a look at our guide and learn more about how to make your demand generation efforts successful in Japan.
Japanese Consumer Characteristics
A Shifting Focus
Japanese consumers have traditionally been viewed as focused on quality and convenience, with customers willing to pay premium rates for these aspects. However, over the last decade, something has changed in Japan. While quality and convenience are still of high importance to the Japanese consumer, other elements have come into play.
Pricing has become more important to customers in Japan in recent years. Selling platforms such as Mercari have benefited from this, and these platforms have seen increased spending on used luxury goods. Much of this interest is coming from the younger generation of Japanese consumers, and around half of Mercari's 11 million customers are teenagers or in their twenties.
This shift in focus is also a consideration in the B2B market. Japan is among the leaders when it comes to tech, software, and other forward-thinking markets, and much of this innovation is being driven by younger entrepreneurs and investors, as well as younger consumers. Today's B2B marketers need to be aware of this shifting focus in Japanese consumerism, and they have to avoid missing out on business from Japan's more frugal, cost-conscious younger generations.
An Aging Population
While the younger generations are driving the aforementioned shift in focus, it is still important to bear in mind that Japan has one of the oldest populations on the planet. In 2020, the median age of Japanese citizens was 48.4, with only 12.6% of the population aged under 14, compared to 28% who are over 65.
The older generations in Japan tend to enjoy a high level of income on average, and the per capita GDP of the nation is over $43,235. However, the Millennial generation, known as Yutori in Japan, have been hit hardest by economic slowdowns in recent years. And, 43.8% of people aged 25 or below work only part-time, with earnings of between $100 and $500 per month.
This feeds into the idea of a fracture within Japanese spending habits – a divide between the more traditionally-rooted older consumers and the younger, more frugal generation.
Safety and Security Remain Crucial
In 2011, Japan was rocked by catastrophe. In March of that year, the fifth most powerful earthquake ever recorded struck Japan, just over 200 miles north of the capital Tokyo. This event, and the subsequent tsunami and nuclear crisis it precipitated, had a huge impact on the Japanese economy and made the following years very difficult for business.
In 2020, Japan is facing another economic disaster, yet again precipitated by human tragedy and calamity: the COVID-19 pandemic. This pandemic has caused Japan's economy to contract by 7.8% in the second quarter of 2020, an almost unprecedented level of shrinkage.
However, much of this contraction has come from the service sector, including food, travel, and hospitality. The Japanese B2B sector remains strong, and many native companies continue to thrive. With the air of caution currently pervading in Japan, many business owners are now focused on safety and security as they reinforce their organizations for the future. Marketers will need to reflect this focus in their own promotion and demand generation work.
Word-of-Mouth and Peer Reviews Are Important
Reputation is a major driver for success among Japanese businesses. According to a report issued by American Express, Japan, India, and Mexico led the world in terms of the importance of this kind of public opinion and reputation among consumers. Focusing on the Japanese market, 35% of respondents cited corporate reputation as the key factor in making a purchase decision, while 20% identified social media word of mouth.
This is true in both B2C and B2B marketing spheres. Marketers need to focus heavily on corporate responsibility and ethics, as well as quality, as they galvanize this crucial reputation. They also need to encourage and even incentivize high-quality reviews from clients to bolster the impact of peer reviews.
Changing Approaches to Advertising
This move towards social media has also influenced advertising in Japan, and Japanese consumers in the B2C and B2B spheres are now approaching advertising in a different way.
Advertising spend has increased greatly in the last three years, growing from 13.234 billion in 2017 to $16.465 billion in 2020. This trend is expected to increase in the coming years, hitting $18 billion in 2022 before slowing a little to reach the $18.58 and $18.69 billion marks in 2023 and 2024, respectively. It is increased social media advertising and search advertising spend that is providing the driving force behind this shift, demonstrating behavioral changes among consumers.
What Does This Mean for Businesses?
Key Targets in the Local Market
As we have seen, the Japanese market is not a homogenized one. Instead, there are significant discrepancies between the best practices involved when targeting different generations and demographics. Marketers need to be aware of their key targets in the local market and to identify the needs of these targets.
For example, a tech startup client is likely to hold very different values from an established home furnishings brand aimed at retirees and older, higher-income individuals.
Providing Customer Support
Customer support connects directly with the safety and security aspects of B2B marketing mentioned above. Japanese businesses have weathered numerous financial storms, and they may be about to face another one on a huge scale. They need to be able to rely on you and what you offer, and support is crucial to this.
Unlike in B2C marketing, where you might offer post-sale support on an individual basis, B2B support is more about fostering lasting connections with business clients. Support should be proactive and meaningful if it is to meet these key requirements of safety, security, and reliability.
Approaching Demand Generation for B2B Marketing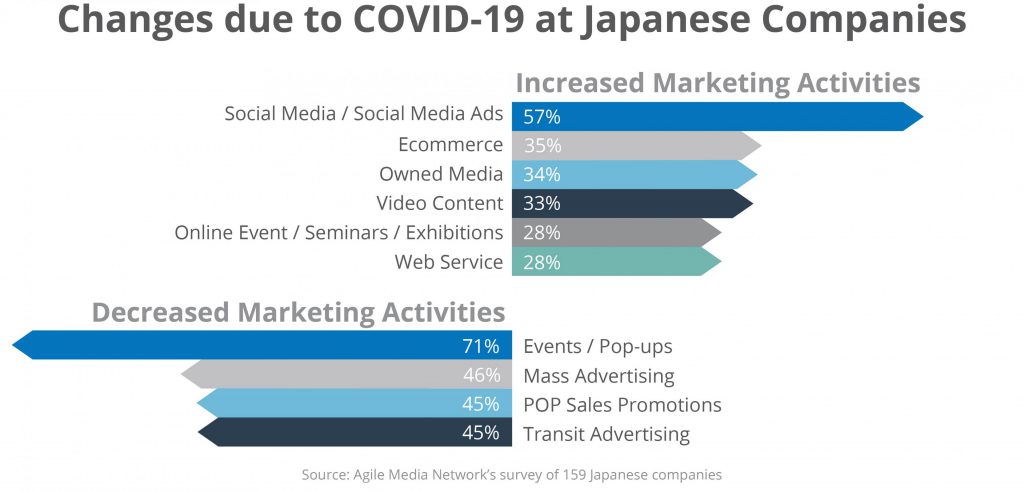 We've already looked at the way in which prevailing trends are impacting advertising and demand generation in Japan. While it is true that the shift towards digital media dominance in the worlds of B2B and B2C marketing has been taking place for some time, the recent COVID-19 pandemic has accelerated this.
During the COVID-19 pandemic, social media and social media advertising activities have increased by 57% in Japan, with digitally-engaging media such as video content also experiencing huge surges. Online events have increased by 28%, going some way to fill the hole left by a 71% reduction in physical events and pop-ups. Transit advertising has also suffered, reducing by 45%.
While it is tempting to write these changes off as temporary measures during a global pandemic, this does not tell the whole story. As noted, moves towards digitization of demand generation have been taking place for quite some time now. And, if these measures prove to be effective, the mark made on advertising in the long term could be huge.
Just like we have seen in pivots towards remote work and digital collaboration, the COVID-19 pandemic could be ushering in a new era for B2B and B2C marketers alike, both in Japan and elsewhere in other global markets.
Learn More About B2B Marketing in Japan
Here at Principle, we have spent years honing our knowledge of B2B marketing in Japan. To learn more about digital marketing in Asia and Japan, feel free to reach out to our team today.
About Principle
Principle helps businesses of all sizes make better decisions through data. For the better part of a decade, we have helped global brands and Fortune 500 companies turn data into intelligence and actionable insights they can use in digital marketing.
Our team of 100 employees includes experts across Analytics, Paid Marketing, SEO, and Data Visualization. We offer actionable and measurable data analytics strategies, SEO, and campaign management services that deliver the digital transformation your business needs to outperform the competition.
We recruit independent professionals who have their own personality, an established way of life, a unique skill, and can share our philosophy. With such colleagues, we believe that individuals and companies will grow together and achieve great quality and result in an unseen business world.
To learn more about digital marketing and advertising in Japan or elsewhere in the Asia-Pacific region, feel free to contact us at Principle.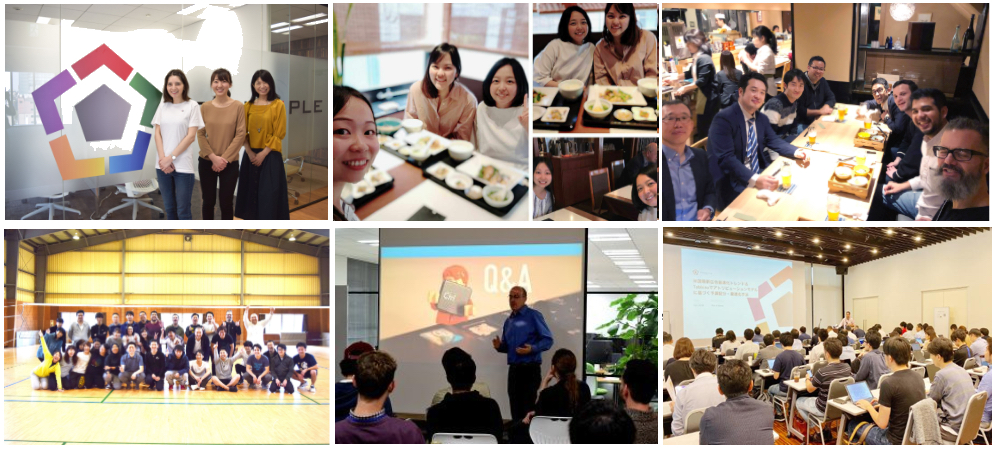 Want to grow your business in Asia?
Principle is a data-driven marketing agency that grows your business in Japan and the rest of the Asia Pacific market.  Click here to learn more about our digital marketing services for the APAC region.