The growing eCommerce market in Japan. Image via METI
It is an exciting time for eCommerce. While the events of the last year have placed many markets under pressure, eCommerce continues to thrive, thanks in no small part to the inherent flexibility of the business model.  According to Japan's Ministry of Economy, Trade and Industry — Japan's B2C EC Market size in 2019 was at $185 Billion USD.
In Japan, we are seeing the same growth and resilience for eCommerce players. A report released in July 2020 described how Japan has been experiencing significant growth in terms of its general eCommerce market over the last few years, and this growth looks set to continue.
A growing market
The eCommerce market in Japan is projected to hit $325.9 billion by the end of 2026, according to the report. Nomura Research Institute has also issued its own report, detailing projected growth in the B2C portion of the eCommerce market – a market segment that is expected to hit $278 billion by 2025. This represents a major uptick in growth levels compared to current trends. As of 2020, B2C eCommerce in Japan is valued at $193.6 billion and grew by 7.65% year on year from 2019.
The authors of the "Japan eCommerce Market, MobileCommerce, Retail, Electronics & Media, Toys, Hobby & DIY, Furniture & Appliances, Food & Personal Care, Digital Services, Company Analysis" have identified major transformative changes in the way Japanese people are approaching eCommerce as the driving forces behind this massive growth.
The report discusses how Japanese consumers are moving away from traditional, physical stores in favor of online marketplaces when it comes to making purchases. This is an important development for international sellers as Japanese consumers have traditionally stayed loyal to physical stores, although a mixture of shifting attitudes and the restrictions of COVID-19 has driven more and more consumers online in recent months.
A number of factors driving growth
eCommerce growth is supported by a number of other factors that are particular to Japan. Japan has a highly urbanized population and high levels of density within its major cities. The country's consumer base is already digitally literate and is generally knowledgeable when it comes to the latest technology. Add to these elements such as a highly developed internet infrastructure across the country, as well as a well-equipped delivery network, and the stage is set for positive growth in the Japanese market.
In fact, Japan is already one of the world leaders in eCommerce. Its eCommerce market is the fourth largest in the world and the second-largest in the Asia Pacific region. Only the United States, China – Japan's fellow Asia Pacific player – and the United Kingdom outrank Japan in terms of eCommerce market size.
A changing population in Japan
As of 2020, there were 97.1 million eCommerce users in Japan, a figure that is increasing by 4% each year. Japan's population actually fell by 0.3% in 2020 – the largest year-on-year population reduction since Japan's population growth fell into negative figures ten years ago. This reduction in population is projected to continue over the coming decades, which is bringing eCommerce closer and closer to the golden figure of 100% market penetration.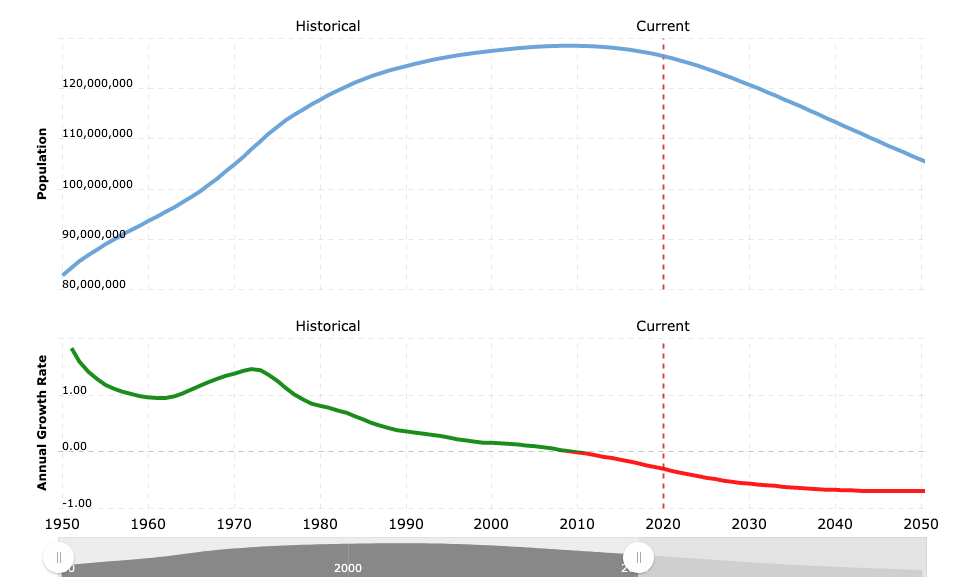 Despite this – and as mentioned above – eCommerce is not replacing physical stores in Japan. Instead, it represents another channel for businesses looking to expand their market share and customer reach. As such, it is a good strategy for businesses to open physical stores in Japan alongside digital offerings to develop customer trust and to maximize market potential.
Key Macro Data for eCommerce in Japan
41% of transactions are made across the top three eCommerce platforms: Amazon, Yahoo! and Rakuten.
42.4% of transactions are made via smartphone devices, making mobile commerce an important asset for traders.
Japanese consumers view eCommerce as the most convenient way to make a purchase, which is driving them slowly away from physical stores.
Japanese consumers are increasingly likely to make purchases directly from stores in the United States, and the rate is increasing by 7.65% year on year.
Trade from the US to Japan is worth $9.3 billion a year, a value that is 9.7% higher than in 2018.
Japan's eCommerce transformation ratio is relatively low at 6.76% overall.
The Top eCommerce Platforms in Japan
Amazon Japan
It's difficult to talk about eCommerce without encountering the name "Amazon." The well-established global brand is also top of the tree in Japan, garnering around 597 million visitors each month.
The Japanese version of Amazon is the fifth-largest website in the Asian nation and its largest eCommerce provider. It's also the fifth-largest eCommerce site in the world, demonstrating the strength of the Japanese market.
Rakuten
Rakuten is not too far behind Amazon at the top of the eCommerce pile, and it welcomes 532 million visitors each month. The Japanese-native company is strengthening its global brand by expanding into markets across the world, but it is at home in Japan that Rakuten has experienced the most success.
After taking over its competitor Fril in 2018, Rakuten launched Rakuma – a leader in Japan's peer-to-peer marketplace ecosystem.
Yahoo! Auctions Japan and Yahoo! Shopping Japan
Yahoo! is another brand that has experienced success across the world. However, Yahoo! Auctions Japan and Yahoo! Shopping Japan are separate entities from other properties bearing the Yahoo! brand, and they are owned and operated here in Japan.
Yahoo! Auctions and Yahoo! Shopping receive around 142 million and 90 million visitors per month, respectively. This puts them somewhat behind the pace compared to Amazon and Rakuten, but they still manage to cement their position as serious market contenders.
Mercari
When Rakuten launched its Rakumi arm back in 2018, this was a direct attempt to wrestle market share from another player in the peer-to-peer space: Mercari. Mercari has been growing since its launch in 2013 and currently receives around 85 million visitors per month.
In the US, Mercari has already expanded into the market and has been growing its presence since 2014.
DMM
DMM is one of the elder statesmen in the Japanese eCommerce market and has been providing products to consumers for over two decades.
Founded in 1999, the company trades mainly in digital products, although it has since expanded its services to cover a wide range of other offerings, including currency exchange. Around 74 million users visit DMM each month.
Where and How Foreign Companies Can Sell Goods in Japan
The platforms listed above represent viable points of entry into the Japanese market. However, this kind of access does come at a price, and there is a risk that these "mall sites" could result in price reduction pressure, harming the bottom line of retailers.
Instead, businesses are advised to develop their own eCommerce stores and then deploy these self-developed stores alongside listings on established platforms.
Businesses can leverage the services of leading EC platformers, with BASE and Shopify particularly suitable for small business owners looking to enjoy success in the eCommerce market, thanks to its ease of use. Salesforce Commerce Cloud is another platform that is growing in popularity in this category. For mid-sized businesses, the following providers offer capabilities at the right scale.
ShopServe
Ebisumart
Commerce21
ecbeing
The eCommerce market represents great opportunities for businesses looking to sell products in Japan. The ratio of customers per store is far lower here than in the US and UK markets. This translates to a higher potential to generate consumer touchpoints, as brick-and-mortar traffic in Japan is not concentrated to major big box stores.
It is also worth remembering, however, that Japanese purchases direct from the US are increasing year on year. This means that it is possible to reach the Japanese market with US-based deliveries, provided that the product and the approach are right. For example, you're going to sell a product that is highly attractive to the Japanese market – it needs to be ready to ship through well-established, reliable channels if this is to be successful.
Interested in Selling in Japan? Get in Touch with Principle
Here at Principle, we are ready and waiting to give you the guidance and support you need to get selling in Japan. Reach out to our team today.
About Principle
Principle helps businesses of all sizes make better decisions through data. For the better part of a decade, we have helped global brands and Fortune 500 companies turn data into intelligence and actionable insights they can use in digital marketing.
Our team of 100 employees includes experts across Analytics, Paid Marketing, SEO, and Data Visualization. We offer actionable and measurable data analytics strategies, SEO, and campaign management services that deliver the digital transformation your business needs to outperform the competition.
We recruit independent professionals who have their own personality, an established way of life, a unique skill, and can share our philosophy. With such colleagues, we believe that individuals and companies will grow together and achieve great quality and result in an unseen business world.
To learn more about digital marketing and advertising in Japan or elsewhere in the Asia-Pacific region, feel free to contact us at Principle.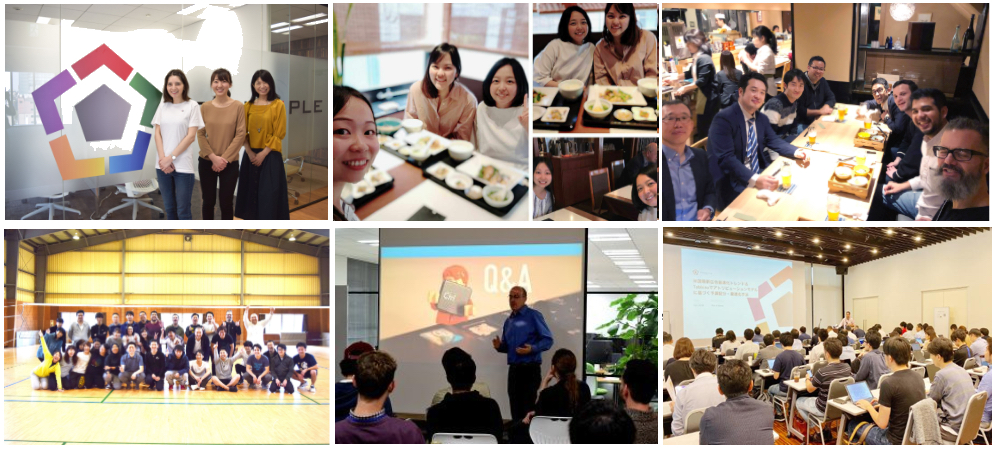 Want to grow your business in Asia?
Principle is a data-driven marketing agency that grows your business in Japan and the rest of the Asia Pacific market.  Click here to learn more about our digital marketing services for the APAC region.