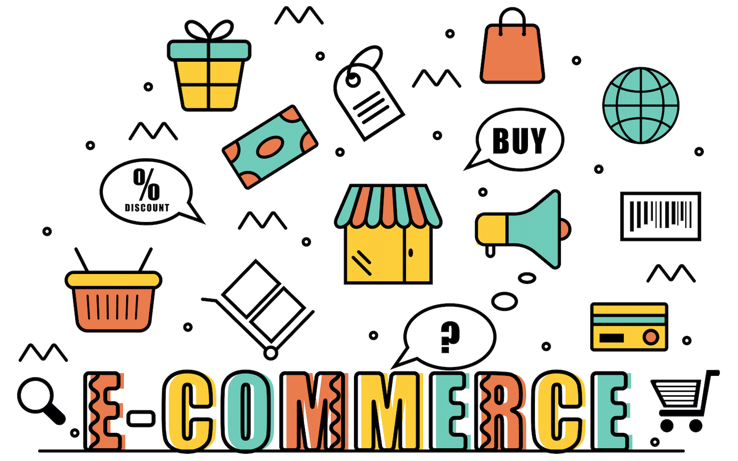 Technology is making the world smaller, as digital marketplaces make it increasingly easy for retailers and distributors to reach customers across the globe. One of the most interesting ecommerce markets is found in Japan, where strong logistical infrastructure and a traditionally welcoming attitude to digital tech are helping to fuel growth.
However, companies looking to expand into this key Asia-Pacific market need to be aware of the trends and patterns that are shaping the ecommerce and retail environment in Japan. We are going to take a look at some of the most influential of these trends.
1. The Japanese eCommerce market is enormous and is growing rapidly
There are around 97 million eCommerce users and customers active in Japan. This represents an impressive 76.4% of the country's total population. Even more impressive is the rate of growth that the market is experiencing. Data from 2020 shows that the Japanese eCommerce market is growing at a rate of 4% year on year.
This rate of growth only needs to continue for one more year to push Japan's eCommerce market user figures beyond the 100 million mark. As the total population of Japan is currently declining by around 0.3% each year, eCommerce is quickly becoming dominant.
Japan Population Growth Rate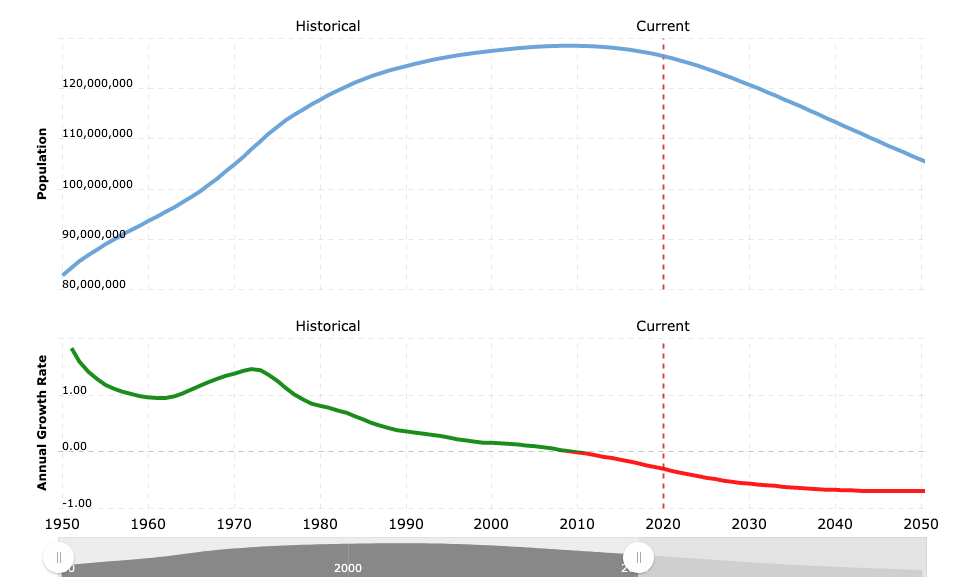 Image source: Macrotrends -Japan Population Growth Rate
2. The value of the market is growing at an even faster rate
The market value growth trajectory for eCommerce in Japan is far steeper than the rate of growth for eCommerce user numbers.
The Japanese eCommerce market is currently growing by 18.6% year on year — a huge rate of growth that is more than 4.5x the rate of growth in user numbers. This puts the market value at around $104,514 billion as of 2020, but if the market continues to grow at its current rate, we will see much more significant milestones in the coming years.
3. Japan's eCommerce market is supported by its retail calendar
Japan operates a unique and busy retail calendar, which is helping to support the growth of eCommerce in the country. Workers traditionally receive their annual bonuses in the summer months, rather than at the end of the year, leading to significant increases in sales around this time. White Day, held on March 14, is another event that is typically marked by sales and discounts as well as increased consumer spending. Events imported from abroad — including the Christmas holidays and, more recently, the Black Friday sales popularized by US consumers — are adding to this calendar.
Working patterns in Japan are leaving the population increasingly 'time-poor,' and this in turn fuels the growth of the eCommerce market. With numerous retail events spread across the year, Japanese shoppers find that the convenience and efficiency of the online experience is far better suited to their lifestyle than traditional shopping in a physical store.
4. The market retains a degree of insularity, but cross-border spending is increasing
The perceived insularity of the Japanese eCommerce market has discouraged international investors in the past. However, this looks to be changing, as cross-border spending appears to be on the increase.
As of 2019, 18% of eCommerce transactions were made in the cross-border category, and purchases from China, the United States and Australia have proved to be the most popular. Japanese consumers are certainly tuning into the potential of overseas, cross-border purchases, although domestic markets continue to dominate.
5. International eCommerce providers are making an increasing impact
The insularity of the market, as discussed above, is thanks in part to the success of Japan's own domestic providers. Rakuten, a Japanese-owned and operated firm, continues to be the leader in this sphere, alongside the native-owned and operated Yahoo! Japan, but international eCommerce providers are growing in popularity.
Amazon is making significant in-roads into Japan, with the company investing in the development of a dedicated Amazon Japan department, consisting of 12 distribution centers and four Amazon Prime centers within the country. Other international players are also probing this market, including JD.com from China, which has established a successful partnership with its Japanese counterpart Rakuten.
Platforms such as Shopify and Zozo are also performing well in Japan, as well as customer to customer (C2C) eCommerce providers. In this latter category, applications such as Mercari are gaining traction among younger consumers, along with other verticalized market places that offer C2C transactions via mobile apps.
6. Japan is perfectly-positioned for further eCommerce expansion
The nation of Japan is the perfect environment for a successful eCommerce operation to take hold in. There are a number of reasons for this, some of which we have already discussed. However, two that we have not touched upon are the relatively small size of the country and the development of its existing infrastructure.
Japan is not a sprawling landmass on a par with the USA, Australia and nearby China. Instead, it is a comparatively small island nation that can be served by a relatively small number of centralized logistics hubs. What's more, the logistics infrastructure is already in place and is well-developed, meaning that any eCommerce brand that targets Japan should encounter very few bottlenecks of points of friction.
7. Growth in Japan's mobile shoppers is accelerating
The number of smartphone users in Japan is expected to almost double in the ten years between 2015 and 2025. As of 2020, the figure stands at just under 100 million users in a country of over 126 million people — roughly what you might expect from a nation with a tech-savvy reputation.
Despite this, mobile eCommerce has been slow to catch on in Japan, with customers traditionally preferring to use desktop computers or other devices to do their shopping. In the United States, it is expected that over half of all retail eCommerce transactions will be carried out on a smartphone device by 2021. In Japan, the percentage is closer to a quarter, with some blaming Japan's aging population — and a resulting reluctance to use smartphones to their full potential — for this.
However, data from J.P. Morgan suggests a significant change. Mobile eCommerce is expected to grow by 13.6% between 2020 and 2021, demonstrating Japan's increasing adoption of, and positive attitude towards, mobile technology.
8. Japan retains a unique cultural attitude towards cash
In many markets across the world, cash is gradually being phased out, with the Asia-Pacific market leading the world in this cashless revolution, thanks to payment providers such as Alipay and WeChat Pay. However, Japan continues to be the anomaly in this part of the world, thanks in part to the cultural phenomenon of konbini.
Konbini are convenience stores that accept cash as payment for online transactions. In most cases, a transaction is made online and payment is delivered in cash within six days of receiving the item. There are over 55,000 of these konbini, and they make it possible to continue using cash while still enjoying the benefits of online shopping.
As a result, Japan is retaining the cultural associations with cash that have been present in the country for centuries. Conversely, digital wallets — experiencing significant growth in popularity across the world — account for only 2% of Japan's eCommerce transactions.
Exploring unique eCommerce opportunities in Japan
Examining the Japanese market underlines how important it is to retain a localized approach within a broader global strategy. Unique attitudes and divergent trends make eCommerce a very different proposition in Japan than it would be in the US or Europe. But there are still opportunities to be found here for businesses with the right outlook and right support.
Here at Principle, we are applying our digital marketing expertise to help numerous businesses leverage the best advantages from the Japanese market.
To learn more about digital marketing in Japan, contact the Principle team today. 
About Principle
Principle helps businesses of all sizes make better decisions through data. For the better part of a decade, we have helped global brands and Fortune 500 companies turn data into intelligence and actionable insights they can use in digital marketing.
Our team of 100 employees includes experts across Analytics, Paid Marketing, SEO, and Data Visualization. We offer actionable and measurable data analytics strategies, SEO, and campaign management services that deliver the digital transformation your business needs to outperform the competition.
We recruit independent professionals who have their own personality, an established way of life, a unique skill, and can share our philosophy. With such colleagues, we believe that individuals and companies will grow together and achieve great quality and result in an unseen business world.
To learn more about digital marketing and advertising in Japan or elsewhere in the Asia-Pacific region, feel free to contact us at Principle.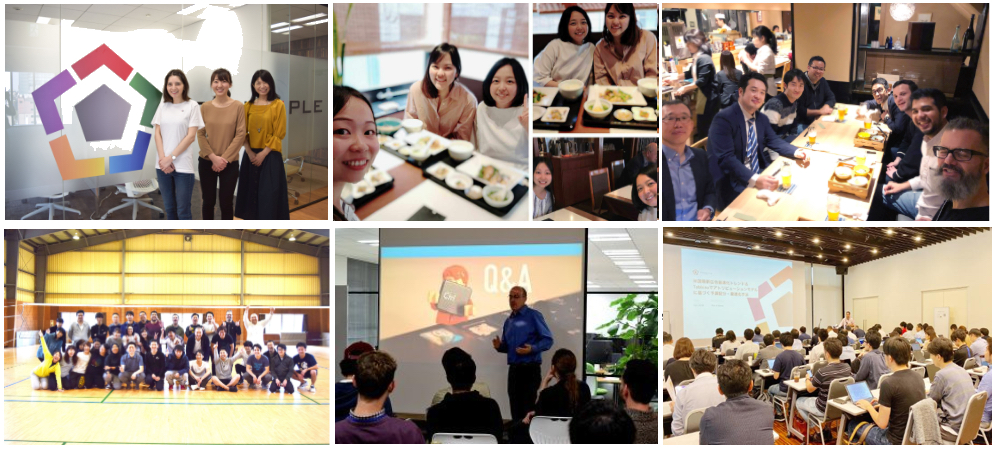 Sources