For a society that's technology-savvy and highly-advanced, digital marketing has yet to make the splash it deserves in Japan. You can connect the slow rise of digital marketing and advertising in the region to embedded, traditional social and cultural differences that underlie all interactions.
However, things are surely and steadily changing. Always on the cutting-edge of technology, software, and hardware, the innovative country is quickly picking up steam. This year, it's poised to dramatically change and move forward in an entirely new way.
Japan's GDP and Key Economic Trends
The economic context of Japan is a highly developed one. It operates as a free-market economy and is the third-largest in the world by nominal GDP. By the end of 2020, Japan reached USD4750 billion. It's expected to rise to USD4900 billion in 2021 and another USD5100 billion by 2022.
The economy of Japan accounts for 4.22% of the world economy's size.
The steady rise is promising, but the rate of growth is even better. In the third quarter of 2020, Japan's economy advanced a record 5.3%, which was better than the 5% estimated. This growth occurred despite COVID-19, which was still making its effects felt in comparable economies in the West.
It should be noted that, despite the recovery, which points to a positive overall direction, real GDP remains lower when compared to the rate of growth in the previous year. Much of that contraction has to do with the spread of the pandemic and rising rates of infection.
Recovery won't be swift, though economists are optimistic about the fact that business spending is strong. This is primarily due to the fact that many businesses have needed to re-tool and equip themselves with the capacity to respond to online preferences for transactions.
Businesses are keen to expand into Japan because of its strength and the relatively untapped nature of the Japanese consumer. This eagerness is reflected in the fact that Japan currently ranks 29th in the world for ease of doing business. Its overall score of 78% tells potential business owners that starting and conducting business in the country is on par with the rest of the region.
While population growth is on the decline in Japan, the number of eligible, working-age males and females remain robust. There is also a significant youth culture that defines trends and consumes products and services put forth by businesses.
The Pros and Cons of Doing Business in Japan
If you haven't studied the market well or don't have a guide to business expansion in Japan, things can feel rather opaque. The language can be a barrier, and the customs can feel unfamiliar. That's why hiring a partner who is well-versed in the region can help accelerate your growth and ensure your business's success. It's worth gaining third-party insight and experience into Japanese customs and hierarchies because access to the country's economy can put your business on the map within the region.
Advantages of doing business in Japan
Despite the stalling tactics of the pandemic, consumer spending is still positive in Japan, and there is a clear desire and ability to purchase durable goods.
There is consistent and steady foreign demand for Japanese-made products in the global economy (primarily from China, the U.S., and Europe), giving businesses operating in the country a distinct competitive advantage.
A measure of small-business sentiment jumped in October and continued to rise in November 2020, which is at its highest levels since 2014.
Despite being a formerly cash-focused society, Japan's encounter with the pandemic has forced it to innovate. The number of households ordering goods and services online is up 21.3%, and this number is only expected to grow.
For similar reasons, the national government is now trying to do away with in-person meetings and supporting digitalization and digital transformation across industries to maintain productivity.
Disadvantages and challenges associated with doing business in Japan
The language barrier is a significant one as only 3-5% of Japanese individuals can speak fluent English.
The isolated and self-sufficient nature of the country has meant that it hasn't previously been open to foreign companies — especially those without an understanding of the culture, traditions, and social hierarchies already at play in the region.
While there is plenty of support from lawyers and experienced management consultants about expanding into Japan, it can take quite a long time to gain the necessary permits, certifications, and agreements from offices and authorities when starting a business.
Japanese customs are consistent and unique, so studying consumers' preferences and learning more about their preferences will help you connect, authentically, with potential customers.
Harnessing the Rate of Mobile Adoption and Internet Penetration in Japan
For all its challenges, digital technology adoption is where Japan excels — and, subsequently, presents the best window for expansion. Furthermore, e-commerce is already prying open the otherwise closed economy, so there's a clear path forward that businesses can take if they plan to tap into the 83% or 119 million active internet users in Japan.
While internet penetration sits at 95.7%, mobile penetration in Japan is at a solid 102%. This is, in large part, thanks to the fact that broadband speeds in the country are up to 30 times faster than they are in many comparable countries around the world, including the U.S.
Like many other countries, the Japanese government is still in the process of partnering with big telecom providers for 5G rollout. However, the country's high-speed infrastructure is aided by a vast and sophisticated network for physical wiring that already exists across most, if not all, prefectures.
Japan is also committed to regularly updating its wide-reaching internet services and infrastructure. It's no wonder that the country has some of the largest demands for streaming, gaming, and, thanks to the pandemic, shopping by consumers.
When it comes to accessing high-speed networks, laptops and personal computers remain the preferred method for over 82 million people for online activity. However, the second-most popular way to access the internet is through a mobile device, with 75 million using this method.
Furthermore, it's interesting to note that despite a majority of the population being over 50 years old, 21% of individuals still use digital devices while doing physical shopping. Primarily, consumers want convenience over affordability.
Unlike many other parts of the world, it's iOS that continues to be dominant in Japan, not Android. As of July 2020, the iPhone rules over the Japanese market, with over 60% of the market share.
This is notable because, throughout the rest of the world, Android has managed to capture 87% of the market, with iPhones taking up a little over 13%. A major consideration in the difference in adoption numbers, of course, is the price of devices.
Again, this highlights the broader trends that Japanese consumers desire convenience, even over affordability. It's a valuable advantage for companies to know that Japanese consumers have buying power.
Government Policy that Supports the Expansion of Digital Marketing in Japan
In response to the COVID-19 pandemic, Japan's Council on Economic and Fiscal Policy announced plans to further speed up the digitalization of commercial businesses in the country.
Even though the country has the network, infrastructure, and a consumer population ripe for e-commerce and digitalization, it hasn't shown much interest in coordinating digital technology with consumer spending — until now.
The country is also planning to digitize major aspects of government services, comparable to neighboring South Korea. An example of these services is the consolidation of digital records for tax and social security identification. It will also prioritize telemedicine and remote education for greater data sharing and more rapid citizen response.
The Digital Experience in Japan
The digital experience, like everything else in Japan, is quite different from global trends. Even in well-established countries like the U.S. and Australia, these trends diverge quite a bit. The most popular uses for SNS in Japan include:
YouTube, with 71% of users aged 16 to 64
LINE, with 61% of users
Twitter, with 50% of individuals with active accounts
Instagram, with 33% of users
Facebook (not Messenger), with 30% of users with an account
First off, gaming and "spectating" are far more popular behaviors for Japanese consumers than creating. It may explain why individuals on social media platforms would rather consume content (on YouTube, for example) than create content.
Secondly, the largest demographic of users in Japan are aged 50+ years old. These individuals make up 30% of LINE's active monthly users. However, what's interesting about LINE is that, like China's WeChat, it offers integrated functions such as purchases, payments, ride-sharing, food ordering, and more, right within the app.
This would align with the greater trends of consumers looking for multi-channel experiences and relying on smartphones for ease, options, and deals.
Japanese consumers are turning to their smartphones for access to everyday essentials. And the search engines they're relying on include:
Google, with a 76% market share
Yahoo! Japan, with a 19% market share
Bing, which comes in third with a 4% market share
Baidu, the Chinese search engine, with only 0.2%
The top search engine, Google, seems like a no-brainer. But the second-most popular search engine choice, Yahoo! Japan, may leave you a little surprised. Japan is nothing if not bucking the common "trends" in favor of setting its own way. Businesses and digital marketers who plan to turn a profit would do well to proliferate content that's accessible by both search engines.
Japan's Digital Advertising Market and COVID-19
In Japan, digital advertising is on the rise in terms of activity and spend. This has been spurred on by the recent COVID-19 pandemic, which greatly affected Japan, primarily due to the postponement of the 2020 Summer Olympics.
While travel is at an all-time low, food delivery, beverage, pharmaceutical, and e-commerce sales are up in the country. To leverage these niches, advertisers are turning to digital advertising, which eclipsed traditional television in 2019.
This tells us that, while the country has been moving steadily towards broadening digital marketing spend, it's circumstantial events within the last two years — namely, the anticipation of the Summer Olympics 2020 and then the pandemic — that have truly accelerated the country's willingness to embrace digital marketing, e-commerce, and tech-related solutions as a more integrated part of everyday life.
However, given that consumers are already familiar with multi-channel experiences in apps like Line, digital marketing will be a completely seamless part of the next wave of business activity in Japan.
Learn More About Digital Marketing in Japan
To learn more about digital marketing and social media advertising in Japan and elsewhere in the region, contact us at Principle.
About Principle
Principle helps businesses of all sizes make better decisions through data. For the better part of a decade, we have helped global brands and Fortune 500 companies turn data into intelligence and actionable insights they can use in digital marketing.
Our team of 100 employees includes experts across Analytics, Paid Marketing, SEO, and Data Visualization. We offer actionable and measurable data analytics strategies, SEO, and campaign management services that deliver the digital transformation your business needs to outperform the competition.
We recruit independent professionals who have their own personality, an established way of life, a unique skill, and can share our philosophy. With such colleagues, we believe that individuals and companies will grow together and achieve great quality and result in an unseen business world.
To learn more about digital marketing and advertising in Japan or elsewhere in the Asia-Pacific region, feel free to contact us at Principle.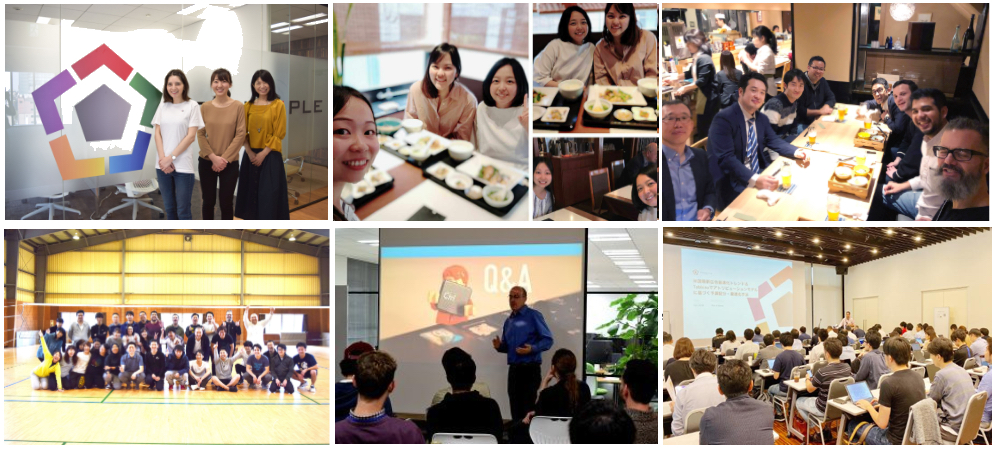 Want to grow your business in Asia?
Principle is a data-driven marketing agency that grows your business in Japan and the rest of the Asia Pacific market.  Click here to learn more about our digital marketing services for the APAC region.