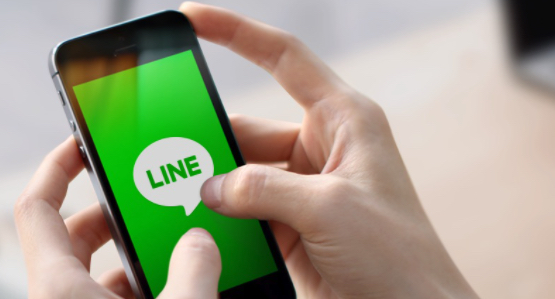 Businesses migrating from the Western Hemisphere to Asia right now can capitalize on the highly consumer-driven nature of many Asian markets and the opportunity to diversify when the United States and Europe are experiencing relative economic austerity. Tapping into discretionary spending income in Asia-Pacific countries can offer exciting new opportunities for enterprises of all kinds.
Truly embracing these new arenas requires an understanding of both regional culture and ever-evolving marketing technology. The LINE app is a prime example of a service business marketers can harness to tick both of those boxes. It takes electronic instant communication messaging, which has exploded in use worldwide, and elevates it to an art form.
LINE especially caters to users in the desirable markets of Japan, Taiwan, Thailand, and Indonesia, where it is woven into daily life in a manner that few SNS applications have managed to achieve. Its engaging graphics, convenient features, numerous associated services, and easy shareability make it an absolute must for every business expanding into these segments of Asian commerce.
What Is LINE?
Social networking and so much more
For the uninitiated, LINE is a freeware messenger app that can be used on mobile phones, tablets, and personal computers with the most common operating systems. At the most basic level, LINE users can exchange texts with images in the form of cartoon stickers that offer a leg up on regular emojis. Some stickers are free, while others may be purchased.
LINE offers numerous other integrated features, including:
Games (under the auspices of Hangame Japan)
Audio (including LINE Music)
Video
VOIP conversations
Video conferencing
Digital wallet (LINE Pay)
News streaming (LINE Today)
Video on demand in Thailand and Taiwan (LINE TV)
Digital comic distribution (LINE Manga and LINE Webtoon)
Taxi ordering service (LINE Taxi)
Delivery service for food and products (LINE Wow)
Shopping referral and discounts (LINE Shopping)
On-demand assistant for food and messenger delivery in Bangkok (LINE Man) Investing (LINE Securities)
Cryptocurrency conversion
The LINE app is under the operation of Line Corporation based in Tokyo, which is a subsidiary of the South Korean Naver Corporation, an internet search engine company.
In Which Asia-Pacific Countries Does LINE Have the Best Reach?
Japan and beyond
The LINE app was conceived as a response to the 2011 Tōhoku earthquake and tsunami, which decimated Japan's telecommunications infrastructure. Innovators at NHN Japan, a subsidiary of South Korea's NHN Corporation, created LINE as an internet-based messaging system to circumvent disaster outages and allow people to communicate with one another. The app was instantly popular and has been wildly successful ever since.
In 2013, LINE became Japan's largest social network, and it is the most widely used messaging service there as well. The app's acclaim soon spread. It developed a huge following in Taiwan, Thailand, Indonesia, Cambodia, and Turkmenistan, with high use in India and Spain too. The Line Corporation was spun off from NHN Japan, and a dual US-Japanese IPO was filed in June of 2016.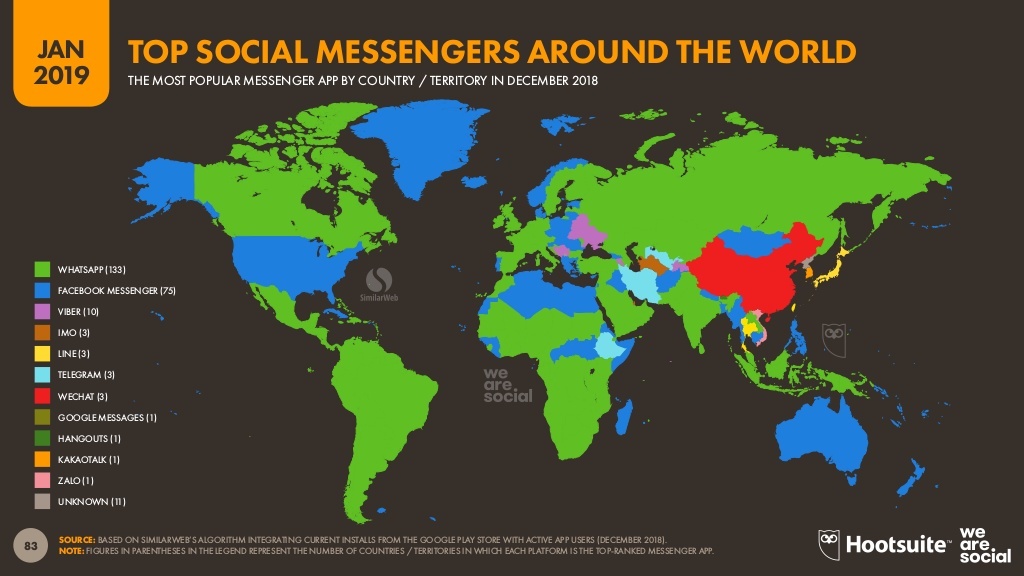 What Is Essential to Know About LINE?
Impressive statistics
With over 200 million LINE users and growing, the app presents some impressive statistics for interested marketing professionals:
Over 164 million monthly active users (MAU) in Japan, Taiwan, Thailand, and Indonesia alone (over 80 million in Japan)

Roughly 79 percent of MAUs represent daily active users
Over 2.5 million users of the LINE app in the United States
LINE Pay users show a 118 percent year-on-year increase (5 million in Japan alone)
LINE Pay transaction volume exceeds ¥286 billion, a 10 percent year-on-year increase
Over 11 million LINE Music users (¥2.6 billion revenue in Q2 of 2019)
More than 23 million LINE Manga downloads, with revenue equaling ¥6.3 billion in Q2 of 2019
LINE Shopping transaction volume showed more than 80 percent year-on-year growth last year
Revenue for LINE Q2 2019 was ¥55.4 billion ($518 million), up over 9 percent from 2018 (over half from advertising)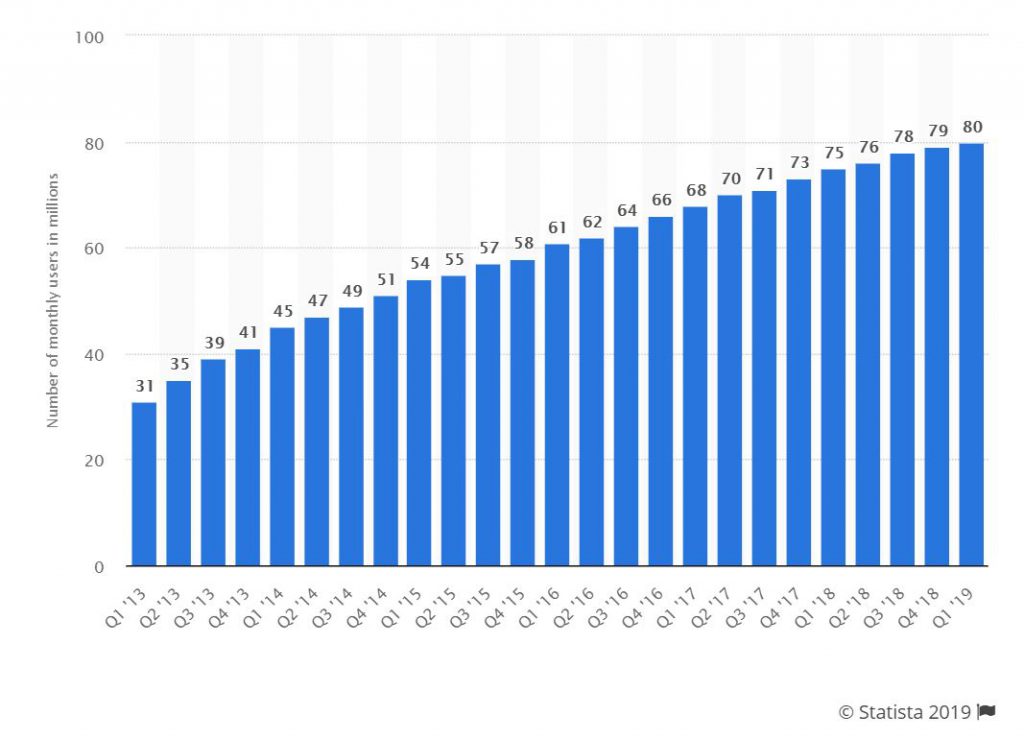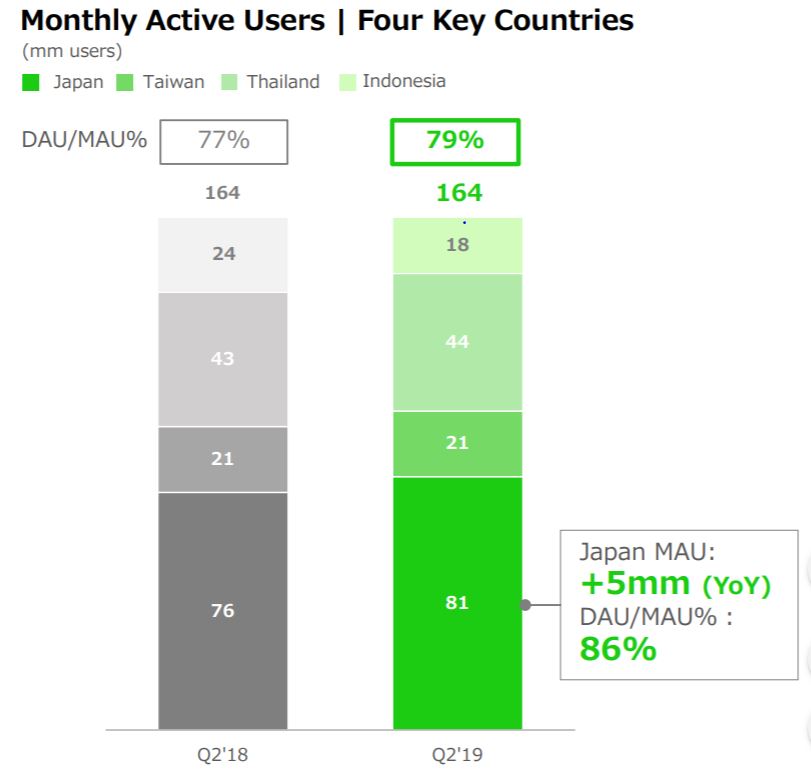 Why Should Marketers Consider Using LINE in Japan, Thailand, Taiwan, and Indonesia?
What users love: connection, convenience, and fun
LINE led the way in making stickers a standard of social messaging. The company makes millions per month selling virtual sticker packs to augment free options, and users enjoy collecting and sharing them, raving about how unique they are. For many users, the aesthetically pleasing aspect of the stickers makes messaging more of an immersive experience.
LINE Friends are featured sticker characters that have taken on personas of their own. These characters appear in stickers, as well as in animation, games, products, and even physical locations, such as a cafe, hotel, and theme park.
But there is so much more to love about LINE than just stickers, even though some LINE advocates only use the free and low-cost messaging elements (LINE Lite, a basic package of essential features). A quick perusal of LINE user reviews shows fans find value in numerous components of the app.
Like other social networking platforms, such as Facebook, LINE offers a home feed and personal timeline. Users find the interface easier to operate than many other apps and appreciate how seamlessly all the various customizable elements work together.
In Japan, Thailand, Taiwan, and Indonesia, where LINE is the dominant social networking system, users rely on the interface to connect with their friends and family, just as when the app was originally created to handle the earthquake emergency. LINE devotees make frequent use of the video call feature, which allows them to talk to 20 or more people at a time.
Other LINE selling points include:
Users often remark that LINE has all the elements of Facebook and more, although it still manages to be less intrusive. Call quality is excellent and is often rated better than WhatsApp and Kakao.
For hardcore LINE addicts, LINE stores have been opened in multiple cities, including Tokyo, Seoul, Shanghai, Chengdu, Beijing, Hong Kong, New York City, and Los Angeles. There, shoppers can purchase merchandise based on LINE stickers and characters.
All of these features may sound like they're simply recreational perks. But LINE is more than just an app in Asia, especially in Japan—it's a lifestyle and a vital element of social infrastructure. This is crucial to recognize when exploring LINE as a way to promote a business in new markets in Japan, Thailand, Taiwan, and Indonesia.
Advertising and marketing opportunities
Obviously, the comprehensive nature of the LINE app provides a goldmine of marketing opportunities for businesses of all sizes, across many different sectors, expanding into Japan, Taiwan, Indonesia, and Thailand. As well, the use of SNS and online features during the current pandemic and subsequent reimagining of business paradigms should not be underestimated.
Within every LINE app element are occasions for in-app advertising and promotion. Because users are so constantly immersed in the app, this is a fantastic way to put a new product or business in front of millions of users every day and to sell merchandise or services via click-throughs.
Another way to take advantage of LINE's structure is by official accounts, which are offered at Premium, Verified, and Unverified levels. This type of account allows for further engagement with customers and is especially beneficial for brand building. Some advantages of official accounts include:
LINE's marketing edge
The two largest Asian competitors to LINE are WeChat and KakaoTalk. The three apps are each a little bit different, but LINE offers the broadest window for marketing overall.
WeChat has over a billion monthly users. However, a large portion of these come from China alone, where it is the most used app. WeChat has a huge advantage there, as other apps, including Facebook, Twitter, Snapchat, and KakaoTalk have been banned by the government.
WeChat's biggest claim to fame is its QR codes. Every user has their own QR code, and the codes can be employed to find and identify friends, family, coworkers, and animals, as well as to apply for jobs and follow official accounts. WeChat can also be used to make video calls, transfer money, pay bills, order taxis, and book airline flights.
KakaoTalk has a large worldwide following; however, similar to WeChat, the bulk of them are in South Korea, where the app originated. KakaoTalk also offers stickers and mobile games, as well as account pages and the ability to make payments. Its unique features are Secret Chat with end-to-end encryption (as a result of accusations that KakaoTalk was used to spread rumors about the former president) and In- Chat Search, which functions a bit like Google on a series of sliding cards.
Although WeChat and KakaoTalk have established footholds in their respective markets, LINE clearly provides a wider range of affiliated functions and services through which businesses can market themselves and even create income streams. Additionally, LINE, because it's so much more a part of daily life in Japan, Thailand, Taiwan, and Indonesia, offers a much more holistic opportunity for marketing than the other two apps.
LINE commerce transaction volume growth, Q2 2018 – Q2 2019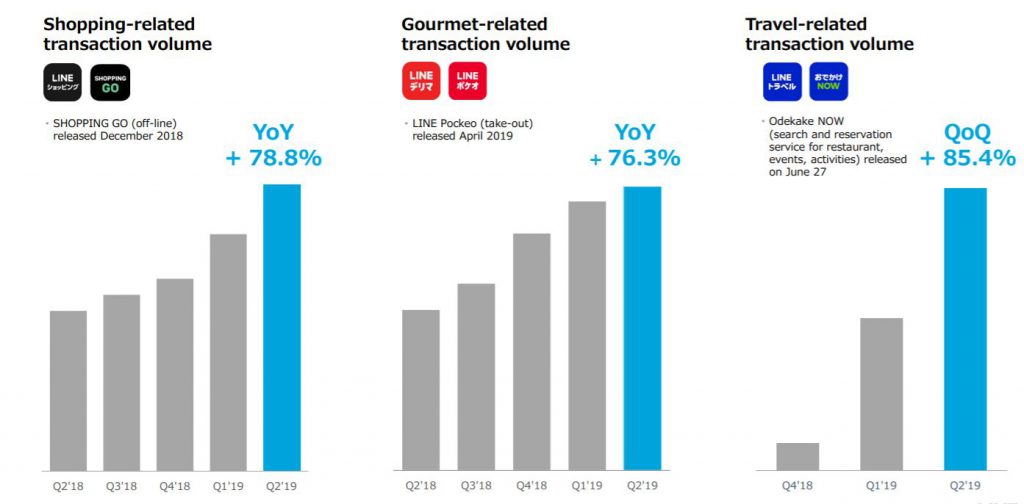 In Summary
The LINE app's character-based communication style shouldn't put off potential marketers who are not familiar with this method of messaging. The diversity of LINE's offerings and its ubiquity in many Asia- Pacific households make it essential to master for businesses growing into Asian territories.
The ability to reach millions, or even billions, of people on a relatively personalized level provides marketing opportunities that are often lacking elsewhere. By understanding LINE and creating a LINE marketing strategy, businesses of all sizes can thrive in Japan, Taiwan, Thailand, and Indonesia.
Are you ready to grow your audience? Do you want to benefit from the strongest social media platform in one of the world's most lucrative markets?
Contact us today for a no-obligation consultation on how to get started with digital marketing in Japan and other countries in the APAC region.
About Principle
Principle helps businesses of all sizes make better decisions through data. For the better part of a decade, we have helped global brands and Fortune 500 companies turn data into intelligence and actionable insights they can use in digital marketing.
Our team of 100 employees includes experts across Analytics, Paid Marketing, SEO, and Data Visualization. We offer actionable and measurable data analytics strategies, SEO, and campaign management services that deliver the digital transformation your business needs to outperform the competition.
We recruit independent professionals who have their own personality, an established way of life, a unique skill, and can share our philosophy. With such colleagues, we believe that individuals and companies will grow together and achieve great quality and result in an unseen business world.
To learn more about digital marketing and advertising in Japan or elsewhere in the Asia-Pacific region, feel free to contact us at Principle.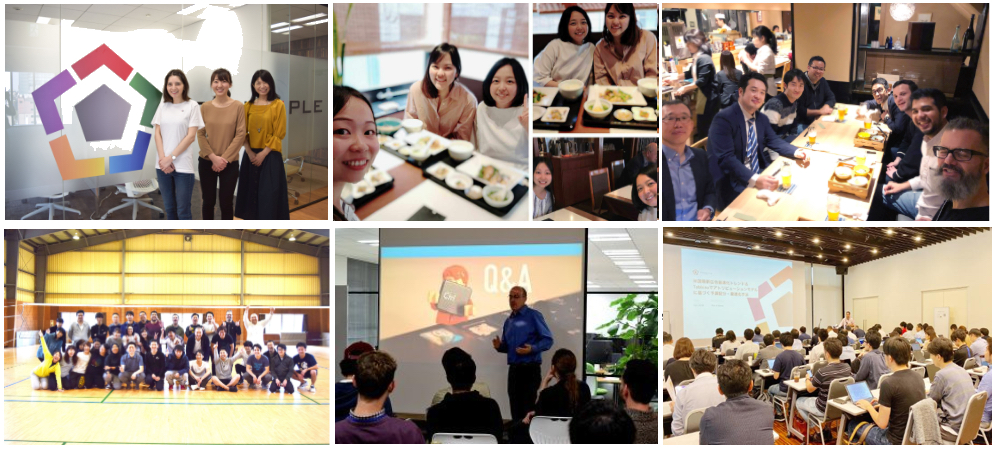 Sources