The food and beverage industry is a complex world, and it is constantly evolving. Japan's population trends toward nutritious, healthy foods. While in the past this has often meant seafood and rice, the diet of younger generations is changing. Consumers are favoring Western cuisine, health foods, and supplements, which is leading to an increase in imported goods.
Japanese consumers, in general, have significant disposable income and are showing interest in buying foreign health products. With 126.44 million people in Japan, there is a great demand for health products and high-quality food that is being strengthened daily by exposure to media. According to the Statistics Bureau of Japan, on average, a household of two or more spends 25.7% of their budget on food, more than what is spent on any other monthly bill.
Not only are the Japanese spending a large amount of their disposable income on health food and wellness products, but they are also continuing to order more and more products online. The fact that additional food products, beyond traditional Japanese food, are available via the internet is causing more people to look online for what they want. In 2018, almost 39% of households said they ordered online products and almost 14% of their online spending was on food products.
Japan's Healthy Lifestyle
Japanese consumers focus on nutrition and strive to live healthier lifestyles. This may prove to be one of the reasons for their long lives. Japan has one of the longest life expectancies in the world, with people living an average of 85.03 years. They are more aware of eating healthy food, focused on natural supplements, and look for products that are relatively chemical-free.
Proof of this is in the popularity of food labeled as natural or minimally processed. "Free from" products are seeing the strongest growth, as are ready-to-drink teas and bottled water. Naturally healthy and "free from" products are becoming mainstream in Japan as people focus on their health and wellness.
Organic food has been at the forefront of a healthy lifestyle. As consumers are finding organic food that is pre-packaged for them, the demand grows and more organic products are produced.
Japanese diets are high in nutrients and packed full of fruits and vegetables. Portion sizes are small, and the Japanese are taught at a young age to eat to 80% full to avoid overeating. Snacks are not a common part of the Japanese diet.
Metabolic syndrome, a catchphrase from Japan, is creating a growing market for health foods and the supplement industry. This phrase refers to high cholesterol levels, high blood pressure, obesity, and diabetes. People do not want to be associated with metabolic syndrome. This gives foreign businesses with health products an opportunity to break into the market.
Japanese Nutrition Products
Along with a healthy lifestyle and diet, the Japanese take supplements to replenish nutrients missing in their diets. They use these supplements to enhance the essential elements and maintain health. According to the survey, 35.1% of Japanese consumers "currently use" supplements. This is higher among women and the elderly population, with about 45% of women above 50 using supplements.
The professional community in Asia is starting to take many of these products to help with weight management and nutritional deficiencies that come with their less active lifestyles.
The marketplace is begging for nutritional supplements that meet the needs of these people. Companies like GNC and Nature Made are just starting to tap the Far East Asian market and bring products such as probiotics, multivitamins, DHA, and fish oil. When asked about why Japanese consumers were taking supplements, 71% said "maintaining health." Other common reasons were improving symptoms of concern, improving immunity, relieving fatigue, and supplying lacking nutrients. These supplements are used by many, and there is room for competition in this market.
Asian Demand for Health Products
Consumers are forever looking for new products that continually line the shelves of a drugstore. Sports nutrition, protein supplements, and beauty products are in demand, and the use of social media makes these products even more coveted. Some products are currently not available in Japan, and people stock up when traveling to different countries.
In the past, Japan's consumers usually bought products off the shelf, but COVID-19 has definitely changed that process, and online ordering is on the rise. Some of the most desirable foreign products include:
Gummy Products. Supplements that are made into gummy form are a favorite that consumers pick up when they are traveling. The "gummy" makes them taste more like candy, so they are much more fun than taking a pill.
Allergy-Free Products. With food allergies being so prominent in today's society, people are being more careful than ever. Milk, eggs, wheat, peanuts, and soybeans are the main food allergies in Japan, and people are looking for health products without these ingredients. Even people without these allergies are buying these health products, either for reasons of their own or because they may be around people with an allergy and don't want to take a chance with the other person's health.
Organic Products. The organic market in Japan is currently small, but the demand is there for the products. Consumers are looking for organic dairy, eggs, wheat, and meat products. Companies willing to take the time to meet Japan's stringent organic guidelines will have huge success in this growing market. 

Supplements. Interest in supplements has been growing in Japan. Unlike the United States, consumers in the Asian market are taking supplements to support their overall health, not because of a certain ailment.
The Japanese supplement market has remained stagnant the past few years, compared to a 13% growth across the rest of Asia. But the market is beginning to grow, with consumers buying both foreign and domestic products, providing an opportunity for foreign brands to break into the market.
Japan is a health-conscious nation. As the working population is less active, they are becoming more concerned with certain healthy ideas; natural food products and supplements are at the top of that list. The market is still growing as people are becoming more concerned with being healthy than ever before, and consumers are looking for foreign products to include in their everyday lifestyle. In 2019, the Japanese spent $286 billion buying from the US online, meaning US retailers can sell from the US as long as the products are attractive.
The focus has shifted in Japan, away from the traditional diet of seafood and rice. While junk food is slowly creeping into the market, the focus is more on organic, healthy food products and supplements that can support the nutritional goals of individual consumers. Products without allergens, or products that can help a person stay healthy despite their more sedentary lifestyle, are valued by many. The demand is growing, and currently, the marketplace is unable to meet all the demands of consumers.
A company willing to use social networking services (SNS) and market their products to the Asian market could fare well in this marketplace. The current generation is willing to look into the digital space for products that meet their needs. For companies looking to expand, Far East Asian countries are filled with opportunity.
Advertising to the Japanese Market
Principle's expertise in digital marketing and advertising can help your business expand into the Asian marketplace. Our experience in growing a company and introducing new businesses to the Japanese market is unrivaled. To learn more about marketing strategies in Japan, contact us at Principle today.
About Principle
Principle helps businesses of all sizes make better decisions through data. For the better part of a decade, we have helped global brands and Fortune 500 companies turn data into intelligence and actionable insights they can use in digital marketing.
Our team of 100 employees includes experts across Analytics, Paid Marketing, SEO, and Data Visualization. We offer actionable and measurable data analytics strategies, SEO, and campaign management services that deliver the digital transformation your business needs to outperform the competition.
We recruit independent professionals who have their own personality, an established way of life, a unique skill, and can share our philosophy. With such colleagues, we believe that individuals and companies will grow together and achieve great quality and result in an unseen business world.
To learn more about digital marketing and advertising in Japan or elsewhere in the Asia-Pacific region, feel free to contact us at Principle.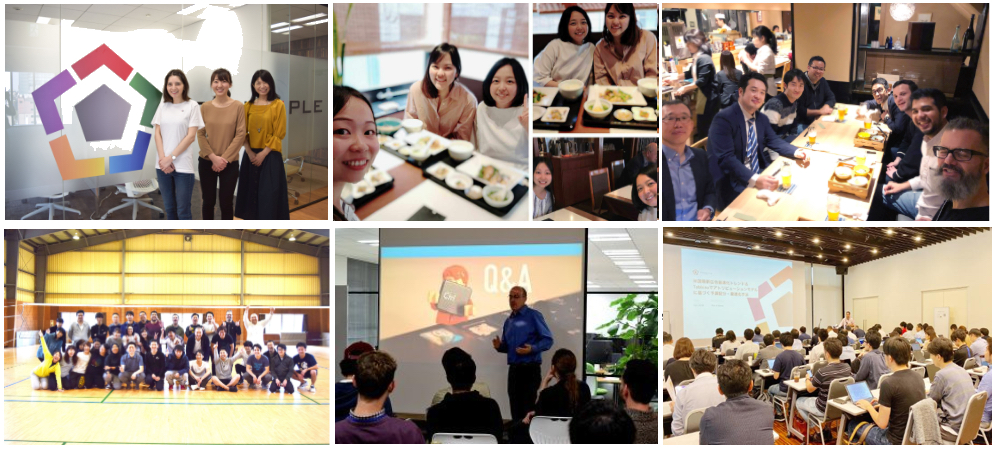 Want to grow your business in Asia?
Principle is a data-driven marketing agency that grows your business in Japan and the rest of the Asia Pacific market.  Click here to learn more about our digital marketing services for the APAC region.