Most important parts are always "missing"
At Principle we have audited over 100 websites with Google Analytics installed.  We'd like to share what we have learned through this audit. In the last blog post, we have shared our learnings from our Google Analytics audit specific to eCommerce websites, but this article is not limited to such online businesses.
Based on our findings, we would like to share the takeaways in order by significance and frequency.
1. Violation of Terms of Service

This is probably the biggest mistake we see businesses make.  More than half of the websites we audited have been collecting PII (Personally Identifiable Information), which is strictly prohibited by Google's terms of service.
Link to Google Analytics Terms of Service
7. Privacy.

You will not and will not assist or permit any third party to, pass information to Google that Google could use or recognize as personally identifiable information.
What happens if a company violates the terms of service?
We've seen and heard first hand that websites that violated the terms had their entire data had been deleted. I had doubted it until I looked into Section 14 in the terms.
14. Term and Termination.

Either party may terminate this Agreement at any time with notice. Upon any termination of this Agreement, Google will stop providing, and You will stop accessing the Service. Additionally, if Your Account and/or Properties are terminated, You will (i) delete all copies of the GAMC from all Properties and/or (ii) suspend any and all use of the SDKs within 3 business days of such termination.
How could PII be passed into Google Analytics?
Some content management systems seem to use "GET" requests when a user submits their inquiries. In that case, the URL of the "thank you page" will include PII in its query parameter like below.
https://www.example.com/inquiry/thankyou.html?email=donald.j.trump@gmail.com&address=1600%20Pennsylvania%20Ave%20NW,%20Washington,%20DC%2020500&phone=202-456-1111&content=make%20america%20great%20again
If you think your site is using this kind of inquiry form, you'd better consider using "POST" request instead of "GET" request.
2. Suboptimal campaign tracking & Google Ads integration mistakes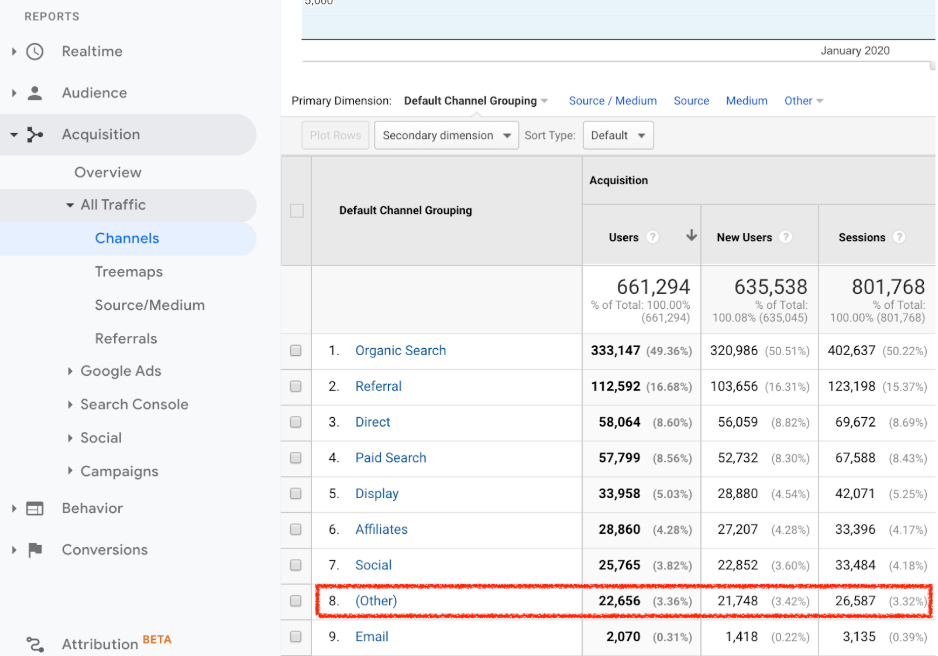 We believe the core concept of web analytics is "knowing what you got from what you did".
Campaign tracking and Google Ads integration are the "what you did" part, which we assume half of the core concept, and they are always suboptimal.
Consequences of having a bad campaign tracking and ads integrations?
Campaign tracking issues leads to:
Miss identification of marketing channels.
Example: Conversions by channel report will show the most effective channel as:

(Other) which hinders the marketer's ability to identify the exact source of traffic at a glance.
"Organic" when the traffic is actually driven by Google Ads.

Too much or a small number of conversions reported.
Example: Google Analytics shows you…

1000 conversions while you actually get 100 conversions from the website.
0 conversions while you actually get 100 conversions.
Not knowing these can hinder the marketer's ability to properly identify performing marketing channels and budget allocation challenges. For example, when you see "Organic" when it is actually from Google Ads, you might quit Google Ads because you're getting miss informed on a channel that is actually working for you.
3. Incorrect goal settings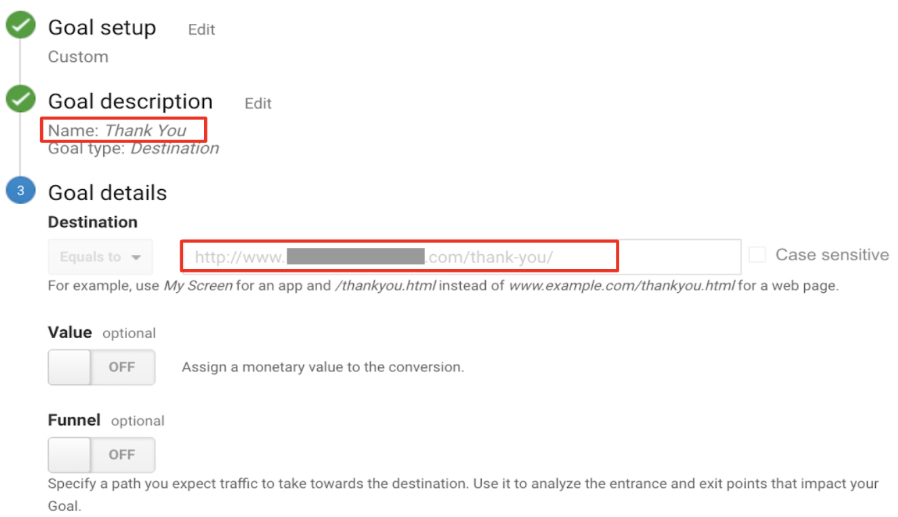 And this is the "what you got" part, which is also suboptimal in more than half of the use cases we encountered.
From our experience, I can assure you that many marketers have got the goal settings wrong, and they should immediately double-check the goal and campaign tracking settings again.
Checkpoints to avoid incorrect goal settings
It is understandable to make these mistakes for someone who doesn't know exactly how Google Analytics works. Each tool has each unique console, system, settings, and unfamiliar terminologies. For example, "Unique Dimension Combination" is not a word to describe in another ad tech universe.
Here are some tips to check:
If your Google Analytics conversions are too low or too high compared to conversions from Google Ads report or other paid media reports, your goal settings might be incorrect.
If you're operating an eCommerce website, check the number of orders from your eCommerce platform like Shopify or Magento and see if those orders match with what Google Analytics reports.
Check how your micro conversions are set up in Google Analytics and double-check the code and/or Google Tag Manager.  A lot of times marketers don't know how conversion events are initiated. Common mistakes are when web developers tag something on the website and another person sets up a goal tracking on Google Tag Manager.
4. Extra parameters not filtered out

As you can see from this image above, this page report shows a variety of pages. Reality is, this report is showing you multiple versions of one page's performance.  The example here shows a variety of traffic just for the home page "/".
This means you cannot immediately see the overall bounce rate for the page and compare it to another page. Google Analytics shows you a bounce rate for each URL because Google Analytics assumes these pages as each different page.
How do unnecessary URL parameters get tracked and how to avoid?
This particular example shows a problem Facebook introduced by decorating every single link from News Feed, Messenger and Ads. In addition, since ITP had been introduced to Safari, Bing and some other ad platforms, that started to decorate links from their Ads with these unnecessary URL parameters and Google Analytics picked up these values.
Whenever you see unrecognized and not-website-related URL parameters, it would be time to add these URL parameters into the "Exclude URL Query Parameters" field in the admin settings.
This issue of reporting unnecessary URL parameters was found in 100% of the clients we audited so when you get a chance, just double-check this.
5. Development domain & Internal traffic are tracked as customer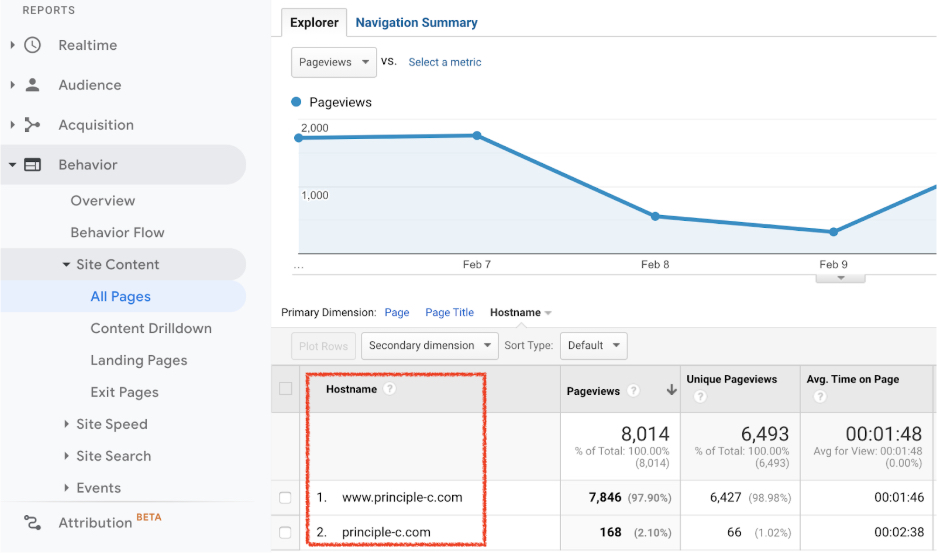 Our client came to us and said "We had a huge amount of traffic on the very first day of a site launch but after that, no one sees our website. How did that could happen?".
It turned out that their developer had a last-minute site content check on their development server. And just after the launch, the company announced the launch to the entire company by email.
How to avoid these reporting internal, dev, or test traffic?
If you are a BtoB marketer, there is a high chance that your colleagues will see your corporate website and these sometimes account for the main portion of the traffic. Or even if you are a BtoC marketer, if you have multiple business locations like branch offices and shops, sometimes it becomes a problem.
Google Analytics JavaScript snippet just sends all pageview data to your report by default so you might need to figure out how to filter out related party's traffic.
If you want to check whether your data includes access from your development server, here's how:
See "Behavior > Site Content > All Pages" report
Select the "Hostname" dimension from "Other"
If your development server domain is like "dev.example.com", it would show up to the report
Typically, there are several ways to get the internal access filtered out from your view with:
View filters to exclude access to development servers
View filters to exclude access from specific IP addresses
View filters to exclude access from browsers with internal user cookie
If you think you have to do something, this technical tip might help — How to use "OR" condition in Google Analytics view filter without regular expression
Summary
We hope these top 5 issues identified from tons of Google Analytics audit was helpful.  We hope this could serve as your starting point for your team to look into.
In a world where digital marketers doing "driven marketing", bad data collection and reporting is a very serious issue.
You could be using bad data with the following consequences (not limited to):
Making a bad business decision based on the wrong data
Spend money on underperforming channels by mistake
Integrate data to ad tech tools for automated optimization thinking that Google's machine learning is getting smarter based on your data inputs
Reporting bad numbers to upper management
Spend a lot of time cleaning data due to suboptimal setup
Generate bad hypothesis and next steps for CRO efforts
There is really nothing good that comes out of bad tracking.  It reflects the concept of saying "Garbage In, Garbage Out". Let us know if you are not confident with your web analytics settings and/or reporting.  We would be happy to discuss and review your needs.
Do you need to enable the right marketing data to grow your business?
Good data practice starts with good data collection. At Principle, we enable, integrate, and manage your marketing data. Click here to learn more about our agency services for: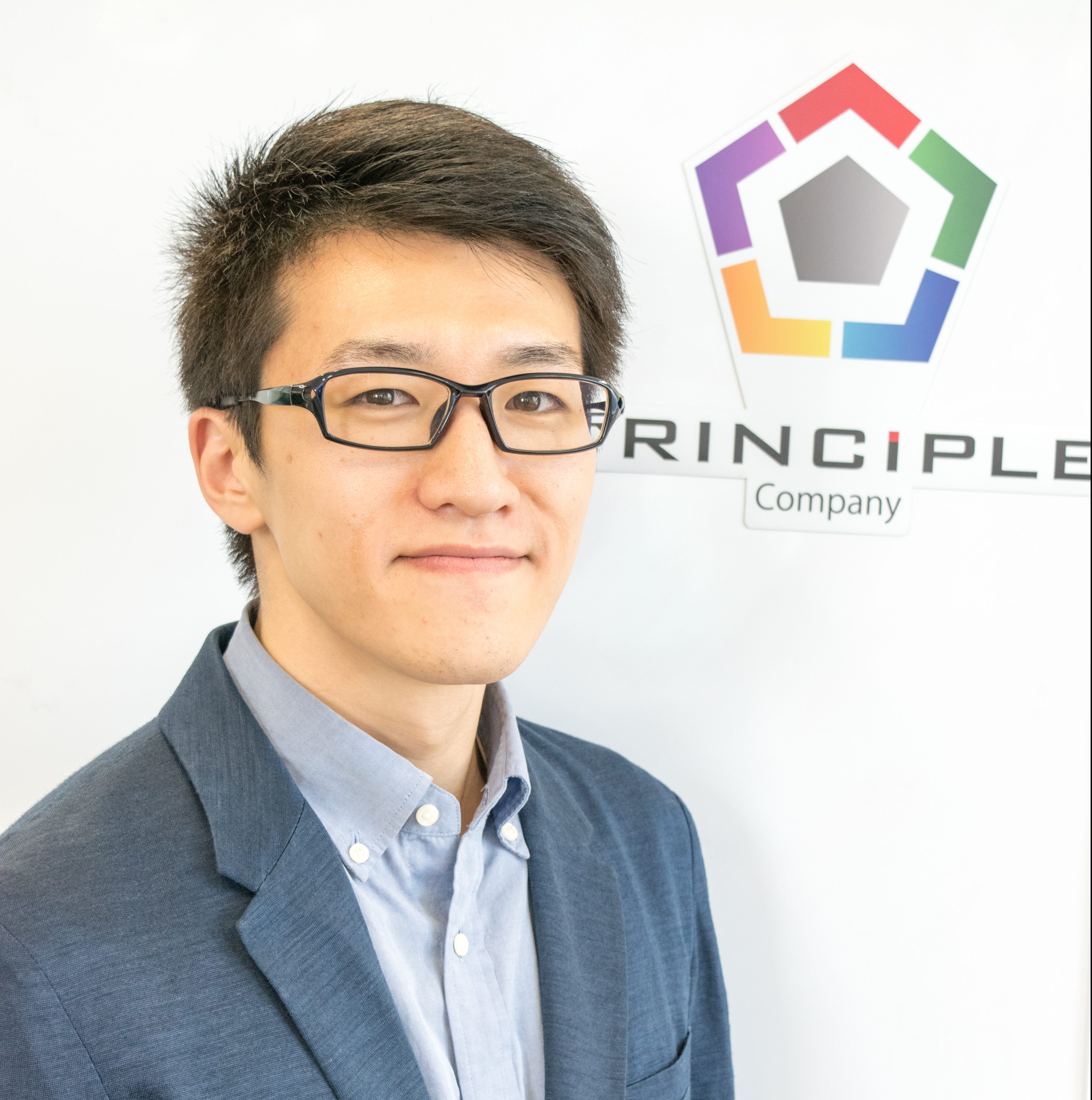 Senior Data Engineer
Google Marketing Platform expert with experience working with enterprises deploying marketing analytics capabilities.  Guy is focused on delivering marketing technology and supports companies drive their marketing execution through data.