Overview
As a Google Marketing Platform Certified Partner, we've performed hundreds of audits and deployments for Google Analytics.  We come across some serious issues around Google Analytics setup and we'd like to share some of those key insights we learned from auditing eCommerce sites.
Majority of marketers are aware of Google Analytics, but some of the stats we come across Google Analytics online include:
More than half of the websites online are using Google Analytics
80% of online retailers are using Google Analytics incorrectly
Only 50% of e-commerce businesses track main conversion points
73% of businesses are inflating traffic in their analytics reports
30% of websites have incorrect e-commerce tracking implementation
Over 70% do not track micro-conversion goals such as newsletter sign-ups or account registrations
Through our audits, we feel these stats are pretty aligned with our internal observations.  Let's look at our top 3 issues found from our eCommerce website audits.
#1 Issue:  UserId Tracking is not enabled
UserID integration with Google Analytics has been announced over 6 years ago.
Yet, none of our prospects use "UserId Tracking".  This is understandable from a technical point of view.  Not all companies would want Google Analytics to report on aggregated data instead of user-level and avoid any user-level tracking from the governance standpoint.  However, user-level tracking with UserID could be done right and eCommerce businesses could be missing out on valuable features available to marketers if not implemented.
From a modern digital marketing best practice, not tracking UserId is a big missed opportunity for marketers.  Because you are losing a unified customer journey from not implementing UserId tracking in Google Analytics.
These are the three main impacts of not using "UserId Tracking":
Missing connectivity with CRM, or valuable customer profile data that you already have.  UserId is the key to integrating web analytics data into CRM. Without this implementation, marketers cannot leverage the power of integrated data from web behavior and customer profile.  It is a lot more powerful and effective when marketers could target ads based on both web behavior and user profile (e.g. people who left the site after view product X and those who live in a region Z who have purchased more than $1K in the past).
Missed opportunity to track the unified customer journey.  Customers are logging into your website from their smartphone app, desktop browser and even their partner's smartphone browser and so on. Default Google Analytics sees such a customer as "three different people logged in but don't know if they are the same person or not".
In that case, even if you wanted to create a remarketing list of who uses the app and web browser to buy your site, you have no way to realize it.
Cannot see the difference between the actual "Fist Time Buyer" and "Repeat Shopper".  Repeat shoppers and fist time buyers have very different shopping behaviors. Almost all of our clients say they want to see how the repeat shoppers and first time buyers are coming into their website differently. However, when we explain the "UserId" feature of Google Analytics and how that could enable data visibility for shopper segments, there are very few marketers who actually are aware of it.

Example Image showing UserId integrated in Google Analytics with Google Ads data.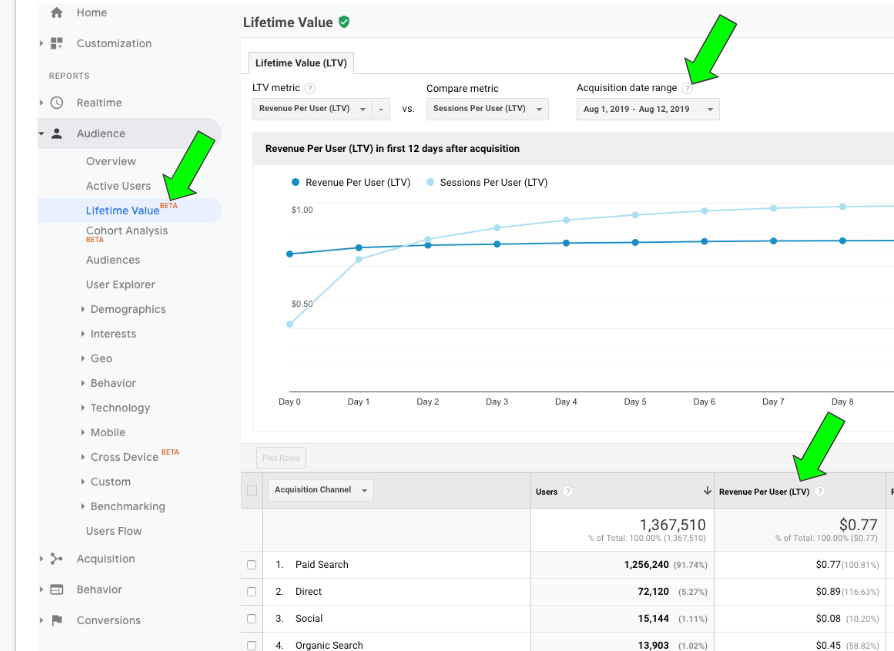 Example Image showing LTV report that is enabled after integrating User Level tracking in Google Analytics
#2 Issue: Duplicated pageviews
We believe there are two main reasons for tracking issues with duplicated pageviews.
Reason 1
Currently, most of the eCommerce platforms offer Google Analytics plug-in to enable seamless integrations, but marketers are confused because almost all GA-related blog post says "You should tag your site with Google Analytics base code or use the Event code".  Because of this, marketers enable both the plug-in and when data doesn't look good, they end up adding another tag to the site.
Reason 2
Google Analytics evolved, and it offers several ways of implementation over time. Marketers end up deploying multiple versions of Google Analytics tags.  Here is a list of various Google Analytics tag types:
ga.js: Tracking code that used be standard by Apr. 2014 which is not supported by Google anymore.  Many businesses are still using this deprecated code.
Analytics.js: Current standard racking code library from Apr. 2014. (AKA "Universal Analytics") gtag.js and Google Tag Manager also use this library indirectly to support its deployment.
Google Tag Manager (build-in tags):

Universal Analytics Property: calls analytics.js indirectly
App + Web Property: calls App + Web JavaScript SDK

Gtag.js (Web Tracking): Current standard tracking code that marketers can download from GA console.

Tips to avoid confusion:

Google Ads also offers gtag.js as "Global Site Tag" as a remarketing tag.
Gtag.js is a marketer-friendly JavaScript library to implement Google Marketing Platform related tags

Gtag.js (App+Web Tracking): New web tracking system to gather web analytics data and app analytics data into one place. Currently in Beta.
The consequences of having duplicated pageviews views are the following:
Inaccurate bounce rate
Duplicated goal and sales tracking
Inflated pageview count
Inaccurate engagement measures
#3 Issue: Enhanced Ecommerce Tracking is not implemented correctly
Enhanced Ecommerce Tracking is one of the "must have" features of Google Analytics, especially for e-commerce sites.  Enhanced Ecommerce Tracking enables product level tracking and reports that are critical to gaining deep insights into eCommerce engagements of your users and customers.
The hurdle to implement Enhanced Ecommerce Tracking has been decreasing thanks to the recent analytics feature development of eCommerce platforms (e.g. Shopify, WooCommerce, Magento, etc.).
Yet marketers seem to get confused because Enhanced Ecommerce enables marketers with a lot of additional reports and metrics that they might not have seen through the standard reports.
For this reason, we have seen a lot of avoidable mistakes from marketers around the following area:
Price sent to Google analytics and price actually customer pays for are different.

If this is on purpose, then it is okay.. But if the actual amount of purchase and data sent to Google Analytics has a large discrepancy then your data could be in a serious problem.

Add-to-Cart Events are not tracked.  

Probably "Cart Abandonment Campaign" is the most basic and easy remarketing tactics of eCommerce sites. If Add-to-Cart events are not tracked, you won't be able to remarket products that your shoppers showed interest in buying but left the site without completing the purchase.

Enhanced Ecommerce data sent with pageviews.  

Marketers should worry about this because the worst case is not only missing Enhanced Ecommerce data, but also pageview data will not be recorded. Each hit payload has size limitations (up to 8k bytes). Enhanced Ecommerce data tends to be larger than the usual pageview or event hits, especially upper funnel tracking like Promotions, Product-List Impressions Tracking, and transaction-level tracking. If the payload size exceeds 8k bytes, it wouldn't be recorded at all, even if the marketer uses the GA360 (enterprise version of Google Analytics).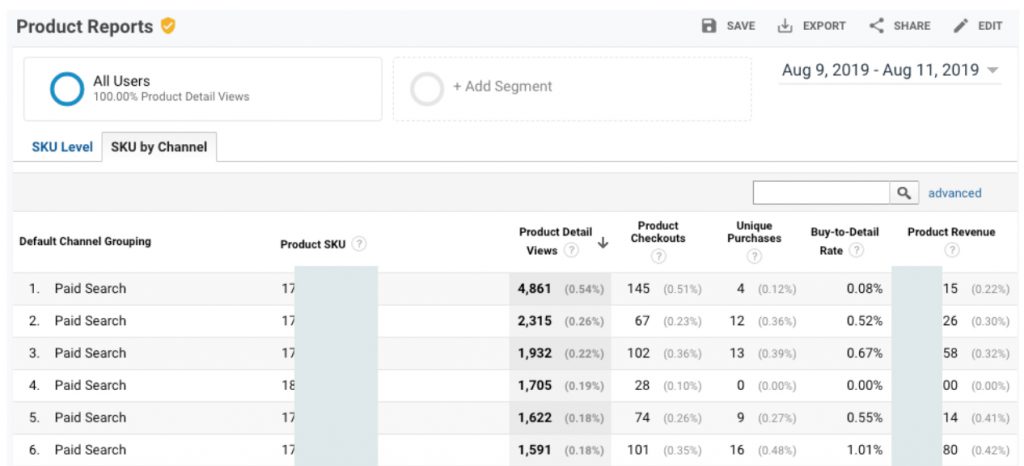 Enhanced Ecommerce data showing SKU level performance with Buy-To-Detail Rate, Product Revenue, etc.
In Summary
We hope these insights through our Google Analytics for eCommerce websites were valuable.  We live in a time where data drives marketing, and if your data foundation is not implemented right, then your digital marketing execution could be suboptimal.
The growth of the fast-growing businesses could be happening regardless of the Google Analytics tracking is right or wrong.  It is very hard for many marketers and eCommerce businesses that are growing fast to recognize these issues as a priority.
A lot of our clients who found success working with Principle when they find the following challenges.  Some of those example marketing challenges are:
Cost per acquisition or ROAS is not improving even after many tests and optimizations.
Advanced web analytics setup was performed and it got to a point where marketers don't know what analytics variables are impacting their performance.  In other words, complex Google Analytics settings are driving lower confidence with data and it's linkage to performance.
There are more data sources or marketing channels enabled and more marketers want to rely on a single source of performance reporting.  Rather that is creating a data warehouse or not, marketers realize having Google Analytics as a hub to make integrated data and campaign deployment is an effective first step before investing in a large amount of budget in enterprise marketing data stack.
If any of these resonates with you, please don't hesitate to reach out and connect with us.  We're here to help!  Contact us through this link.
Do you need to enable the right marketing data to grow your business?
Good data practice starts with good data collection. At Principle, we enable, integrate, and manage your marketing data. Click here to learn more about our agency services for: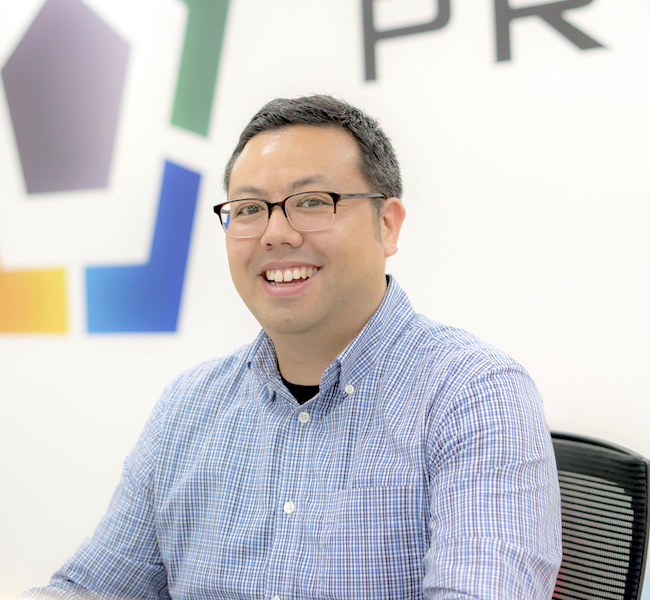 Director Analytics
Over 16 years of experience working with data and marketing.  As a data expert in marketing, Kris enjoys analyzing data to bring actionable insights and help businesses move forward.  Kris has experience working in industries ranging from Tech, SaaS, FinTech, B2B, Mortgage/Banks.