As the world fights the coronavirus (COVID-19) businesses are working hard to survive.
Businesses are posed with many challenges.  Many businesses are considering if they want to match or beat last year's revenue, and many others are adjusting their plan based on what could potentially happen.  Nevertheless, business is asking:
How are we going to continue to sell?
How are we going to work from home?
How is everyone going to communicate effectively?
How do we keep everyone from traveling as much as possible?
How do we redirect manufacturing to new suppliers?
How do we better control our marketing channels?
DTC E-Commerce businesses that depend on offshore manufacturing are feeling the burden of halted supply chains.
We see on the news that factories in China are opening up to 30 percent capacity from what they use to operate. However, the pandemic is just starting to hit and impact the rest of the world.
Website, emails, user experience on the mobile app or shopping cart are businesses owned marketing channels that are crucial for creating customer relationships. That means, when the unexpected happens, businesses have the ability to create and customize strategies and action plans that could effectively support your business and customers.
No one can prepare a bulletproof plan, but businesses can take ownership of the marketing channels and put a shopper-first strategy in place.
When people are home, they are going to be engaged with their smartphones or personal computers to do shopping.
We recently chatted with Patrick at Feedonomics, and they are also expecting to see more businesses putting more interest in digital marketing channels as well as marketplaces as fewer shoppers avoid offline retail stores.
Some companies who are selling products online that rely on certain seasons, like the companies selling travel bags, may have customers who are no longer thinking about vacations. Companies like this are likely considering holding their inventory and using it to their advantage by selling it on their own e-commerce channels instead of liquidating it at a lower margin.
We also know that consumers are exploring and shopping on their smartphones. As more employees are working from home, they'll be buying stuff on their personal computers as well. So it is very important for businesses to take into account of the changing market dynamics as more people are going to be home most of the time.
If your business has not carefully looked at how shoppers' behavior has changed in recent months, then it is time to do so and swiftly adjust your marketing strategy.
Should we be spending more on digital advertising?
As e-commerce brands are reviewing their marketing strategies, marketers are asking if they should be spending their marketing dollars on digital advertising (like Facebook ads, Google ads). The thinking is, why to spend money when no one is thinking about a vacation at the moment.
Under the current situation with the virus pandemic, people are very concerned, and they change their spending habits. They may not go to shops they usually go to, or places they have planned for their vacation. These changes do have an impact on how DTC brands sell their products.
Companies who continue to invest in digital paid media are adjusting their messaging and creative strategy and performing more rigorous testing to optimize conversion rates. Adjusting the targeting criteria like geolocation could be an option if the cost per acquisition or shopper situation allows the marketer to do so.
In addition to adjusting the marketing strategy, smaller DTC brands under tight inventory need to spend strategically, hold inventory wisely, make sure they're giving away fewer discounts while focusing on higher-margin goods.
Importance of getting your E-Commerce performance tracking right
At Principle, we've helped many clients with data integration and advanced their analytics foundation. Taking Google Analytics as an example, many brands with e-commerce do not have their Enhanced E-Commerce (EEC) tracking deployed correctly. Given that it is one of the "must-have" features of Google Analytics, we have made it a priority to get it right for our clients.
One of the benefits of EEC is, a marketer can get measures like the "Cart-to-Detail Rate", "Buy-to-Detail Rate" for each product tracked and reported in Google Analytics. These metrics represent how attractive the products are to the consumers and the likelihood of the product going to the site visitor's cart.
Using a dashboard like this (below), marketers could identify what products should be replenished quickly, and/or find incremental sales opportunities.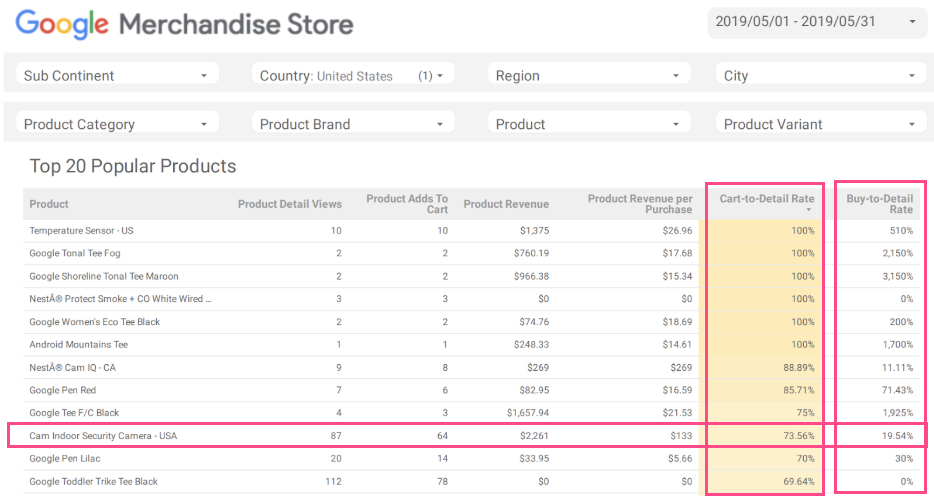 Here is an example of Google Analytics data integrated with inventory data, which becomes the datasets to generate an Opportunity Lost report. This helps marketers identify products with low inventory and possible lost revenue not being able to sell due to the lack of inventory.
The data could be integrated with 3rd party Ad-Tech platforms to drive campaign optimization.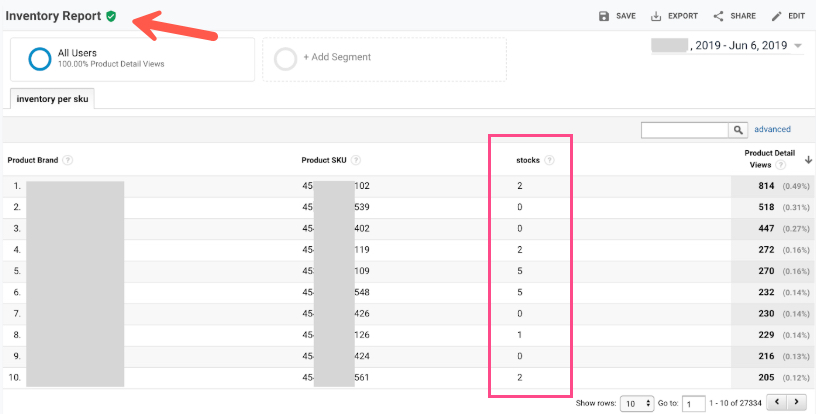 With SKU level inventory data implementation, that would enable marketers to:
Optimize Dynamic Remarketing Ads bidding in real-time.
Avoid serving ads on SKU with low inventory.
Analyze opportunity costs and implement data-driven inventory management that integrates with the website.
The following diagram would give you an idea of how these could be implemented and deployed.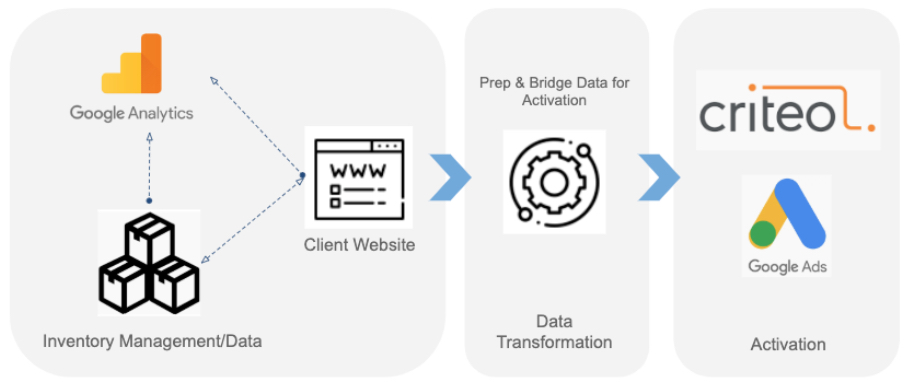 What should marketers be doing now?
What should marketers be doing now to plan for their business varies by industry, priorities, and situation? It is a tough time for many businesses. In light of what we have reviewed in this blog post, perhaps businesses could:
Review their inventory position to see what's in stock or not. And take the necessary steps to minimize inefficiencies in marketing spend, and/or maximize spend on what's working.
Look at your digital marketing and sales performance if you do decide to put more effort into digital. Make sure you're spending money on advertising, get the margin or customer acquisition cost that makes sense for the business. Eliminate marketing channels that don't have great ROI.
Communication is a key part of the whole process as more people are working from home during this crisis. Ensuring that your team and employees are contributing and working together during this time will help businesses move forward.
Do you need to enable the right marketing data to grow your business?
Good data practice starts with good data collection. At Principle, we enable, integrate, and manage your marketing data. Click here to learn more about our agency services for: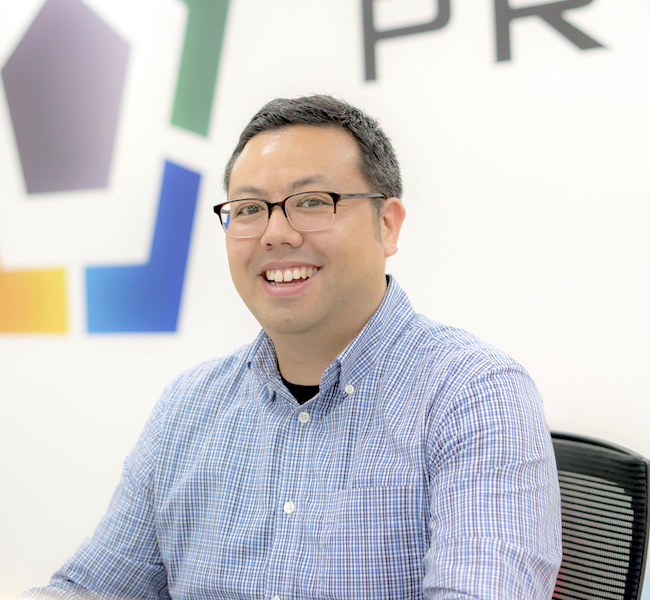 Director Analytics
Over 16 years of experience working with data and marketing.  As a data expert in marketing, Kris enjoys analyzing data to bring actionable insights and help businesses move forward.  Kris has experience working in industries ranging from Tech, SaaS, FinTech, B2B, Mortgage/Banks.