Part one: It is difficult to find an answer to the red-hot issue for business to be in a physical office.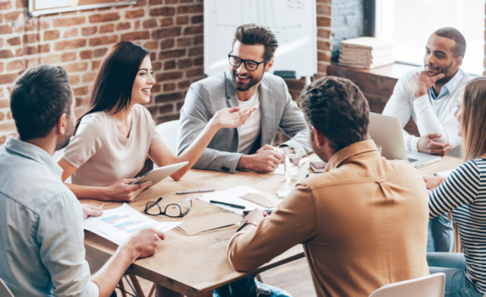 Through this article, I would like to share my thoughts on the offices' future and the importance of communication from an executive's perspective.
We should clarify that the office in the future will be transformed from a place where "it is simply there" to a place where it achieves its communication objectives. There will be businesses that will start to adjust to various employee's circumstances. Companies must balance the employees' need to come to the office every day or work from home on certain days. The decision will also change and would vary depending on the growth stage of the companies.
Our company has been promoting flexible working practices for our employees. However, under the COVID pandemic, the Japanese government suddenly recommended that businesses remote work from home, so both companies and employees had to adapt to this big change.
People seem to be paying attention to what offices mean for them. According to a Japan survey, nearly 60% of respondents feel comfortable working at home because a painful and long commute would no longer be necessary. As a result of this Japanese survey(*1), it seems that there are lots of opinions that offices would not be required. 
Many businesses, including tech companies in Silicon Valley, are deciding if physical offices are necessary. This would depend on the mindsets of management or how the business is structured. Today, we all are still seeking legitimate answers. But will there be any legitimate answers? Everyone has their diverse values, and because of that, there may never be the right solutions, but what is important is that we must move forward to find an ideal answer.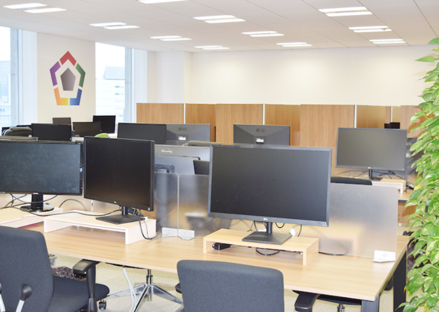 Our empty office due to employees working from home to prevent the Covid-19 spread.
Part two: Negative sides of remote work.
For everyone, offices used to be a normal part of life, and no one took their time to think if there are any other options other than the actual commute from home to office. 
The circumstance changed, and the pandemic has temporarily eliminated the need for many people to come to the office.
What are the values of the physical office? We would need to examine whether working remote should continue when the coronavirus pandemic ends and if communication will still be properly maintained in an environment of working remotely.
Not all people are positive about working remotely.
According to the Japan Productivity Center's Second Survey in July 2020, 24.3% of respondents said they would prefer not to work from home (see figure below).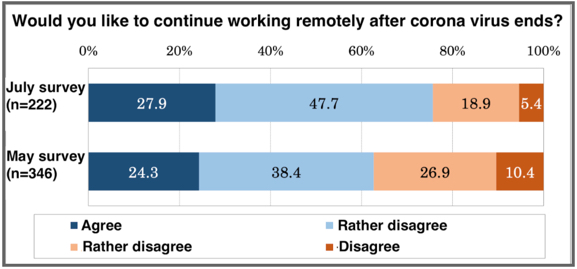 When we surveyed our employees about their work environment at home, 58.8% of them said they would have trouble.  Some examples of troubles are that the home's work environment was not adequate; the WIFI network, work desk, and lighting were noticeably inadequate.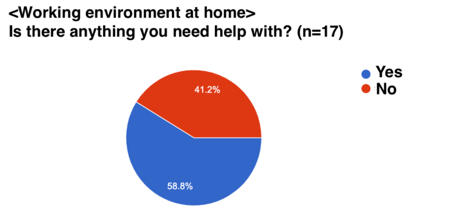 Working remotely makes people more anxious.
Can communication be properly maintained by remote work?
More than half of our employees indicated that they had communication difficulties. Specifically, they said that it was difficult to communicate nuances by text and not able to discuss or chat casually with colleagues.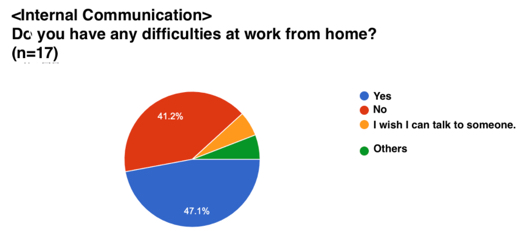 Company survey 2 (May 2020)
Thanks to the advancement in Information Technologies, we can work and study remotely. However, the question is, can a remote work environment help us keep deep quality relationships with our colleagues and customers?
Part three: Communication is essential to achieve a win-win relationship between the company and its employees.
Our philosophy is, respecting human rights and achieving success of win-win relationships for ourselves, our families, our colleagues, our customers and for the world.
The objective of our company is to put into practice the following win-win relationships:
Employees are to contribute to our company.

Our company is to provide opportunities for our employees to develop their careers.
All you need to live with a happy life is to have "quality relationships."
My idea of "personal win" is to live a truly happy life, not superficial successes like money, status, or social honor.
This concept is based on "The 7 Habits of Highly Effective People (written by Stephen R. Covey)".
He stated, "Would Mr. Maslow, one of the most famous psychologists who proposed 'the hierarchy of needs,' still think about his work when he is going to die? No, he should be thinking about his loved ones." I fully agree.
Furthermore, the survey, "What makes a good life? Lessons from the longest study on happiness (by Robert Waldinger, Harvard University)" clearly concluded through the 700 people's lives and life perspectives that "Great relationships definitely bring us better happiness and healthful."
These two articles' common theme is that "quality relationships" is crucial if you want to have a life full of joy and happiness.
"High-quality relationship" is also leading fundamentals of "great quality results".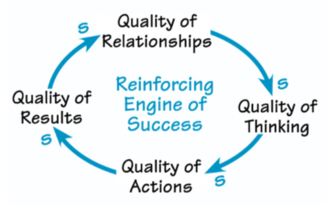 I also support "WHAT IS YOUR ORGANIZATION'S CORE THEORY OF SUCCESS? (written by Professor Daniel Kim, MIT)" regarding the company to achieve great results and outcomes. The purpose of the theory is that high-quality outcomes are predicated on high-quality relationships.
Undoubtedly, working hours account for a large part of life's time and as much as family and personal time. That means the office is an important place to build relationships, and I believe it is essential to build quality relationships through work.
Part four: An ideal office's future as a "place for employees to achieve their happiness."
Today, I am expanding my business by hiring employees, educating, and training them.
In the future, we aim to go public (listed on NASDAQ). What we want is to exchange diverse values that will foster new ways of thinking.
Learning various values, cultures, and languages will help us grow ourselves across subconscious boundaries. We also need to tune our senses and promote good education, onboarding, and employee's identification with the company.
I wish to build happier and good quality relationships with my colleagues. And this is the reason why we're going to focus on face-to-face communication by utilizing our office more. In some cases, we will consider reducing the working area and expanding communication space instead. 
Meanwhile, I'll make better use of some options to work remotely, recruit talented people in rural areas, and continue to communicate with customers who are now used to online meetings, etc. I will plan to combine both benefits.
Last but not least
Many people have helped me out a lot in different stages of my life. 
Just like what "Interdependence" said in the 7 Habits, I started my business to build a working environment where professionals work together to take on big challenges and create an integrated organization where we can share our joys and sorrows.
This is the type of environment I would love to spend time with my colleagues. And this is my win as an individual, and an ideal working environment.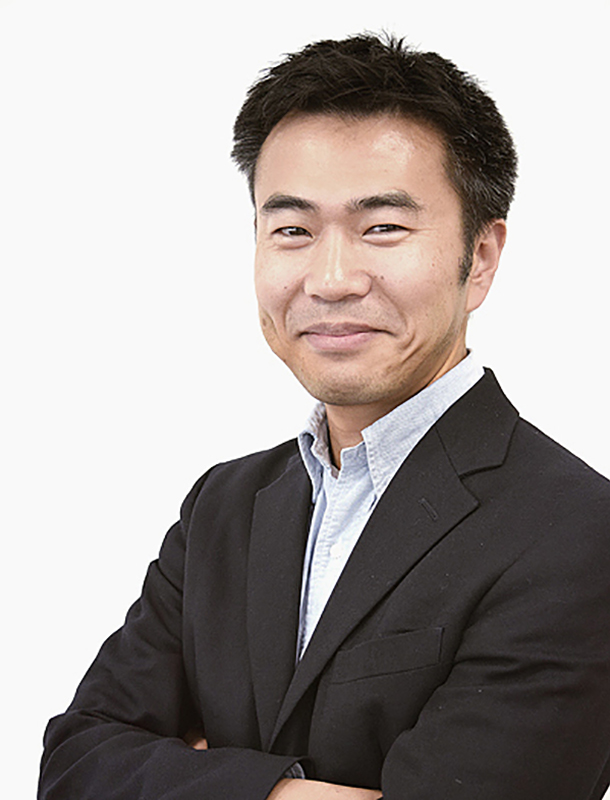 Founder, CEO
After gaining global experience working at Sharp, Ken joined Cyberagent and made a successful exit through IPO. Ken joined the Thomson Reuters Group and managed the media division. Collaborated with Japan's media company "President" and launched "Business Premium Network (BPN)", which was published through Asahi Shinbun. After serving as Executive Officer of Oakfun Co., Ltd., Ken established Principle Inc.