Improving your marketing and operations might be a daunting task to take on yourself. There are a lot of companies and enterprises that seek aid when it comes to these kinds of innovations and solutions. Apart from coming up with strategies, technical skills and, sometimes, equipment is also needed to successfully carry out your plans.
Companies like Principle make these transitions and changes easier for most companies and enterprises. Our team has been handling advanced analytics to make measurable impacts on our client's marketing and revenue performance. 
Some of our notable clients are Toshiba, Red Bull, Adidas Nestle, Johnson & Johnson, and other global companies! Today, we are looking at announcing our first ever review on a well-respected B2B ratings and reviews platform called Clutch. They are an amazing company that connects service providers to companies and businesses.
Going back to our review, we were hired by a full-service digital agency to support their web transformation project. The goal of the collaboration is for the client to deliver a world-class website experience.
When asked about what is the most impressive thing about our company, here is what they have to say:
"Flexibility and commitment to support our delivery. The team was very willing even at short notice to join sessions which at local time started very early or ended very late, and found ways to make things work."
We are very happy with the feedback that our client provided! Our team is also ecstatic to receive 5-star ratings across all categories, namely, quality, schedule, cost, and willingness to refer.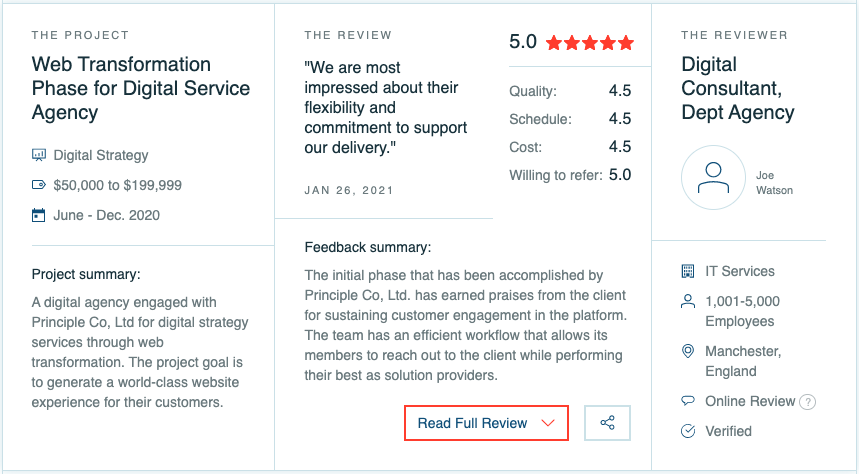 For the whole version of the review, you can visit our profile on Clutch's website! You can find our first ever review and you can also browse their platform for more information about the B2B industry in general.
Apart from upgrading the website experience, our services can also bridge strategy and action to help your business grow faster. From boosting sales, increasing ROS, and benchmarking KPIs, our team is ready to help you and your company reach more opportunities.
You can also check our company profile over at The Manifest! They are a listing website where they feature the best service providers in the industry. Catch us as a leading business service provider on their platform along with other companies who are at the forefront of the industry.
Get in touch with us today so we can figure out how we can help you and your company grow. You can expect one of our account representatives to follow up on your query shortly.